Dogwood trees are a beautiful addition to the landscape, and in most cases, they're a great low-maintenance plant. While there are a number of dogwood trees that are resistant to disease, there are others that are unfortunately susceptible to falling victim to fungal or bacterial diseases.
Here we look at the diseases which most commonly affect dogwood trees, how you can identify them, and what you can do to save your dogwood tree.
Powdery Mildew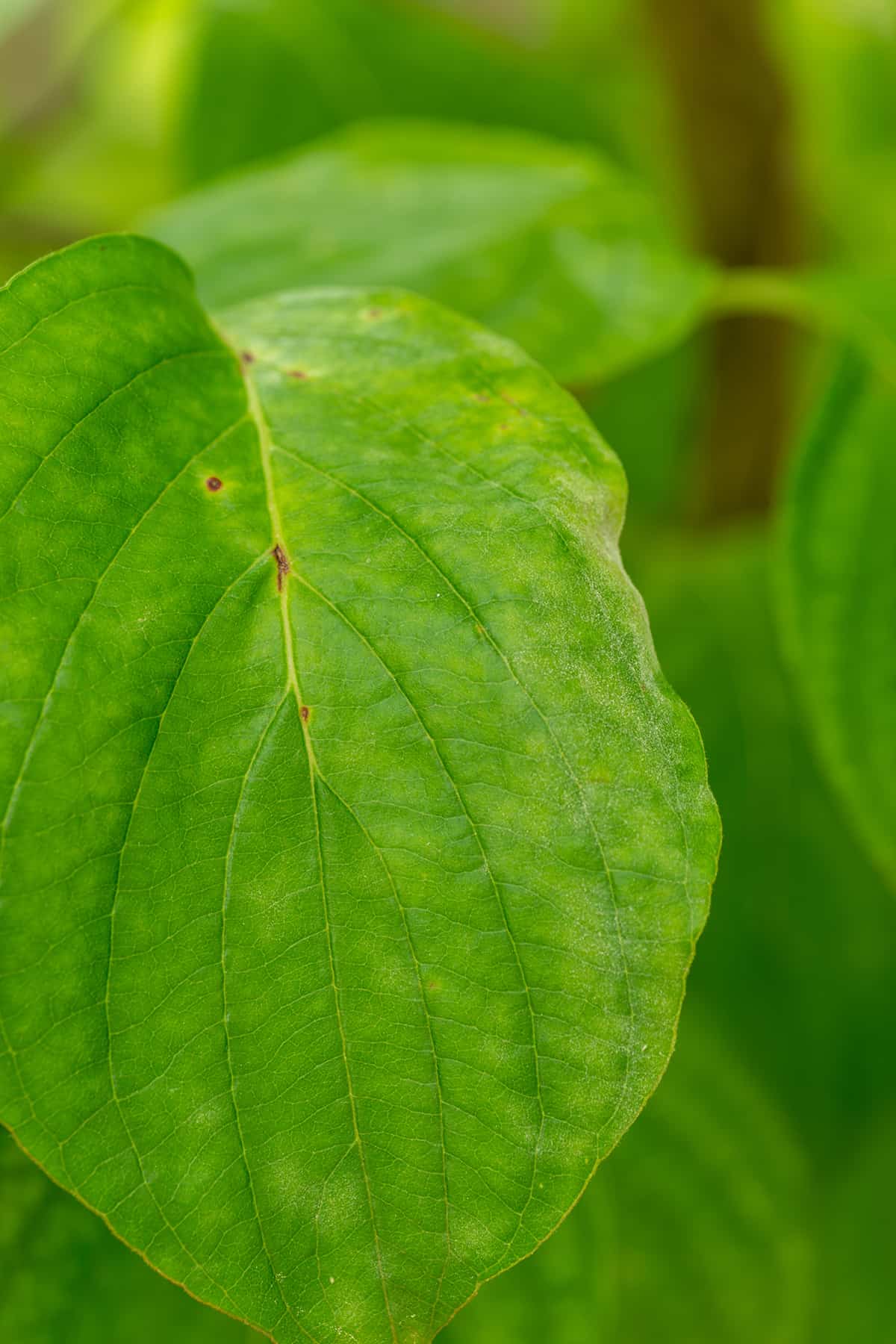 Powdery mildew is caused by a fungal pathogen called Erysiphe pulchra, though it was previously known as Microsphaera pulchra and it is sometimes still referred to by this name. Like most fungal diseases, powdery mildew thrives in damp conditions where air circulation is poor.
Identification
Powdery mildew can be diagnosed on a dogwood tree if the foliage is covered in a powdery white coating. This will be most prominent on new growth, and it occurs predominantly on the uppermost surface of the leaves. Affected dogwood trees will also show signs of scorch, such as brown or red patches on the leaves and patches of dead growth.
Deciduous dogwood trees shed all of their leaves in fall each year. However, premature shedding of the leaves is not normal, and this may be a sign of powdery mildew alongside other symptoms.
The powdery mildew coating on the leaves contains spores that will spread to other leaves and other nearby trees in the wind. It's essential to treat any cases of powdery mildew as soon as they are recognized to avoid the contamination of other plants and also to prevent the disease from destroying the dogwood beyond repair.
Prevention
The best way to prevent powdery mildew on dogwood trees is to ensure good ventilation between the branches. This can be achieved by pruning out some of the inner branches to improve air flow between the leaves. Avoid planting the tree too close to other nearby plants since overcrowding can encourage fungal disease.
Any dead or diseased growth should always be removed as soon as it is spotted. There are a number of varieties of dogwood trees that offer good resistance against powdery mildew, so it is worth investing in one of these types if you have recurring powdery mildew issues locally. Dogwoods resistant to powdery mildew include Kousa dogwood (Cornus kousa) varieties, 'Milky Way', 'Milky Way Select', and 'National'.
Flowering dogwood (Cornus florida) trees highly resistant to powdery mildew include 'Appalachian Joy', 'Appalachian Blush ', 'Appalachian Snow', and 'Appalachian Mist', while the 'Cherokee Brave', 'Springtime', and 'Pygmy' varieties offer some resistance.
Red Twig dogwood (Cornus sericea) is known to be particularly vulnerable to powdery mildew, so keep a close eye on this species if you are growing it in your garden.
Treatment
The first line of defense against powdery mildew should be prevention. However, this is not always successful. As soon as you spot evidence of powdery mildew, carefully remove the affected branches and dispose of them, making every effort to avoid making contact with other plants and trees.
Wash all gardening tools deeply to avoid cross-contamination. Use a fungal spray to treat the dogwood tree, which will kill the fungal pathogens and prevent them from spreading.
Dogwood Anthracnose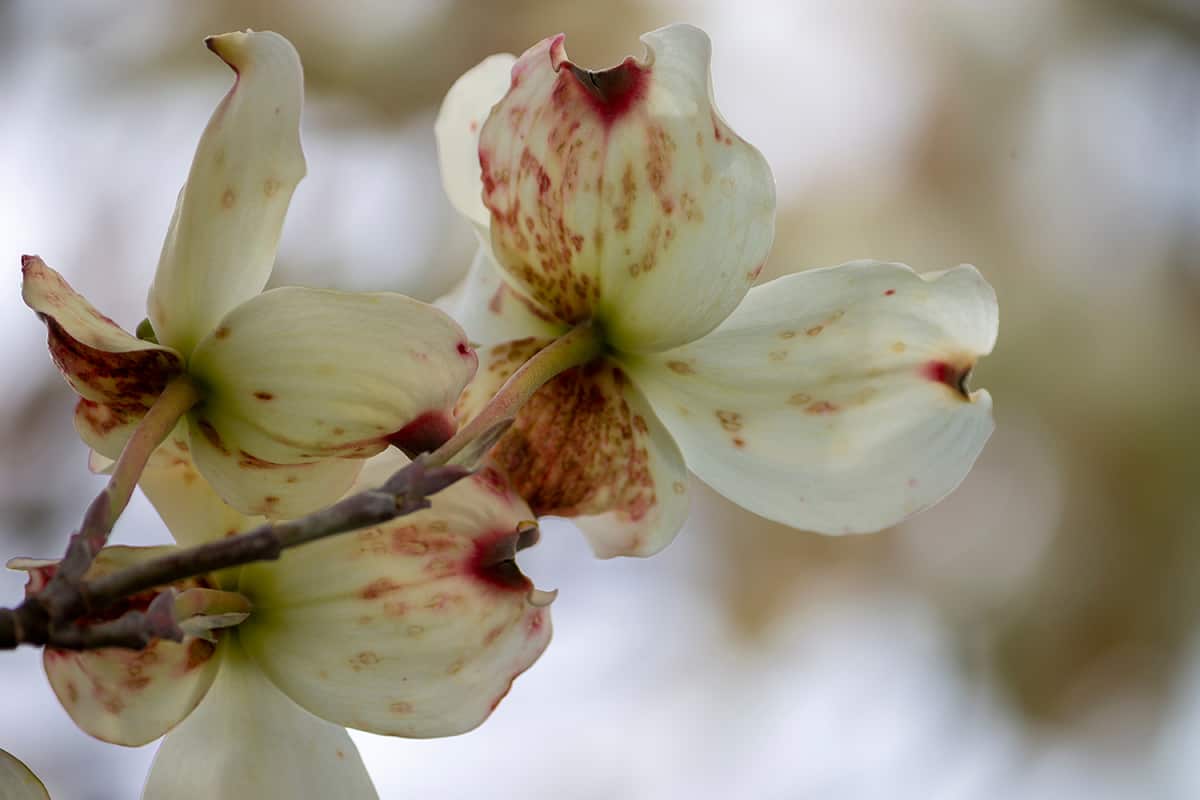 Dogwood anthracnose is also known as discula anthracnose, and tree blight. It is caused by a fungal pathogen called Discula destructiva, and as you may have guessed from the name of this pathogen, it is very destructive to the trees it affects, wreaking havoc in dogwood forests across North America.
Dogwood anthracnose is actually a relatively new issue that first appeared in the US in the late 1990s. It started in the northeastern states, and has since worked its way to the southern states.
Identification
Dogwood anthracnose is most devastating in elevations of above 2000 feet. There have been reported cases in lower elevations, however, these are typically less severe. The first signs of this fungal disease are usually spots of discoloration on the leaves. Ordinarily, this will occur in spring on the new growth and take the form of tan-colored spots which have a purple-brown outline. Spots can also appear on the flowers of the dogwood tree.
The spots will emerge at first on the lower branches of the tree, before they make their way to the upper canopy. As the infection progresses, damage to the trunk and branches will be noticeable. This presents itself in the form of sunken cankers, which typically have a brown color. Once the infection has progressed to the trunk, it may not be possible to save the tree.
Prevention
The best way to prevent episodes of dogwood anthracnose is to plant resistant species. Most Kousa dogwood varieties are resistant to this fungal disease, along with some hybrid dogwoods, which are a cross between the Kousa dogwood (Cornus kousa) and the Flowering dogwood (Cornus florida).
Since fungal diseases thrive in damp conditions with poor airflow, your best protection against dogwood anthracnose is to prevent these conditions.
Prune away low-hanging branches to improve air circulation, and always remove any dead or diseased leaves and branches. Fertilizer heavy in nitrogen can make dogwood trees more susceptible to dogwood anthracnose, so avoid using this. Do not attempt to propagate dogwood trees from examples you have found in the woods since these may already contain the disease pathogens.
Treatment
Dogwood anthracnose should be treated as soon as possible because if the disease progresses, it can quickly kill the tree and spread to nearby vegetation. You can treat this disease with suitable fungicide sprays while pruning dogwood branches to improve airflow.
Spot Anthracnose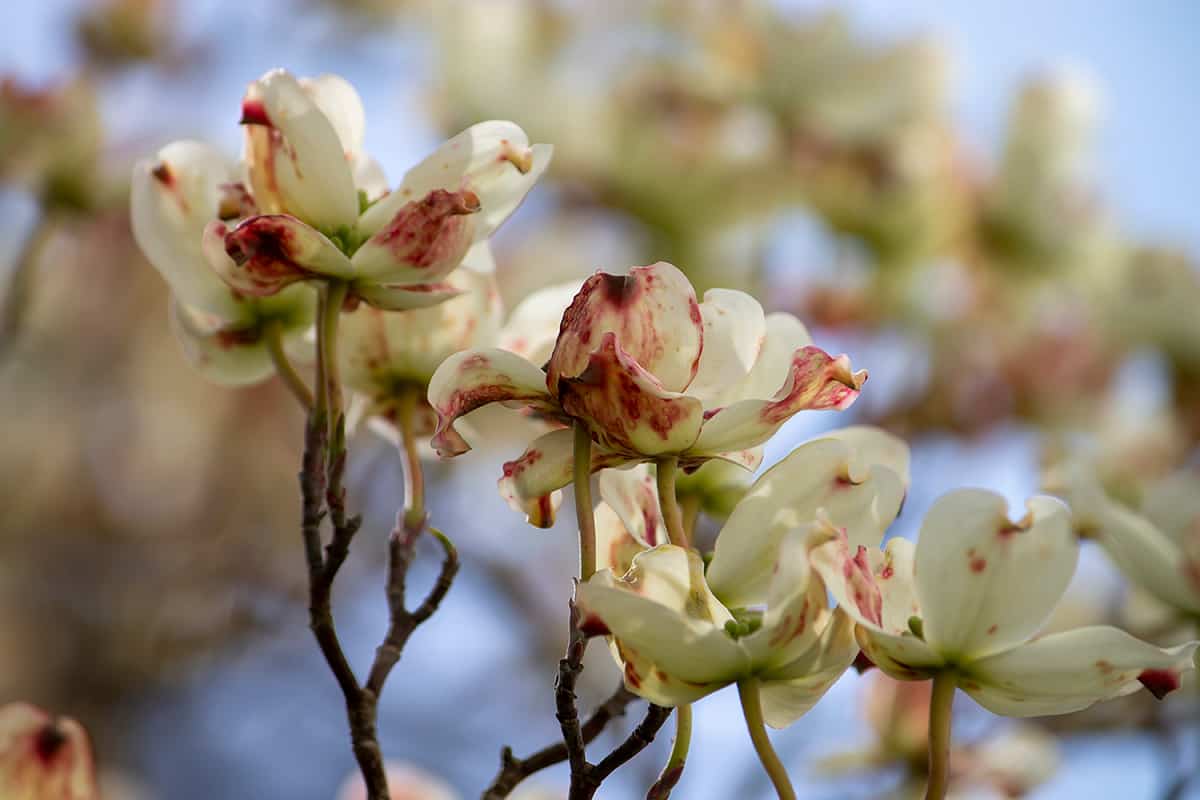 This fungal disease is caused by Elsinoe corni. It is rarely lethal to dogwood trees, however it can cause significant visual damage which affects the attractiveness of the plants. It is most common on the Flowering dogwood (Cornus florida), with the varieties worst affected being the 'Rainbow' and 'Cherokee Daybreak'.
Identification
Spot anthracnose typically appears first on the leaf bracts of the flowers of the plant (the part of the flower you may have assumed is the petal). The spots will start out small, in a tan color with a purple outline.
As the disease progresses, the spots will grow until they merge to cover large portions of the bracts. Spot anthracnose will also cause the flower leaf bracts to become misshapen, and it can result in the middle of the flowers completely falling away.
Prevention
Spot anthracnose will thrive in humid conditions, so to prevent this disease your best means of protection is a dogwood tree with good airflow between the branches and around the foliage. This will allow the surface of the leaves to dry out more quickly after rain, and limit humidity levels.
Thin out the canopy of your dogwood to improve circulation. You can also plant a dogwood that offers resistance to spot anthracnose, such as Flowering dogwood (Cornus florida) 'Cherokee Princess', 'Cherokee Brave', 'Cherokee Chief', 'Springtime' and 'Welch's Bay Beauty'.
Treatment
Fungicide is needed for the treatment of spot anthracnose, and this should be applied in spring as soon as the buds open on a tree that is infected. Apply further applications every two weeks until there are no longer any signs of the disease.
The pathogens are able to live on the twigs and branches of the dogwood tree, so unfortunately, an infected tree will keep producing damaged and diseased flowers year after year unless the spot anthracnose is properly treated.
Leaf Spot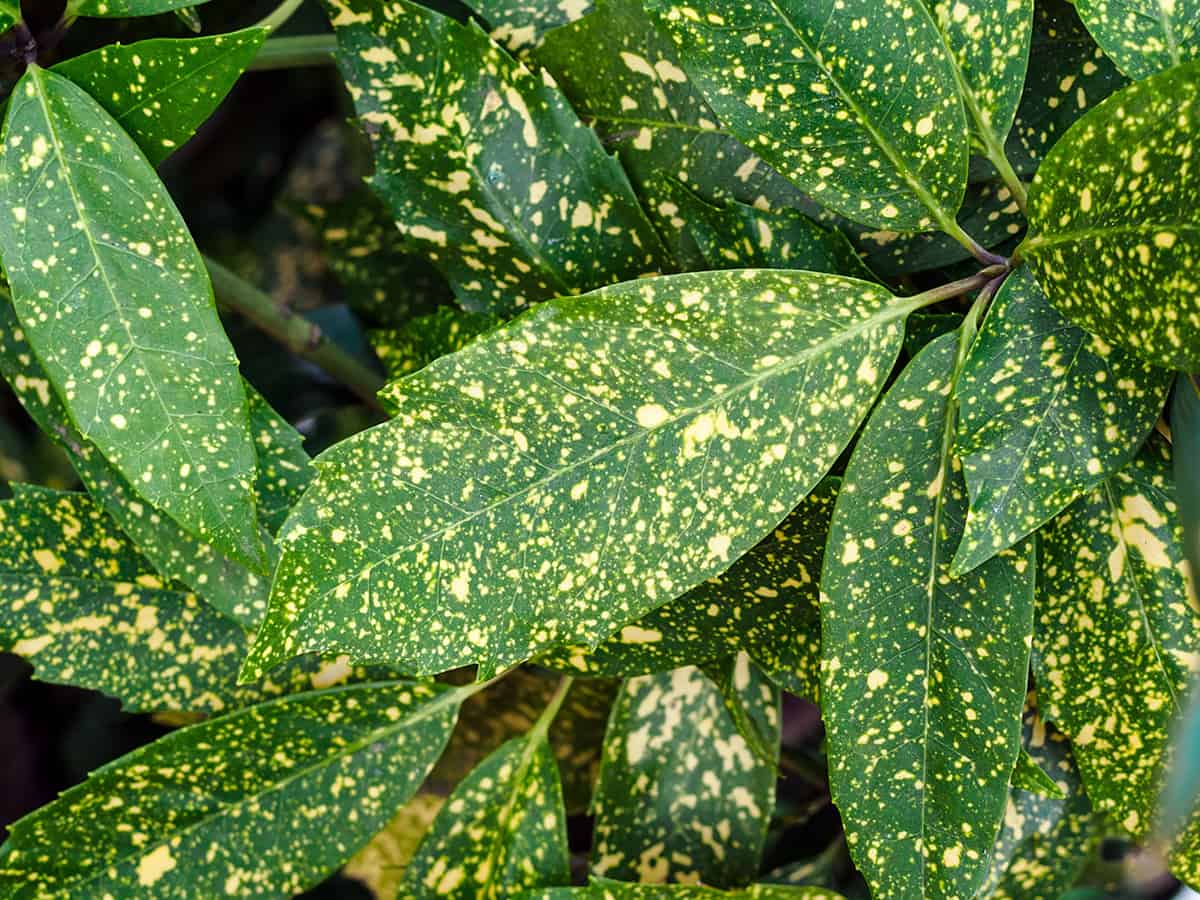 There are two types of leaf spot disease commonly affecting dogwood trees, and these are Cercospora leaf spot and Septoria leaf spot. They are both caused by fungal pathogens and present themselves in similar ways on the dogwood tree.
Though leaf spot does not typically cause severe harm to the tree's health, repeated occurrences of leaf spot can cause the tree to weaken. Leaf spot typically occurs in the summer months when there is frequent rainfall.
Identification
Leaf spots can be identified by irregularly shaped spots on the leaves. Each spot will measure between ¼ inch and ⅛ inch across, and they will be spread across the leaf in a random pattern. The spots will be tan or dark brown depending on the fungus causing the leaf spot, and as the disease progresses, the spots may fade to gray with a purple or brown outline. Leaf spots can also cause the leaves to shed prematurely.
Prevention
Like other fungal diseases, leaf spot thrives in moist and dense conditions. Thin out branches on the dogwood tree to improve air circulation, and rake up fallen leaves each winter and dispose of them. This is important because piles of fallen leaves are where the fungus pathogens live each winter, ready to reinfect the new growth on the tree the following spring.
Treatment
If leaf spot disease is identified, remove any affected leaves and dispose of them. A fungicidal spray is usually needed to eradicate the tree of any lingering spores, which could cause further infections if they are not treated.