Plants that bloom all summer long are always hugely popular in home gardens because they add beauty and color to the garden, and are able to be enjoyed and appreciated for an extended period of time. Plants that bloom for an entire season which are also perennials are even better because this means they will keep coming back each spring without having to be replanted.
Low-growing perennials in particular are always in high demand because they flow spectacularly out of containers and hanging baskets, and some can be used as a groundcover to create a colorful mat in between shrubs and other bedding plants. Here we look at the best low-growing perennials that bloom all summer long, and how to care for them.
Yarrow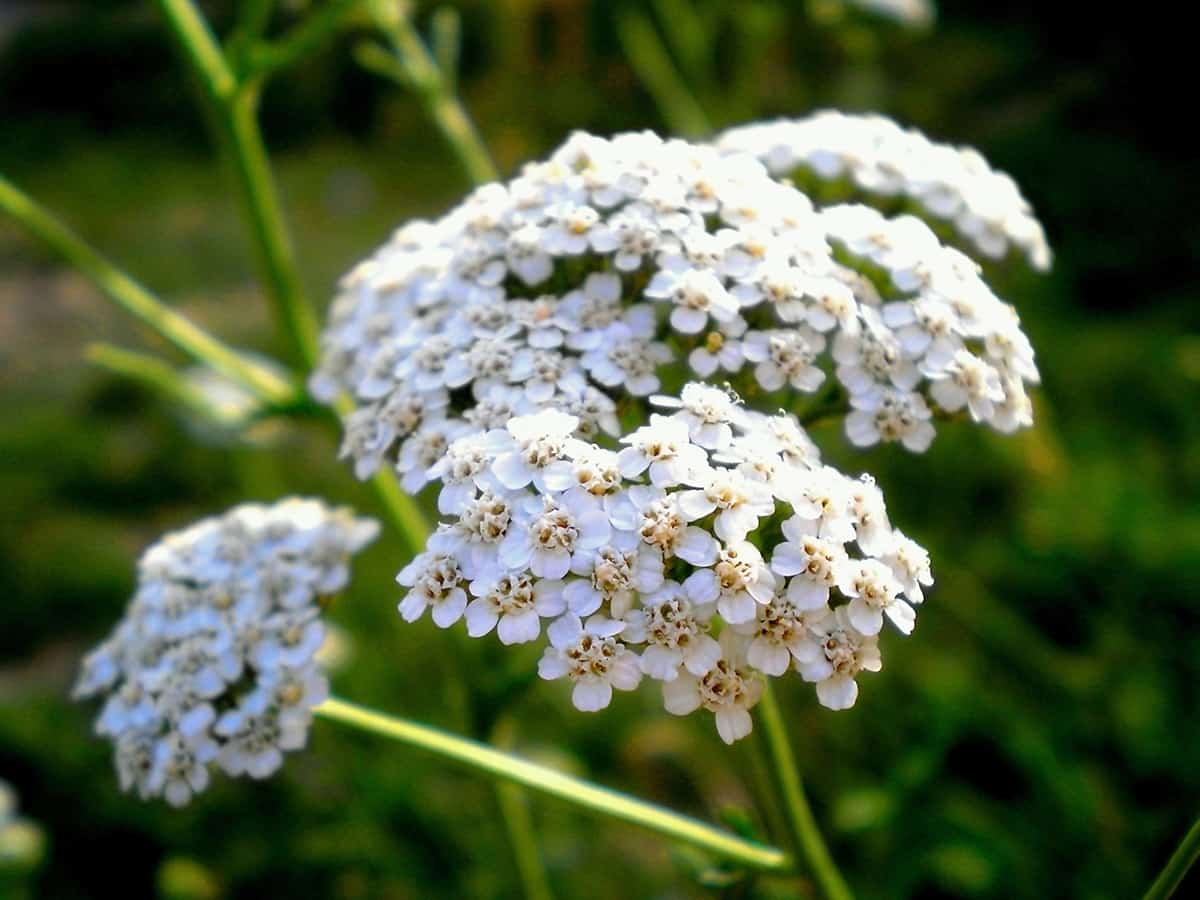 Botanical name: Achillea millefolium
Common names: Common Yarrow, Milfoil, Devil's Nettle
Plant family: Asteraceae
USDA hardiness zone: 3 – 9
Mature height: Up to 2 feet
Mature spread: Up to 2 feet
Varieties: 'Cerise Queen', 'Firefly Amethyst', 'Apricot Delight', 'Lilac Beauty', 'Pink Grapefruit', 'Pretty Belinda', 'Sassy Summer Sangria', 'Strawberry Seduction'
Yarrow is native to North America, Europe, and Asia. It is a perennial flowering plant which spreads through rhizomes, with many varieties having an exceptionally long blooming period from spring and all summer long right through to the first frost. The leaves of this plant are feathery and reminiscent of fern foliage, though the flowers are the main attraction.
These blooms form in dense clusters, with a vast array of small, pretty flowers neatly held together at the tips of stems. Yarrow comes in a huge variety of color options, including yellow, red, pink, purple, orange, and white. It is incredibly easy to care for and provides interest to the garden for a long period of time.
The flowers are great for adding color to borders, beds, and patio planting, and they are also renowned for making excellent cut flowers due to lasting for many weeks after being picked.
Care
Light
Yarrow will perform best when grown in full sun. Avoid planting it beneath the canopy of trees or shrubs where it will suffer from fewer blooms as a result of lack of light.
Soil
Yarrow plants are not fussy about the quality of soil they are grown in, as long as they drain well. Sandy, loamy, or clay soils will be tolerated, as well as poor or average soils.
Water
These flowering perennials are drought tolerant when they are well established, but the soil will need to be kept moist prior to this. Yarrow do not like wet or waterlogged soil, so avoid overwatering but aim to provide adequate moisture.
Temperature
These plants are suitable for growing in USDA hardiness zones 3 through 9. As perennial plants, they will thrive through summer until the first sign of frost causes them to die back to the ground. They will emerge again the following spring and repeat their growth cycle. They are tolerant of high levels of heat.
Spike Speedwell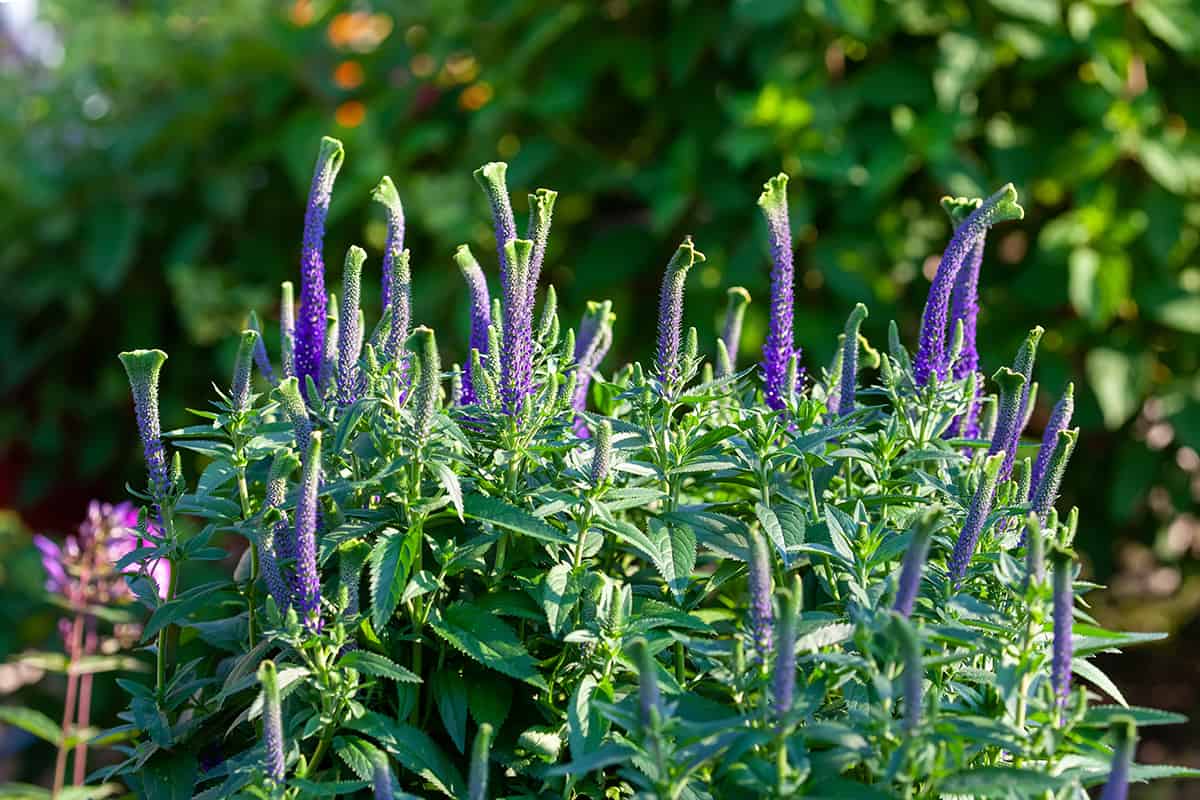 Botanical name: Veronica spicata
Common names: Speedwell
Plant family: Plantaginaceae
USDA hardiness zone: 4 – 8
Mature height: 1 to 3 feet
Mature spread: 1 to 2 feet
Varieties: 'Moody Blues Dark Blue', 'Blue Skywalker', 'Pink Potion', 'Sweet Lullaby', 'Hocus Pocus', 'Aspire'
This flowering perennial grows in low-growing clumps which typically do not exceed 2 feet in height, though slightly taller varieties are available. They send up spikes of flowers high above the foliage in early summer, and these densely packed flowers will remain in bloom all through summer and into fall.
It is enormously popular with pollinators such as butterflies and bees and makes for excellent cut flower bouquets. Spike Speedwell flowers come in shades of blue, pink, purple, and white.
Care
Light
Spike Speedwell plants thrive in full sun but they will also tolerate some partial shade. Grow them in beds, borders, or containers, away from the shade of nearby trees and shrubs.
Soil
These plants should be grown in loamy, well-draining soil. They cannot tolerate heavy, compacted soils.
Water
Spike Speedwell plants bloom most abundantly when they are grown in soil that is consistently moist. They cannot tolerate wet soils, which is why well-draining soil is essential. This will ensure you can water the plants generously to provide the high level of moisture they require, without the risk of making the soil soggy or waterlogged.
Temperature
These perennials are suitable for growing in USDA hardiness zones 4 to 8. They will die back to the ground after the first frost of the season and reemerge after the last frost the following spring.
Verbena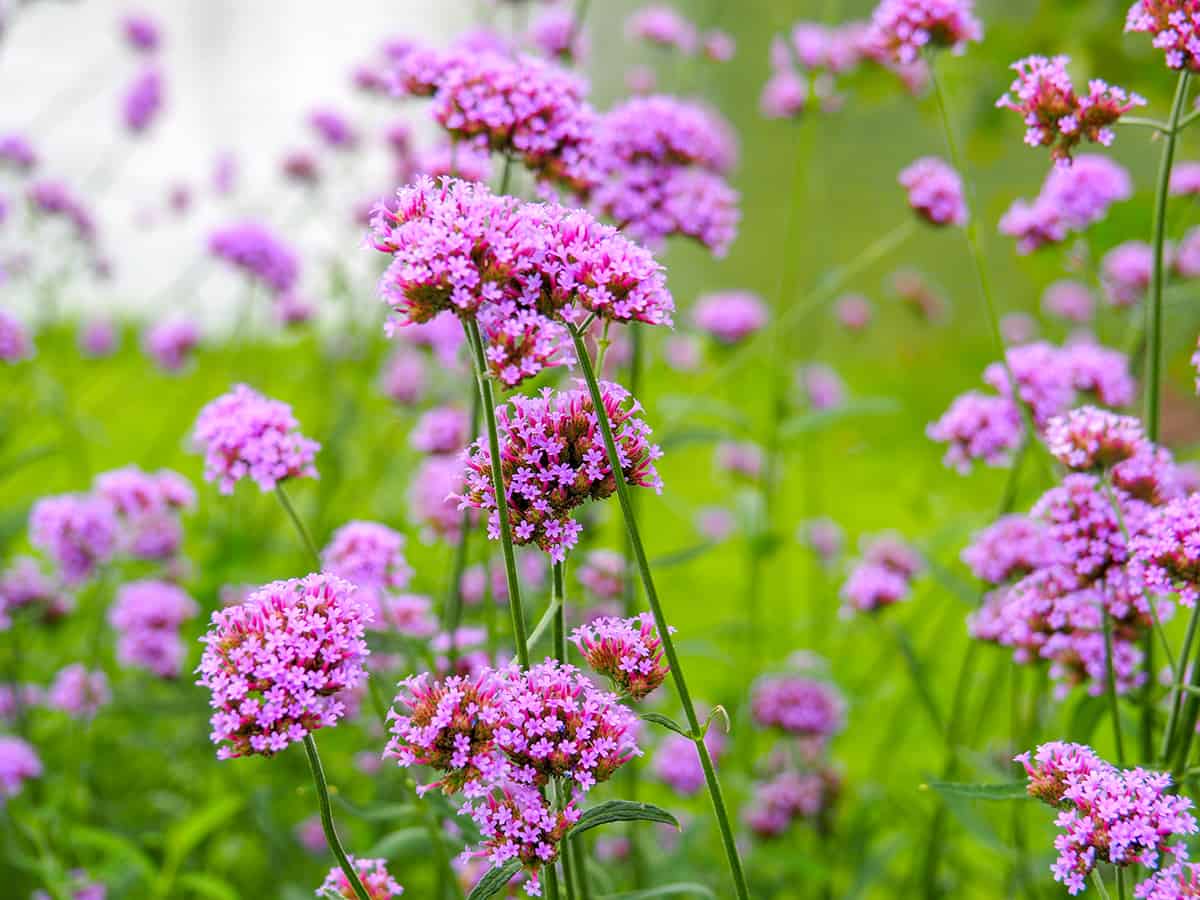 Botanical name: Verbena sp.
Common names: Verbena
Plant family: Verbenaceae
USDA hardiness zone: 3 – 11
Mature height: 4 inches to 1 foot
Mature spread: 1 to 3 feet
Varieties: 'Superbena Royale Plum Wine', 'Superbena Dark Blue', 'Lanai Twister Pink', 'Superbena Violet Ice'
Verbenas are a group of flowering plants which are native to Asia, Europe, and the Americas. They can be perennials or annuals depending on the climate. Many varieties of Verbena are trailing plants or mound-forming plants, and these work especially well bursting out over the edges of containers or hanging baskets.
Flowers bloom in early summer and they persist right through to fall. They come in shades of purple, red, pink, blue, white, and orange. The abundance of flowers is so intense that very little of the green, toothed foliage can be seen. These plants are a vibrant attraction in the garden throughout summer and are great for borders and groundcover, as well as planters.
Care
Light
Verbenas thrive in full sun or partial shade. They can be used as colorful ground cover beneath the dappled shade of a tree, though avoid planting them in the heavy shade as this will negatively affect flowering.
Soil
These plants will grow well in most soil types as long as they are well-draining. Chalky, loamy, sandy, or clay soils can be tolerated, along with poor soils which have been amended with a slow-release fertilizer.
Water
These are low-maintenance plants that can tolerate dry periods, though they will fare best when given supplementary water throughout dry spells in spring and summer.
Temperature
These plants are hardy through USDA hardiness zones 3 to 11, however, they will only remain as perennials from zone 8 upwards. This is because, in climates below zone 8, the low temperatures through winter will kill off the roots of the plant, in which case it needs to be treated as an annual and replanted each year.
If you live in zone 8 to 11, the plant will die back to the ground each winter, and emerge again the following spring.
Begonia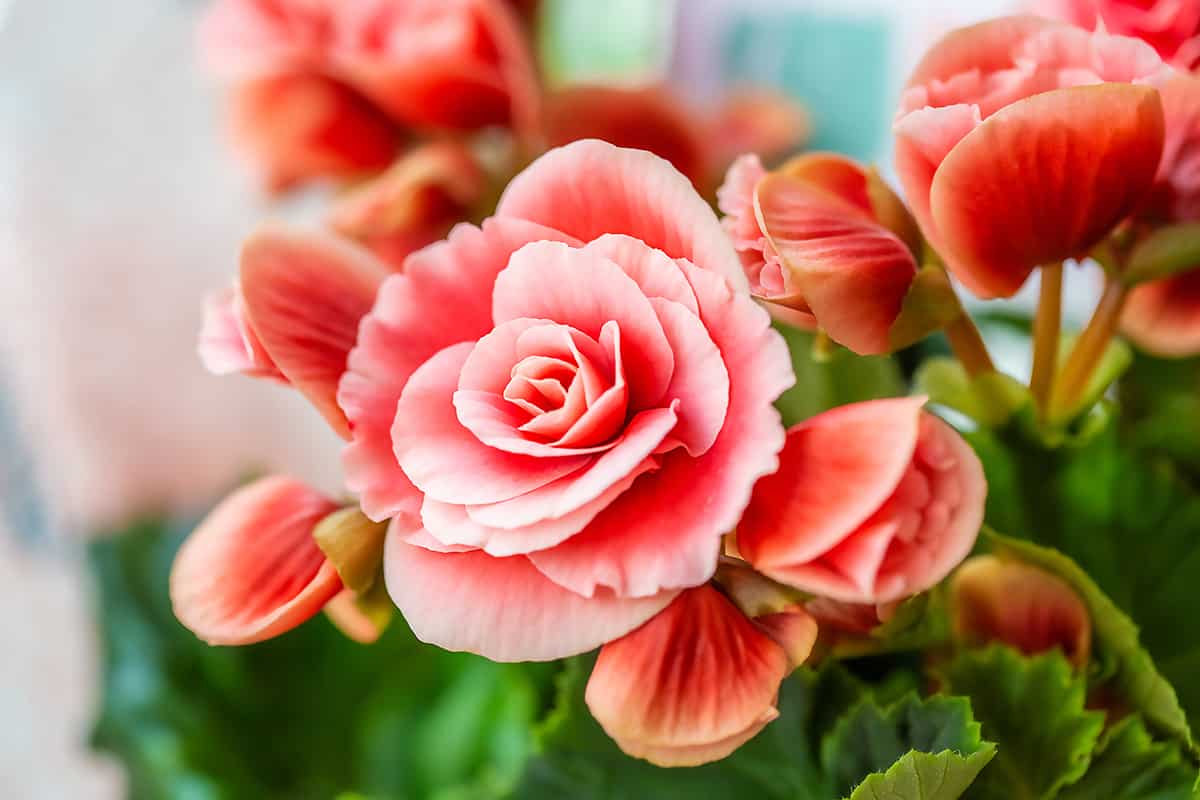 Botanical name: Begonia sp.
Common names: Begonia
Plant family: Begoniaceae
USDA hardiness zone: 7 – 12
Mature height: 6 inches to 2 feet
Mature spread: 6 inches to 2 feet
Varieties: 'Dragon Wing Pink', 'Garden Angel Blush', 'Hanging Basket Apricot', 'Nonstop Orange', 'Picotee Flamenco', 'Roseform Peach', 'Ruffled Yellow'
Begonia is a genus of low-growing, flowering perennials which are known for their ability to bloom for extended periods of time, often from spring right through to fall, and even into winter.
Most varieties of Begonia are ideal for hanging baskets and planters, window boxes, containers, or trailing over a high wall because they have cascading stems that produce a seemingly endless amount of flowers. These come in a huge variety of colors and forms, including red, orange, pink, white, yellow, and purple. The flowers can be double or single-layered, and some are ruffled or flushed with two-tone coloring.
Care
Light
Begonias cannot tolerate full sun and prefer to be grown in partial shade, or in some instances, full shade. This is quite unusual for a flowering plant because many of these rely on plenty of sunshine to form an abundance of flowers.
As Begonias prefer shade, they are a great choice for adding color and vibrancy to darker areas of the garden, such as a corner that doesn't get much sun, or underneath the shade of taller trees where few other plants will thrive.
Soil
Fertile soil is best for Begonias, as they have quite high nutritional needs. If your soil is not fertile, you can amend it by adding some organic compost to the surface of the soil and applying a balanced fertilizer regularly during the growing season. Begonias should also be grown in soil that is well-draining, and they have a preference for slightly acidic soils.
Water
Begonias are thirsty plants that thrive in moist soils, however, they dislike soggy soils. Water your Begonias daily throughout summer to ensure their need for moisture gets met.
Temperature
The temperature range that your Begonia plant can survive in will depend on the variety you have. Some Begonias are more cold hardy than others, for example, the Begonia boliviensis can survive down to USDA hardiness zone 7, while many other Begonia varieties need to be grown in zones 9 and up.
Some types of Begonia, for example, the 'Nonstop' series and the 'Picotee' Begonias can only survive in USDA hardiness zones 10 and up. They can be grown in cooler regions but they would need to be kept as annuals rather than perennials.
Calibrachoa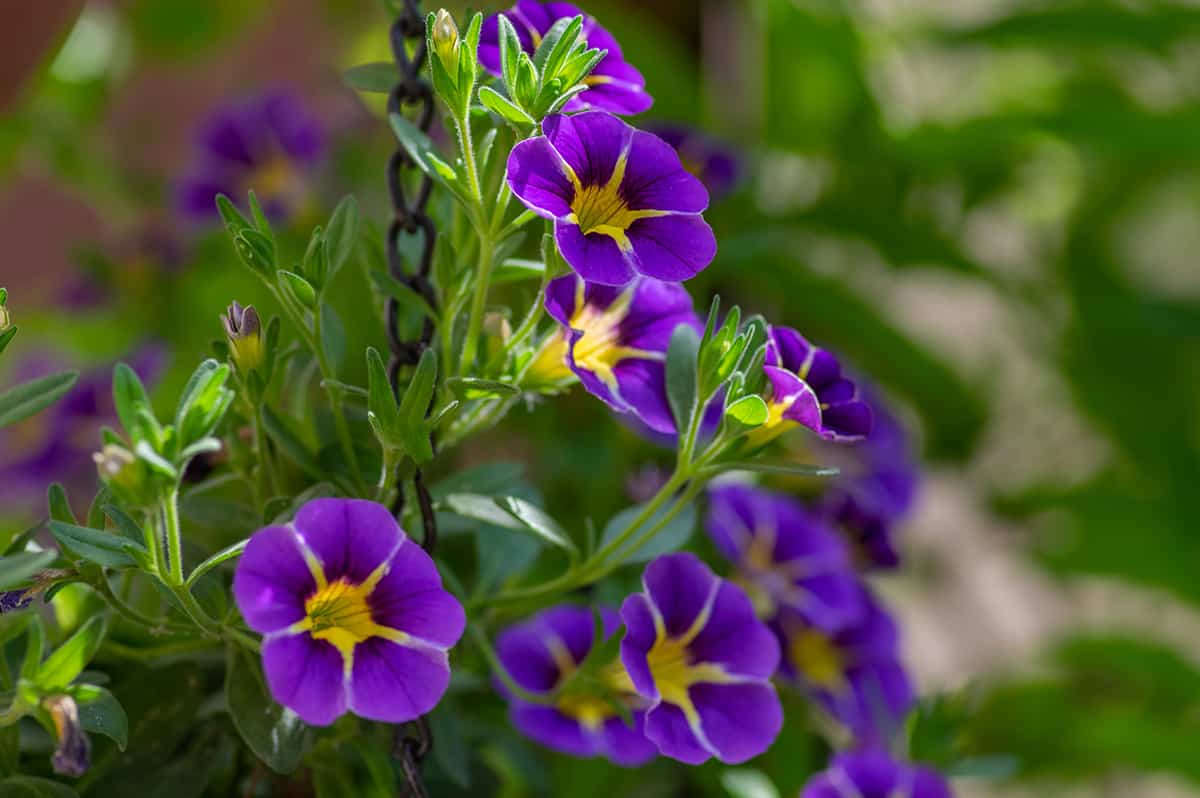 Botanical name: Calibrachoa sp.
Common names: Million Bells, Superbells, Trailing Petunias
Plant family: Solanaceae
USDA hardiness zone: 9 – 11
Mature height: 6 inches to 1 foot
Mature spread: 1 to 2 feet
Varieties: 'Cabaret Coral Kiss', 'Cabaret Sky Blue', 'Superbells Blue Moon Punch', 'Superbells Double Ruby', 'Superbells Tropical Sunrise', 'Superbells Yellow Chiffon', 'Superbells Hollywood Star'
Calibrachoa is a genus of low-growing, flowering perennials which can also be grown as annuals. These plants are native to South America, however, the types of Calibrachoa which are commonly available in garden nurseries are hybrids that were developed in the 1990s to make them better suited for home growers.
As these are hybrids, they cannot be grown from seed, and instead, you can buy them as seedlings. They produce masses of bell-shaped flowers that also resemble petunias, but in a smaller size. The flowers are an extremely popular addition to home gardens because they are easy to care for and they flower freely from spring right through to fall, providing a profusion of vibrant color and interest.
They have a mounding or trailing habit, making them suitable for growth in containers or hanging baskets. Several varieties of Calibrachoa will be planted in one container so that an array of colors can all be seen together. These plants also make great fillers in containers or hanging baskets because they grow to be dense yet elegant.
As well as providing great color in the landscape, these flowers are also great for attracting pollinators to the garden, including hummingbirds and butterflies.
Care
Light
Calibrachoa requires full sun to thrive. These plants can tolerate some light shade, but they will flower most prolifically in a position of full sun.
Soil
Calibrachoa plants are not fussy about the types of soil they are grown in, and they will thrive in any soil type which can drain well. They will tolerate poor soils, clay soils, and sandy soils, providing they are kept moist and are well draining.
Water
Calibrachoa plants need plenty of water to continue producing an abundance of flowers. In hot and dry climates, they should be watered every day through the growing season. Avoid allowing the soil to become soggy or waterlogged, and instead, aim for soil that is consistently moist. The top few inches of soil should dry out between each watering, but don't let the lower levels of soil dry out.
Temperature
These are heat-loving plants that thrive in warm climates. When kept in USDA hardiness zones 9 to 11 they will be perennials that enter dormancy through the winter and perk up again the following spring.
However Calibrachoa can also be grown in zones 2 to 8, but they will need to be treated as annuals in these climates. They won't survive the lower winter temperatures, and new plants will need to be grown each spring and summer.