Red is a popular choice of flower for the garden, but interestingly it is actually one of the rarest colors when it comes to flowering species of plants.
Blue is widely known as the rarest flower color, but red comes a close second, which may take many people by surprise since red flowers are widely seen in bouquet arrangements and in wildflower meadows. Here we investigate the meaning of red blooms and look at a range of shrubs that produce red flowers.
Red Flower Symbolism
Red is a color that is traditionally used to convey feelings of love and passion, and this is something that carries through to flowers. Red roses are the most common bouquets given on Valentine's Day as a symbol of romance and desire. Red is a strong color that can be used to send a strong message, and this doesn't always have to point to love and romance.
Red can be used as a symbol of good fortune, in fact, in Chinese culture the color red represents prosperity, so red flowers are a nice choice of gift to welcome someone into a new home or congratulate them on a new job. In Christianity, red flowers take on a different meaning, with red symbolizing the blood of Christ, which is why Poinsettias are popularly displayed at Christmas time.
Red for the Garden
Red flowers add a bold pop of color to the garden, which can induce an uplifting feeling when you spend time in the space. Most gardens feature a heavy amount of green, whether that be with a green lawn, green-leafed shrubs, or green-leafed trees.
Red is the contrasting color to green, so opting for red flowers against a green backdrop can create quite an intense polarization, really helping to set the flowers off and make them stand out. Red can also take on a tropical feel in the form of flowers, so a red flowering shrub can be a nice choice in a garden where you want to achieve an exotic vibe.
7 Shrub with Red Flowers
Peony
Botanical name: Paeonia
Family: Paeoniaceae
USDA hardiness zones: 3- 8
Mature height: Up to 3 feet
Mature spread: Up to 3 feet
Red Varieties: 'Early Scout', 'Golden Glow', 'Flame', 'Kansas', 'Merry Mayshine', 'Burma Ruby', 'Illini Warrior', 'Scarlett O' Hara', 'Karen Gray', 'Walter Mains', 'Midnight Sun', 'Buckeye Belle'
Peonies are flowering shrubs that are native to North America, Europe, and Asia. There are currently over 30 recognized species of Peony, along with numerous hybrids and cultivars. These plants are known for their showy cup-shaped flowers which can measure as much as 10 inches in diameter.
They typically bloom for a short amount of time, ranging from 7 to 10 days, but there are some varieties that can bloom for longer. Red varieties of Peony include 'Flame', which produces fire-colored flowers with a hint of orange. These blooms have mustard-yellow stamens, which add an extra dimension to the beauty of the flowers.
They arrive on sturdy stems which do not need to be staked and bloom in late spring or early summer. Another red variety is the 'Illini Warrior', whose flowers are a darker, more intense shade of burgundy red.
This is an early-season Peony that holds flowers on tall stems above a dense mound of fresh green foliage. The 'Buckeye Belle' is another red variety of Peony which has received the Award of Garden Merit from the Royal Horticultural Society. It is a hybrid variety producing rich red flowers with a velvety soft texture and a mild, pleasant scent. Most types of Peony will thrive in full sun or partial shade in well-draining soil with moderate moisture.
English Rose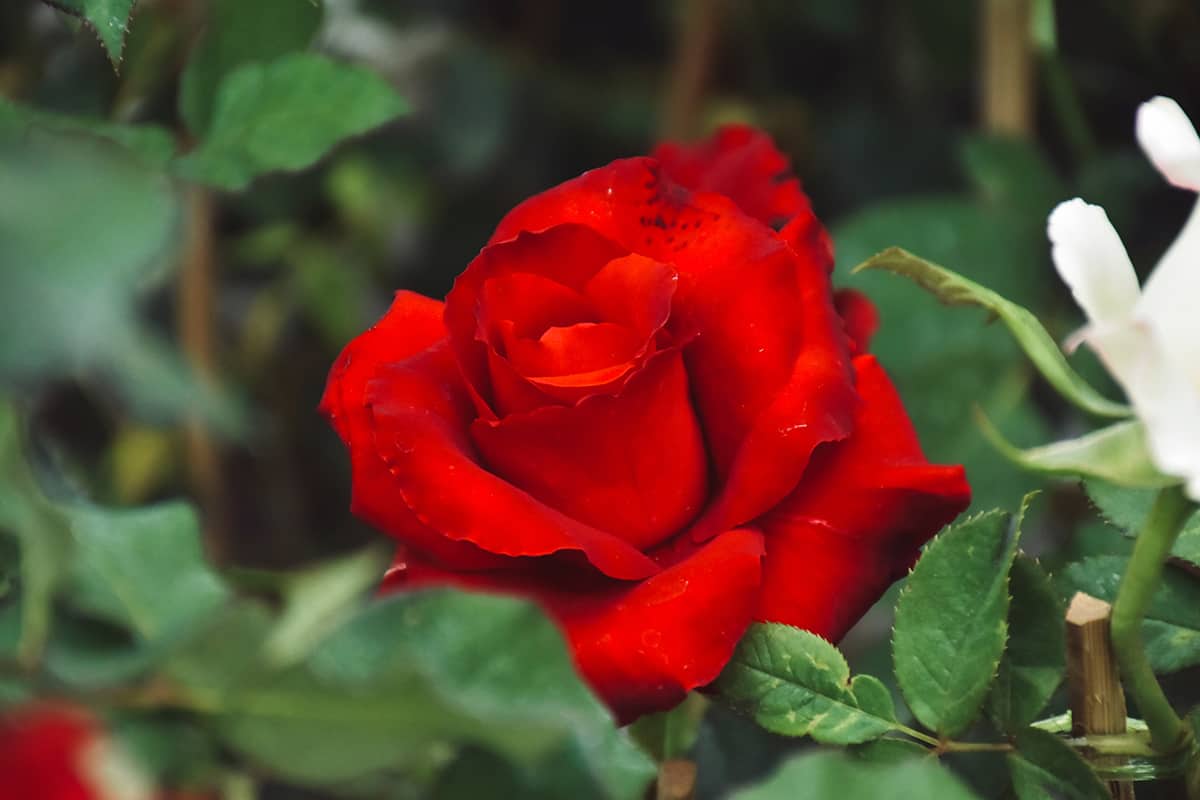 Botanical name: Rosa
Family: Rosaceae
USDA hardiness zones: 5 – 9
Mature height: Up to 10 feet
Mature spread: Up to 3 feet
Red Varieties: 'Darcey Bussell', 'Benjamin Britten', 'Tess of the d'Urbervilles', 'Munstead Wood', 'Othello', 'The Prince'
English Roses and also known as Shrub Roses. They are among the most sought-after types of roses since they produce luxurious double flowers which are pleasantly scented. These come in a huge array of varieties and cultivars, with many of them being red. Red varieties include 'Othello', which is a medium-sized shrub growing to 5 feet in height when mature.
This rose produces fully double flowers which look rich and extravagant in an intense shade of scarlet. 'Benjamin Britten' is a hugely popular red variety of roses that was first introduced in 2001 by David Austin. It is favored for its large coral-red flowers, which repeatedly bloom through spring, summer, and into fall.
This is a slightly smaller variety at a maximum height of 4 feet. 'The Prince' rose is among the smallest of the rose shrubs, growing to just two and a half feet when mature. It blooms with dark crimson flowers, layer upon layer of velvety petals. This variety is known for having a strong scent. Roses typically grow best in well-draining soils in full sun or partial shade. They can be pruned to create a neat shape or allowed to grow into natural mounds.
Mexican Scarlet Sage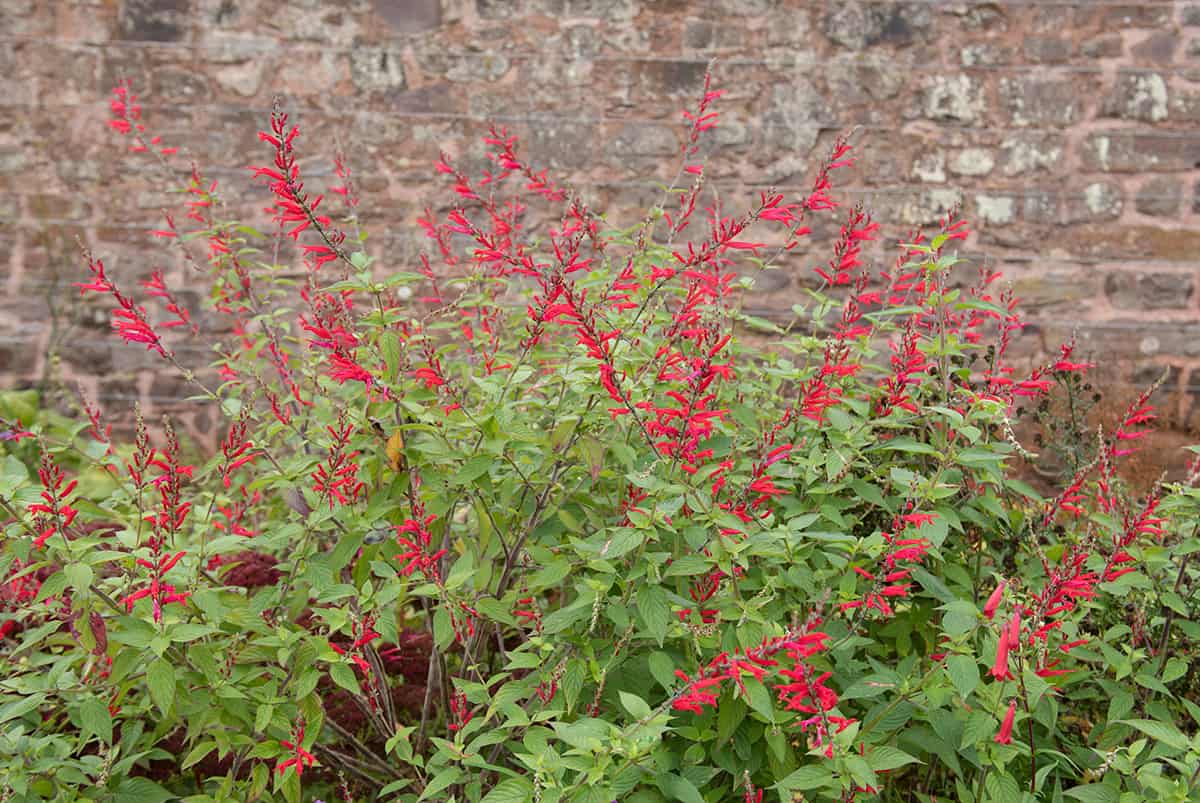 Botanical name: Salvia fulgens
Family: Lamiaceae
USDA hardiness zones: 9 – 12
Mature height: 4 to 5 feet
Mature spread: 2 to 3 feet
This native Mexican plant is also commonly known as Cardinal Sage. It is a small, evergreen shrub reaching a mature height of between 4 and 5 feet, making it well suited for borders and informal hedging. The Mexican Scarlet Sage is adored for its unusual, vibrant flowers, which have a long blooming season from summer right through to fall.
These flowers are bright red and take the shape of long slender tubes. The petals have a velvet-like texture and tiny red hairs towards the tip of the flowers. The late blooming quality of this plant makes it especially useful for adding color to the garden at a time when most other flowers are coming to the end of their season.
The Mexican Scarlet Sage is popular with a wide range of pollinators and is ideal for attracting hummingbirds, bees, and butterflies to the garden. The foliage of the plant is attractive, with each leaf shaped like a stretched heart. They are medium to light green in color and can be flushed at the edges with red.
These plants can grow in full sun or partial shade, with partial shade being the best option in particularly hot climates. They enjoy well-draining soils which are consistently moist but should not be allowed to remain in wet or soggy soil.
Japanese Camellia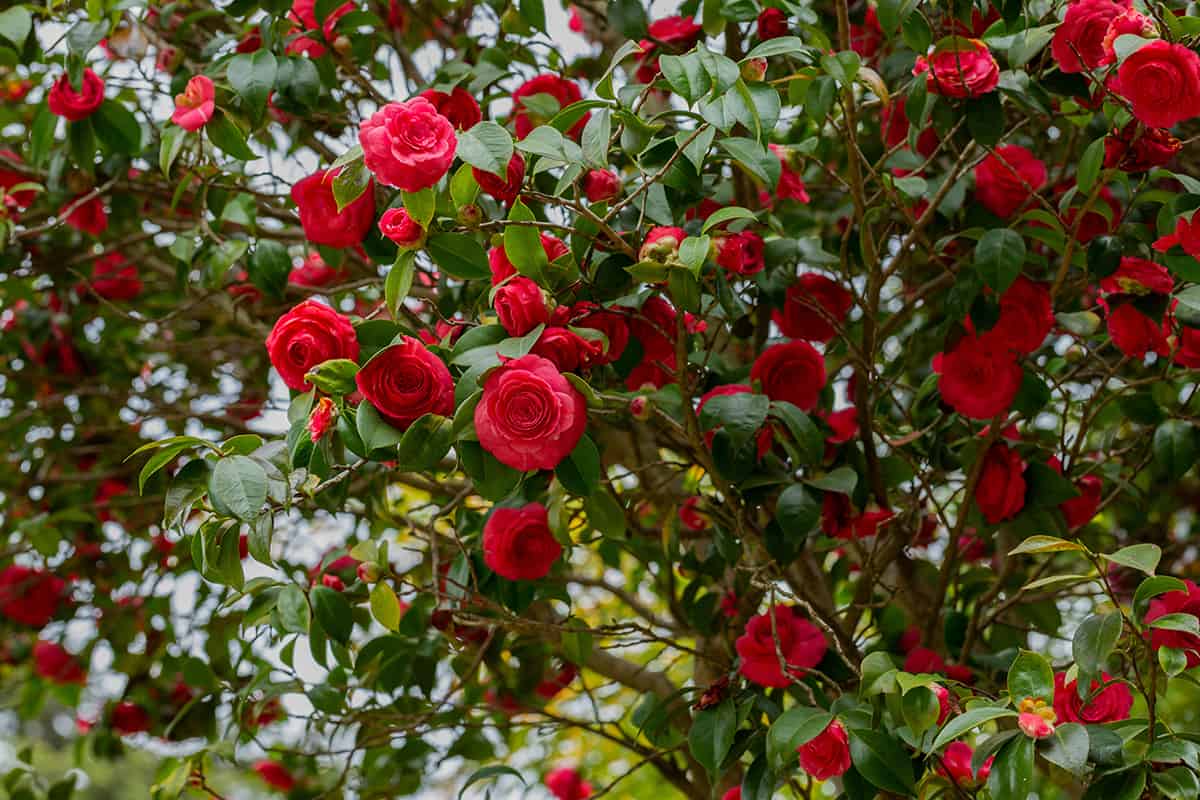 Botanical name: Camellia japonica
Family: Theaceae
USDA hardiness zones: 7 – 9
Mature height: Up to 15 feet
Mature spread: Up to 10 feet
Red Varieties: 'Bob Hope', 'Australis', 'Korean Fire', 'Don Mac', 'Lady Campbell', 'Kramer's Supreme'
Japanese Camellias are native to Asia, where they have much cultural and historical significance. These plants are evergreen flowering shrubs that can range in size from compact to large. They have a reputation for being difficult to grow. However, this is incorrect.
They require little maintenance and are not very fussy regarding the conditions they are grown in, and they reward any effort with an abundance of delightful flowers which can bloom from spring right through to fall. Red flowering varieties of Japanese Camellia include 'Don Mac', which is a cultivar first released in the mid-1900s.
It features thin, crepe-like petals in an orange-tinted shade of red, surrounding bright yellow stamens. The foliage is dark green and leathery, providing a nice contrast against the blooms. 'Australis' is another red variety known for its long blooming period. These flowers are bright red with ruffled petals, each measuring around 5 inches across. This is an award-winning variety of Peony which thrives in the shade.
It can be positioned in either partial shade or full shade, making it ideal for brightening up a dark corner of a garden. Another red flowering variety of Peony is 'Lady Campbell', which produces symmetrical rosette-shaped flowers. This is a smaller variety of Japanese Camellia growing to a mature height of around 7 feet.
These plants can thrive in different conditions depending on the species, ranging from the full sun right through to full shade. They typically prefer acidic soils, which are well-draining and rich in organic content.
Conebush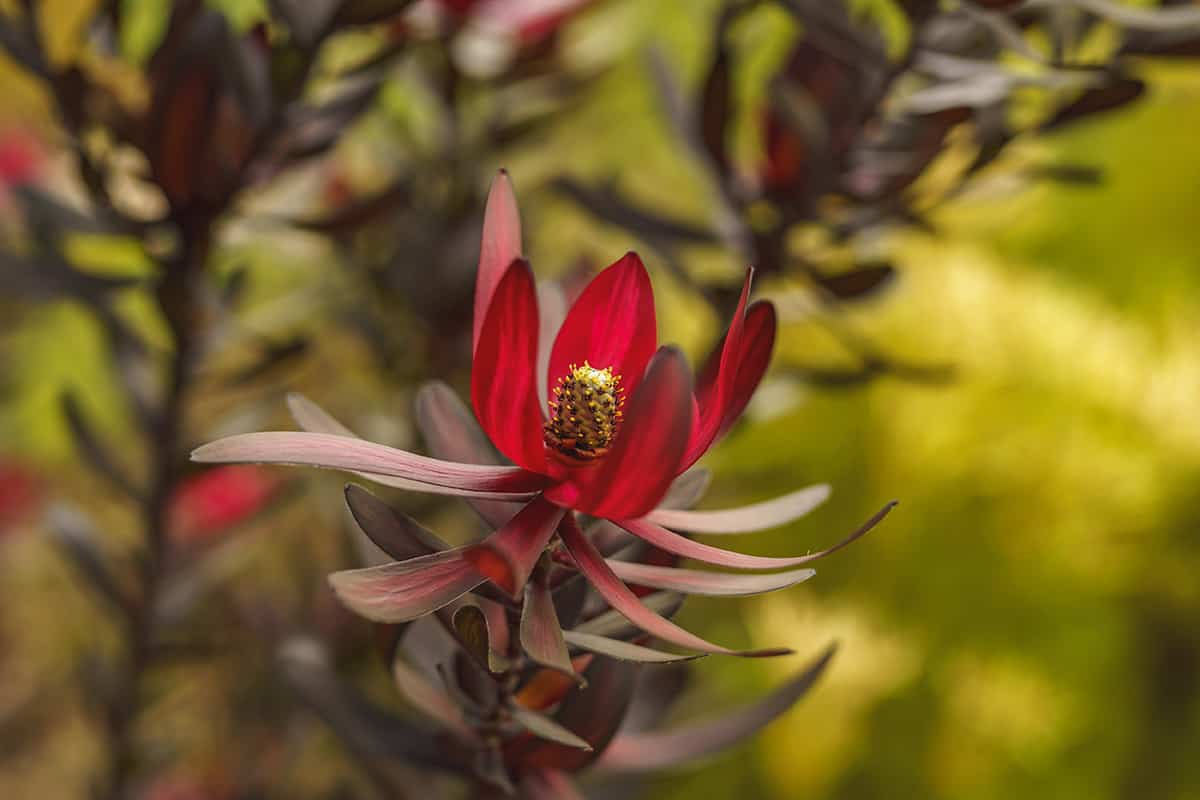 Botanical name: Leucadendron
Family: Proteaceae
USDA hardiness zones: 9 – 11
Mature height: Up to 10 feet
Mature spread: Up to 8 feet
Red Varieties: 'Safari Sunshine', 'Summer Red', 'Winter Red', 'Safari Sunset',
Conebush is an evergreen plant that can be grown as shrubs or small trees. They produce showy flower bracts which have a tropical look to them, making this a good choice of red flowering shrub for an exotic-style garden. Red varieties of Conebush include 'Safari Sunshine, which has received the Award of Garden Merit from the Royal Horticultural Society.
This plant has stunning variegated foliage, which is predominantly green, edged with pink, cream, or purple. The flowers of this variety are coral-red and are long-lasting to provide interest in the garden throughout the season. They work really well in cut floral arrangements, or you can leave them on the plant to progress to yellow cones in winter.
Another red variety of Conebush is 'Winter Red', which sends out spiky, star-shaped flowers which have red tips which fade down to cream in the middle. The blooms are not technically flowers and instead are bracts or modified leaves. These have a thick, leathery texture, and are extremely long-lasting. Conebush í very low-maintenance shrubs that grow easily. They thrive in full sun and can grow in soils that are well-draining, sandy, infertile, or acidic. The plants are heavily tolerant to both drought and heat once well established.
Firecracker Bush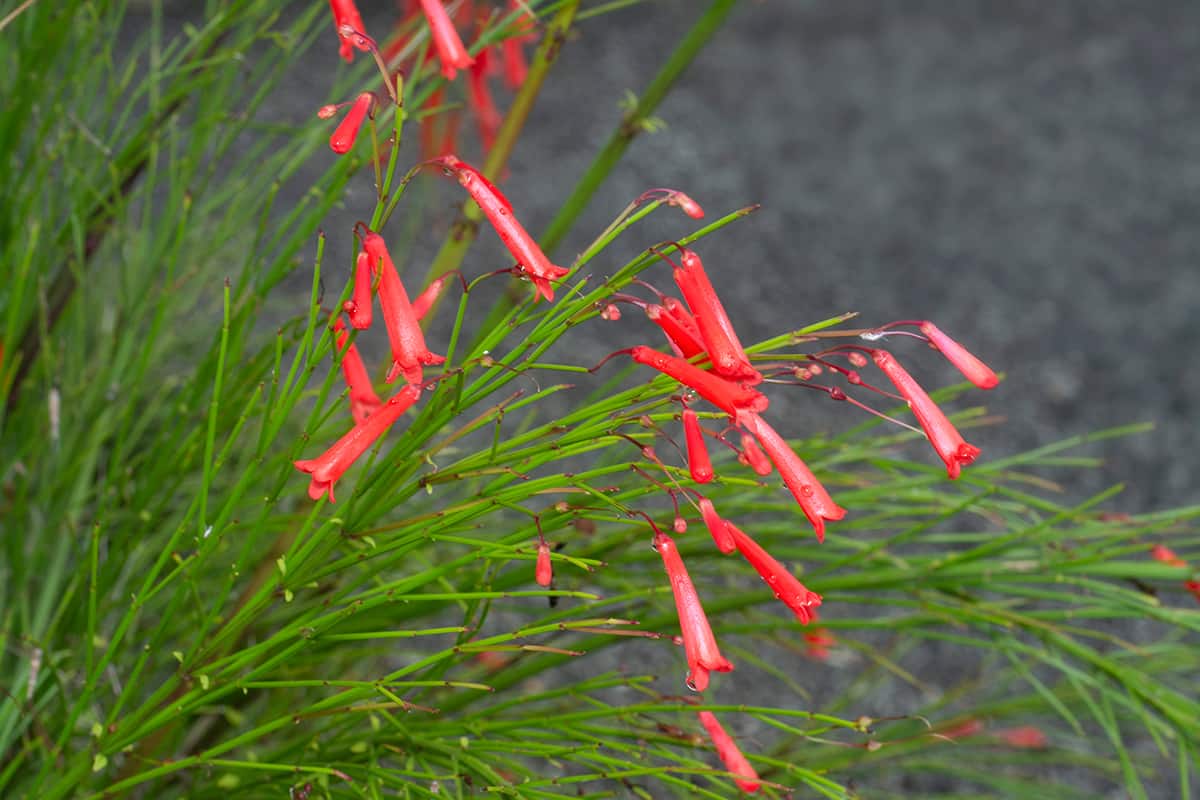 Botanical name: Bouvardia ternifolia
Family: Rubiaceae
USDA hardiness zones: 7 – 10
Mature height: 2 to 4 feet
Mature spread: 2 to 3 feet
This shrub grows natively across Mexico, Honduras, and the southern United States. It is a common wildflower in these regions, but it is also popularly cultivated in home gardens because of its attractive blooms. It produces unusual tube-shaped flowers which flare out at the ends and will typically measure 2 inches in length.
These flowers are an intensely vivid shade of red, and they arrive in dense clusters for a showy effect. Blooming for several months from spring right through to fall, the Firecracker Bush is an exceptionally charming specimen with a long period of interest. It also features pleasant-looking small, green leaves, which will remain on the plant through winter in warm climates.
The plant can be grown in full sun or partial shade in a range of well-draining soils. It is tolerant of drought once well established but is sensitive to fertilization and excess moisture. Avoid feeding the plant and allow the soil to dry out before adding more water.
Baja Fairy Duster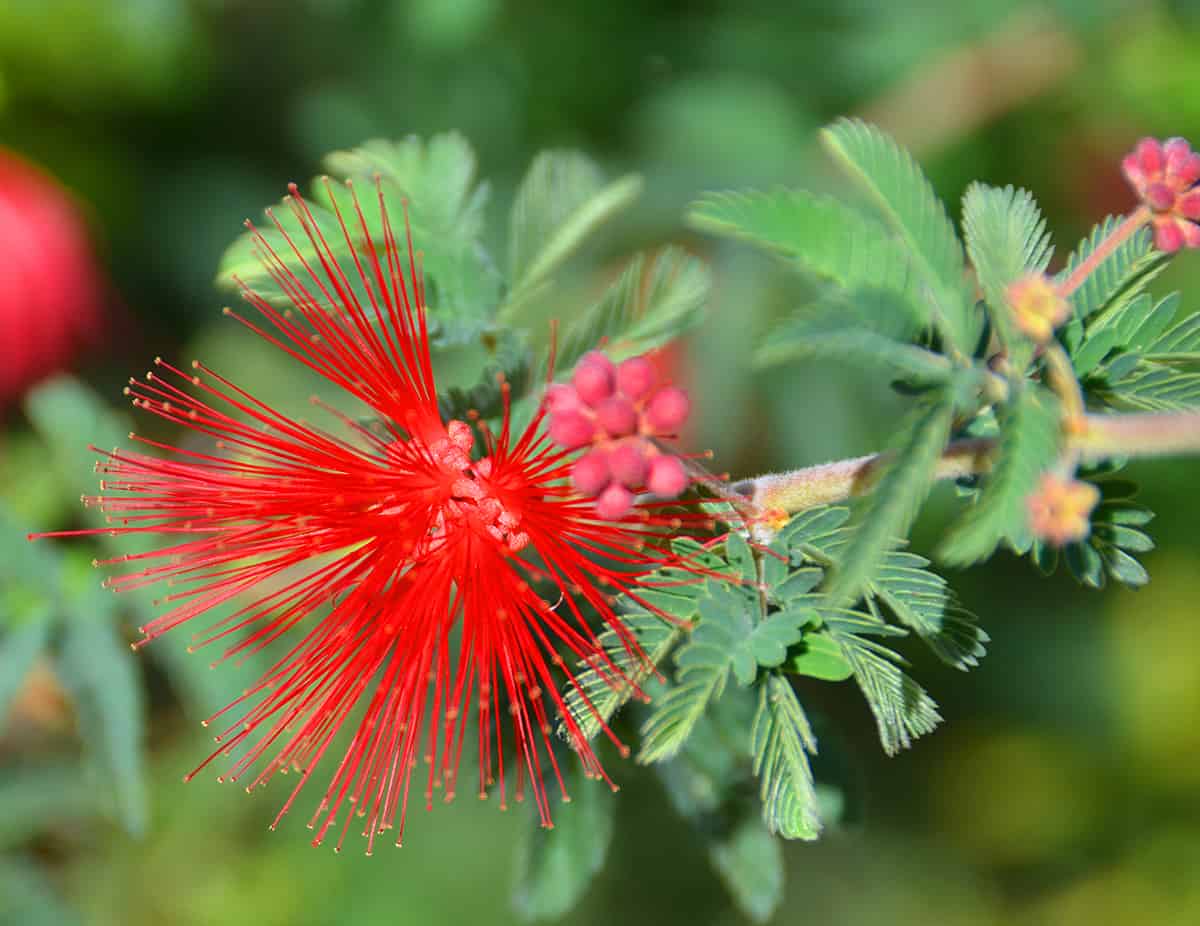 Botanical name: Calliandra californica
Family: Fabaceae
USDA hardiness zones: 9- 12
Mature height: 5 to 6 feet
Mature spread: 5 to 6 feet
This plant is native to the state of Baja, California, in Mexico. It features incredibly attractive foliage and even more unusual flowers. The leaves on the plant are fern-like, in colors ranging from fresh green through to sage green and blue-green. The foliage folds in on itself at nighttime and is evergreen.
The flowers of the plant bloom all year round and are formed out of clusters of bright red stamens. This gives the effect of an explosion of feathery threads, resembling a feather duster which gives the plant its common name. The flowers are typically between 1 and 2 inches long and are highly attractive to hummingbirds.
They develop into seed pods which will split when ripe to reveal the inner seeds. This is a low-maintenance shrub that grows best in full sun and in well-draining soils. However, it will adapt to most soil types. It is tolerant of drought and heat when well established.