Red flowers signify love, romance, and passion, and they are a great addition to any garden if you want to create a sense of vibrancy and drama. Red and green are directly contrasting colors, so red flowers on plants that have green leaves can be particularly noticeable and will draw attention to that area of the space.
Perennial plants which produce red flowers that bloom all summer will ensure there is long-lasting color and interest in your landscape. Depending on your climate, perennial plants will remain all year long, or they may die back in winter to re-emerge the following spring. Here we look at the best red perennials that bloom all summer.
Canna Lily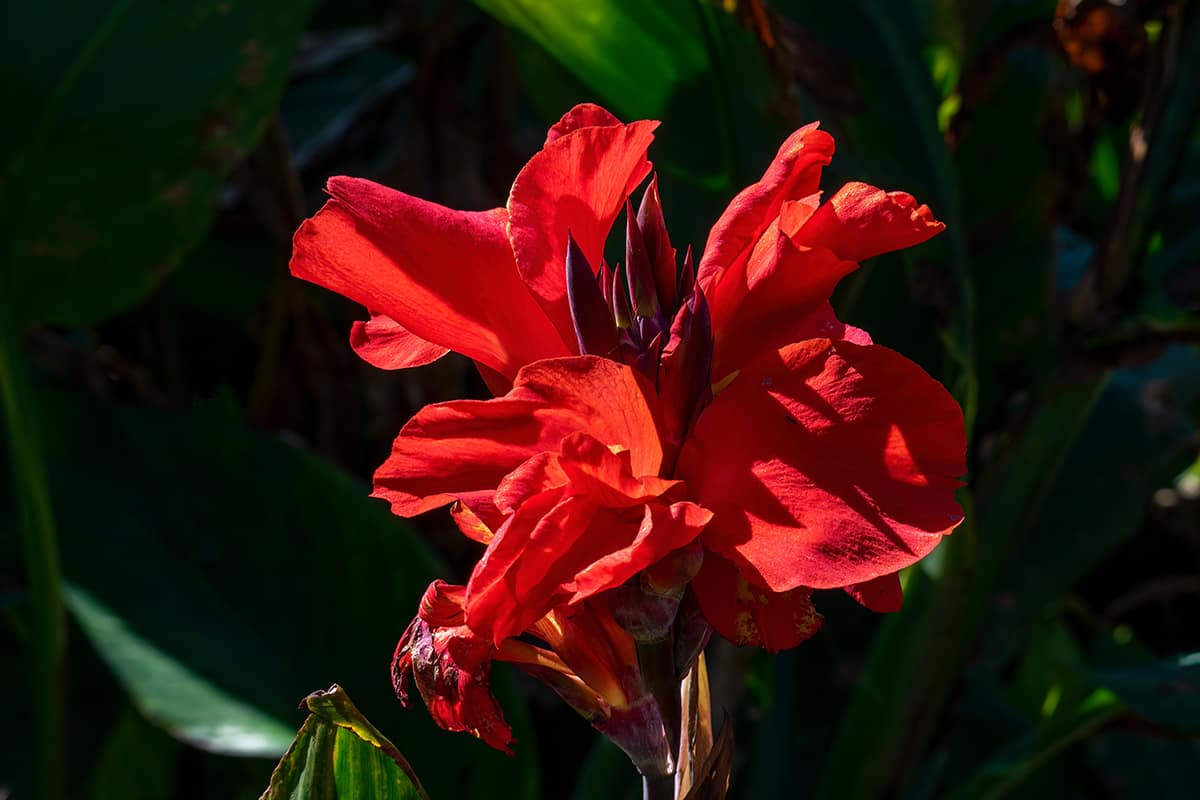 Botanical name: Canna sp.
Common names: Canna Lily
Plant family: Cannaceae
USDA hardiness zone: 8 – 11
Mature height: Up to 6 feet
Mature spread: 1 to 2 feet
Varieties: 'Cannova Bronze Scarlet', 'Crimson Beauty', 'Lucifer', 'Red King Humbert', 'President', 'Valentine'
Canna Lilies are tropical plants that are actually not true lilies at all. Unlike lilies, which belong to the Liliaceae family of plants, the Canna Lily is actually an entire genus that belongs to the Cannaceae family. The Canna Lily is the only genus in this family, with a total of 10 different species.
Many of the Canna Lilies cultivated for their ornamental value today are hybrid varieties which were specifically developed for the home gardener audience. Canna Lilies are perennial plants with enormous, attractive leaves which are similar to banana plant leaves. Each leaf can span up to 4 feet.
The flowers of the Canna Lily can be red, orange, white, yellow, or pink, with many popular red varieties including 'Firebird', 'Crimson Beauty', and 'Cannova Bronze Scarlet'. The flowers will bloom in either spring or early summer, depending on the variety, and they will last all summer long and right into fall.
Care
Light
Canna Lilies thrive in full sun. They should not be intentionally planted in the shade as this can affect their ability to bloom.
Soil
These plants thrive in organically rich, fertile soils which are well-draining.
Water
Canna Lilies enjoy moderate moisture in their soils, so avoid allowing the soil to dry out, but also try to prevent a soggy soil situation.
Temperature
Canna Lilies are very sensitive to frost, so should only be treated as perennials in USDA hardiness zones 8 to 11. In zones 3 to 7 Canna Lilies can be grown through spring and summer, but their rhizomes will need to be dug up and stored in a cool, dark place through winter, such as a garage.
This will prevent the roots from freezing and killing the plant. The rhizome can be planted outside again the following spring.
Hummingbird Mint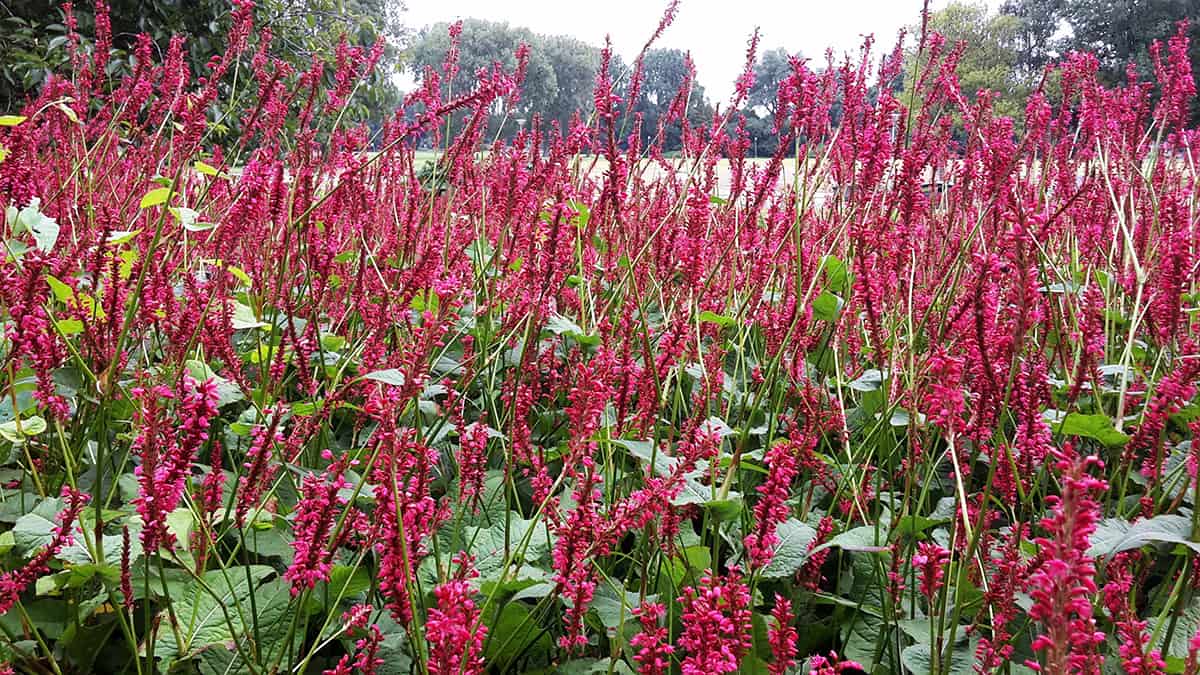 Botanical name: Agastache sp.
Common names: Hummingbird Mint, Giant Hyssop, Korean Mint
Plant family: Lamiaceae
USDA hardiness zone: 5 – 10
Mature height: 3 to 6 feet
Mature spread: 1 to 2 feet
Varieties: 'Kudos Red', 'Summer Fiesta', 'Desert Sunrise', 'Kudos Coral'
Hummingbird Mint is a woody perennial that is pleasantly fragranced and produces masses of brightly colored flowers from early summer right through to fall. These plants produce compact mounds of fresh green foliage, with tubular flowers emerging all over tall spikes which are held above the leaves.
These flowers are very popular with pollinators, especially bees and butterflies. These plants produce flowers in shades of purple, orange, pink, yellow, white, and red. The red varieties in particular create a striking contrast with bright red flowers against the bright green leaves.
Care
Light
Hummingbird Mint relies on the full sun to produce its long-lasting display of flowers. Keep shade to a minimum, except for in hot climates where some afternoon shade can be suitable, though this may limit flowering.
Soil
Fertile soil is preferred for this plant, and well-draining soil is absolutely essential. It is very sensitive to overly moist soils which will cause the roots to rot.
Water
The Hummingbird Mint is drought tolerant once established, though it does prefer to have its soil moistened through periods of dry weather. Avoid over-watering and ensure drainage is excellent to avoid wet soils.
Temperature
Hummingbird Mint prefers moderate temperatures which are not very hot or very cold. The plant is sensitive to frost, so in climates that experience frost it will have to be grown as an annual instead of a perennial.
Begonia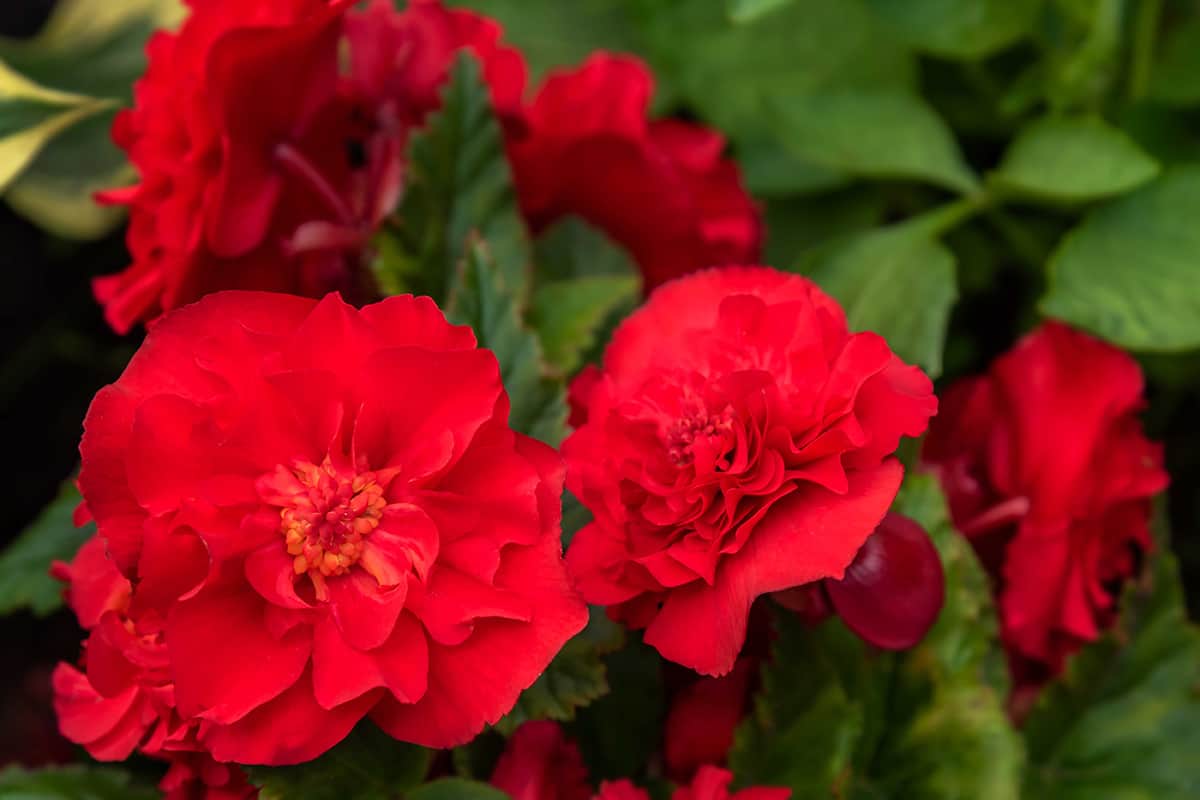 Botanical name: Begonia sp.
Common names: Begonia
Plant family: Begoniaceae
USDA hardiness zone: 9 – 11
Mature height: 8 inches to 2 feet
Mature spread: 1 to 2 feet
Varieties: 'Dragon Wing Red', 'Fimbriata Ruffled Red', 'Picotee Lace Red', 'Nonstop Red', 'Roseform Red'
Begonias are a genus of over 2000 different plant species, with many more different varieties and cultivars. They are known for their ability to bloom en masse, with flowers that remain intact for extended periods of time. The flowers take many different forms, including ruffled flowers and fully double flowers.
They are very large, especially considering the total size of the plant, with individual flowers measuring up to 8 inches across. Begonias have a clumping or mounding habit, with trailing stems that look beautiful hanging over the edges of walls or a container. Red begonias are among the most popular, as they have a very striking impact.
Care
Light
Begonias thrive in partial shade, so they are ideal for adding light and color to darker spots in your garden. Many varieties will also tolerate full shade.
Soil
The soil your Begonia is growing in should be fertile and well-draining. These plants enjoy moist soil, so to avoid waterlogging the soil should be able to drain away excess moisture from the roots. Acidic soil is also preferred by Begonias.
Water
Begonias prefer to grow in moderately moist soil, but they can also tolerate periods of drought. Aim to offer supplemental water every few days during hot and dry summers to keep the plant in the best health.
Temperature
Begonias are perennial plants that are native to subtropical and tropical climates, so they are accustomed to growing in hot and moist conditions. These plants are sensitive to frost, and will only remain perennial in USDA hardiness zones 9 and above.
Yarrow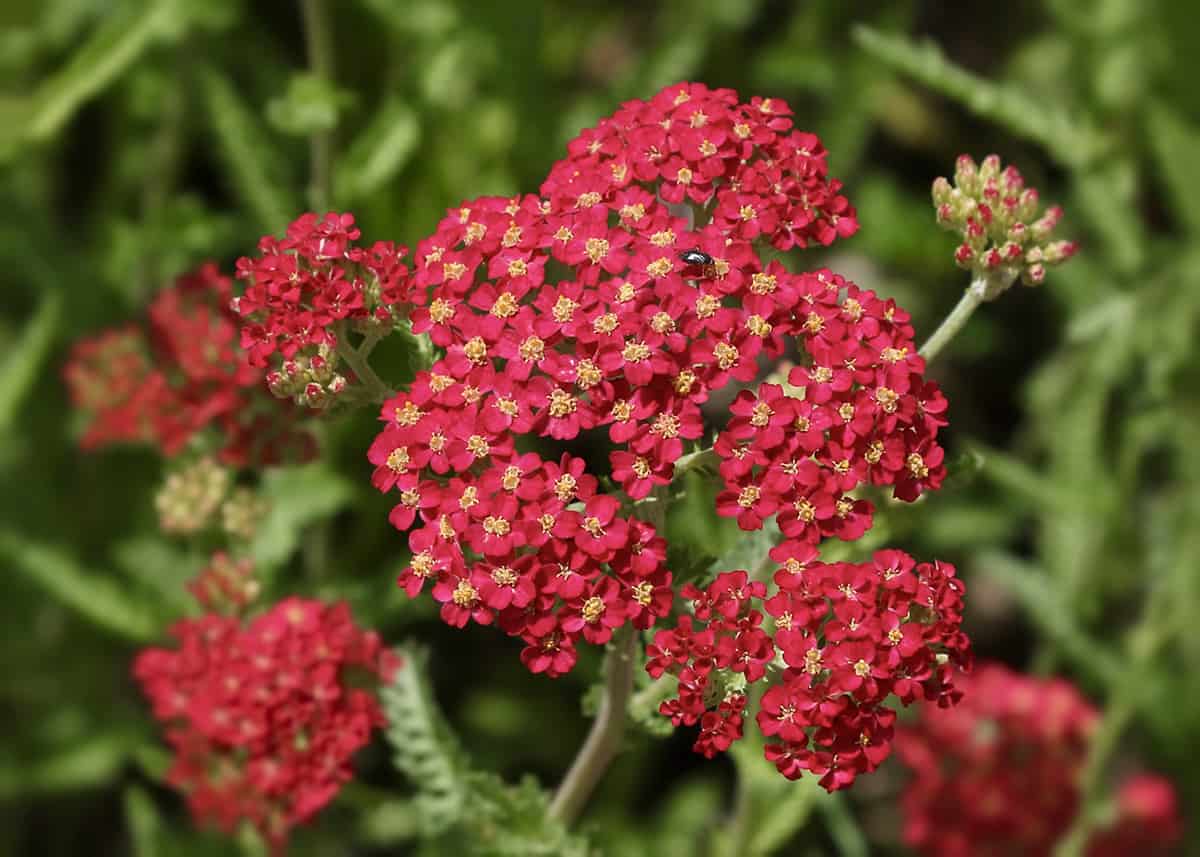 Botanical name: Achillea millefolium
Common names: Yarrow, Common Yarrow, Devil's Nettle, Old Man's Pepper, Carpenter's Weed
Plant family: Asteraceae
USDA hardiness zone: 3 – 9
Mature height: Up to 4 feet
Mature spread: Up to 3 feet
Varieties: 'Desert Eve Deep Rose', 'Red Velvet', 'Paprika', 'Pomegranate', 'Sassy Summer Sangria'
Yarrow is a bushy perennial which has a compact mounding habit. It is native to various portions of Asia, Europe, and North America. The plant features feathery foliage which resembles the fronds of a fern and brightly colored flowers which bloom in large, dense clusters.
Flowers come in a variety of colors, including pink, orange, yellow, red, and purple. Some of the popular red varieties of Yarrow are 'Red Velvet', 'Paprika', 'Pomegranate', and 'Sassy Summer Sangria'.
The flowers arrive on branching stems held high above the foliage early in summer and remain all the way into fall. This is an incredibly easy-care plant that adds long-lasting vibrancy to the landscape with minimal effort.
Care
Light
For the brightest and biggest supply of flowers, Yarrow should be grown in full sun. It can tolerate partial shade but flowering may be reduced.
Soil
Yarrow will grow well in a range of soils, including sand, clay, and loam. It performs best in average soils which are well draining, since it does not like to grow in waterlogged conditions.
Water
Yarrow is drought tolerant once well established, but the soil should be kept moist but not wet for younger plants. Established Yarrow plants can survive with minimal amounts of moisture, though supplementary water can help with growth.
Temperature
This is a hardy plant that is suitable for growing in USDA hardiness zones 4 to 10. It is sensitive to very hot temperatures.
Calibrachoa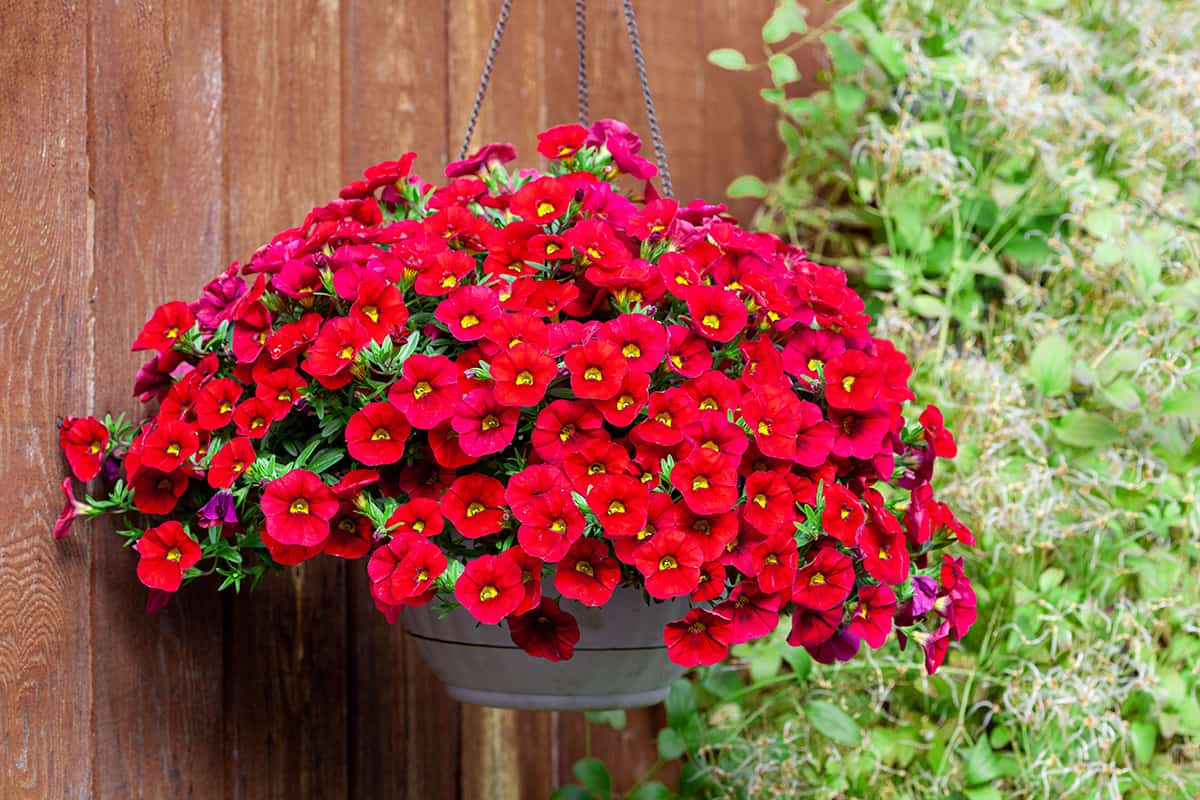 Botanical name: Calibrachoa sp.
Common names: Million Bells, Superbells
Plant family: Solanaceae
USDA hardiness zone: 9 – 11
Mature height: 6 inches to 1 foot
Mature spread: 1 to 2 feet
Varieties: 'Superbells Cherry Red', 'Superbells Double Ruby', 'Superbells Pomegranate Punch'
These are perennial plants that have a vigorous rate of growth and are free-flowering from spring right through to fall. They have a mounding habit and can also trail over the side of containers and hanging baskets. These are incredibly popular plants, due to their stunning, long-lasting blooms, and their easy care nature.
Calibrachoa is native to South America, and they are closely related to Petunias. They grow in the same areas as Petunias and therefore require much the same care, and their flowers also closely resemble Petunia flowers. There are numerous varieties of Calibrachoa available, usually in shades of purple, white, pink, or red. Popular red varieties include 'Superbells Double Ruby' and  'Superbells Pomegranate Punch'.
Care
Light
These plants can tolerate a variety of lighting conditions, from full sun to light shade. They will bloom more prolifically when allowed greater amounts of direct sunlight, and they are tolerant of high levels of heat so there is no need to protect them from intense afternoon sun.
Soil
It is important that the soil Calibrachoas are grown in is able to drain very well, because they enjoy moisture but are very sensitive to wet soils. As long as the soil is well-draining, they are not fussy about whether it is fertile, poor, clay, sand, or loam soil.
Water
These are thirsty plants that should not be allowed to dry out, so in dry seasons when no rain is expected you should aim to water them every day or at least every other day. They cannot tolerate wet soils, so ensure the top layer of soil has dried out before you add extra water.
Temperature
Calibrachoa is frost sensitive, so they will not survive as perennial plants in USDA hardiness zones 8 or below. Instead, they can be grown as annuals in these cooler climates. In USDA hardiness zones 9 to 11, Calibrachoa are perennial plants which will continue to flower all summer long, year after year.
Dianthus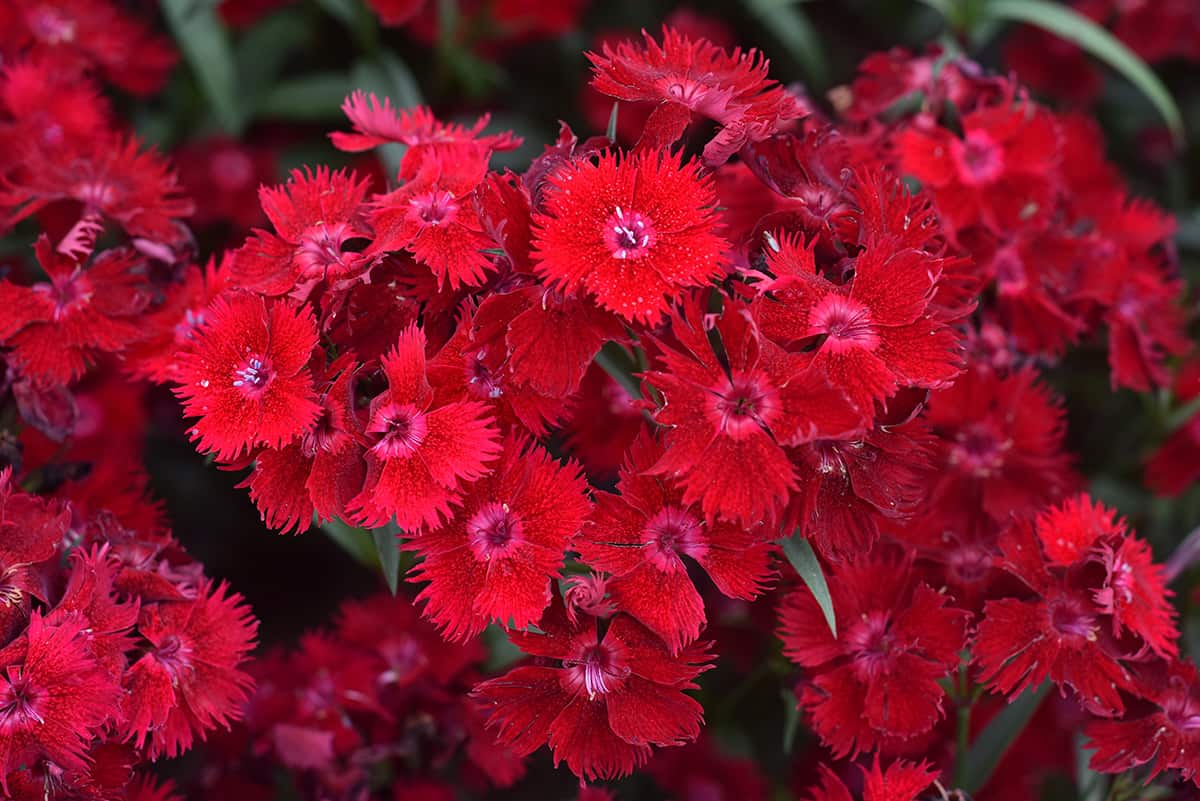 Botanical name: Dianthus sp.
Common names: Sweet Williams, Pinks, Carnations
Plant family: Caryophyllaceae
USDA hardiness zone: 4 – 10
Mature height: Up to 1 foot
Mature spread: Up to 2 feet
Varieties: 'Black Cherry Frost', 'Eastern Star', 'Everlast Burgundy Blush', 'Firestar', 'Passion', 'Maraschino', 'Raspberry Swirl'
Dianthus is a genus of perennial flowering plant which is predominantly native to Europe and Asia, though some species are also native to Africa and North America. These are low-growing perennials that produce flowers from spring and all through summer right into fall.
These are very popular flowers for cut bouquets and floral arrangements since they last for an exceptionally long time once they have been cut. The flowers come in a huge range of colors, including multiple shades of pink, red, orange, orange, white, and even lime green.
The red varieties of Dianthus look particularly romantic, and these can be a more affordable alternative to red roses. Popular red varieties include 'Maraschino', 'Raspberry Swirl', and 'Coconut Punch', which has white petals with thick, deep red edging.
Care
Light
Dianthus plants can be grown in full sun or partial shade, though they will perform best in full sun.
Soil
Dianthus will grow in a range of soils, including clay soils, sandy soils, loamy soils, and gravelly soils. They work well in rock gardens, as well as in containers or borders.
They prefer slightly acidic soil but this is not essential. A well-draining soil is important to help reduce the likelihood of root rot in wet climates.
Water
Dianthus plants prefer dry to medium soils rather than consistently moist or wet soils, so they do not need much supplemental water, even in dry climates.
Temperature
Dianthus thrive in climates that experience hot to warm summers and cold to cool winters. They are sensitive to extreme levels of heat so are best grown in USDA hardiness zones 4 to 10.