Magnolia trees are renowned for being early bloomers, and they are often among the first plants to flower in a spring garden. If you are looking to add some early color to your landscape, magnolia trees are a great choice, though not all varieties of magnolia will bloom early. Here we look at the typical blooming time of magnolia trees, and the expected time of year specific species will flower.
Magnolias bloom in spring, but the portion of spring they bloom in will differ according to the species as well as the climate. Many magnolias are early bloomers, with flowers that emerge at the very beginning of spring, or even before the arrival of spring.
These bring much welcome color to the garden which may have been lacking interest and vibrance throughout winter, however, if your region experiences a late frost it can damage the flowers.
Most magnolias that bloom towards the end of spring are hybrid varieties. Though you need to be more patient to wait for these to flower, they offer the benefit of avoiding damage from late frosts. This makes them a particularly good choice if you live in a climate where frosts are common throughout early spring.
Early Blooming Magnolias
Magnolia 'Black Tulip'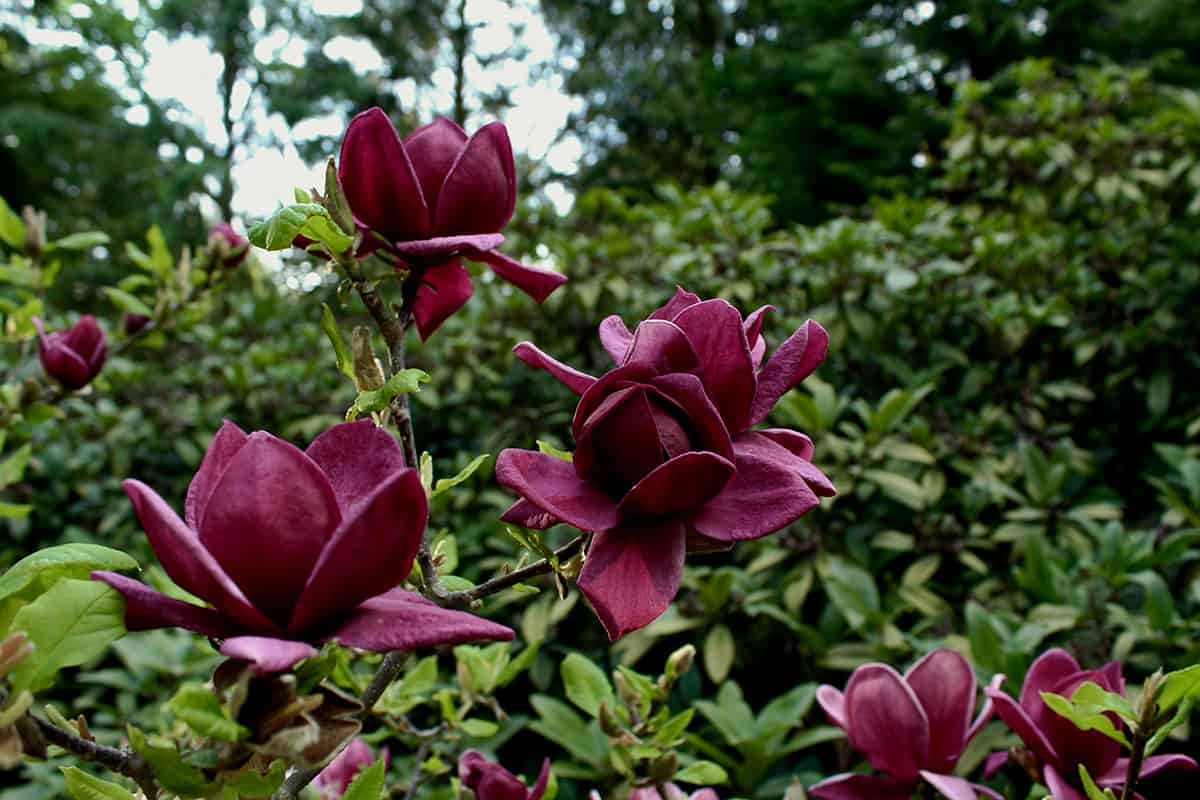 This hybrid magnolia tree blooms very early in the season, right at the beginning of spring. The flowers will be in full bloom on bare branches when the leaves are just starting to develop as tiny green buds. The flowers on this magnolia tree are quite remarkable, in a deep shade of purple-red.
They are shaped like tulips, hence the name, and are pleasantly fragranced. Each flower will typically measure 6 inches across. If the temperatures remain consistently mild and the soil is kept moist, then this magnolia tree can produce a second round of flowers in the middle of summer. It is hardy through USDA zones 5 to 9, and will perform best in full sun or partial shade.
Magnolia 'Solar Flair'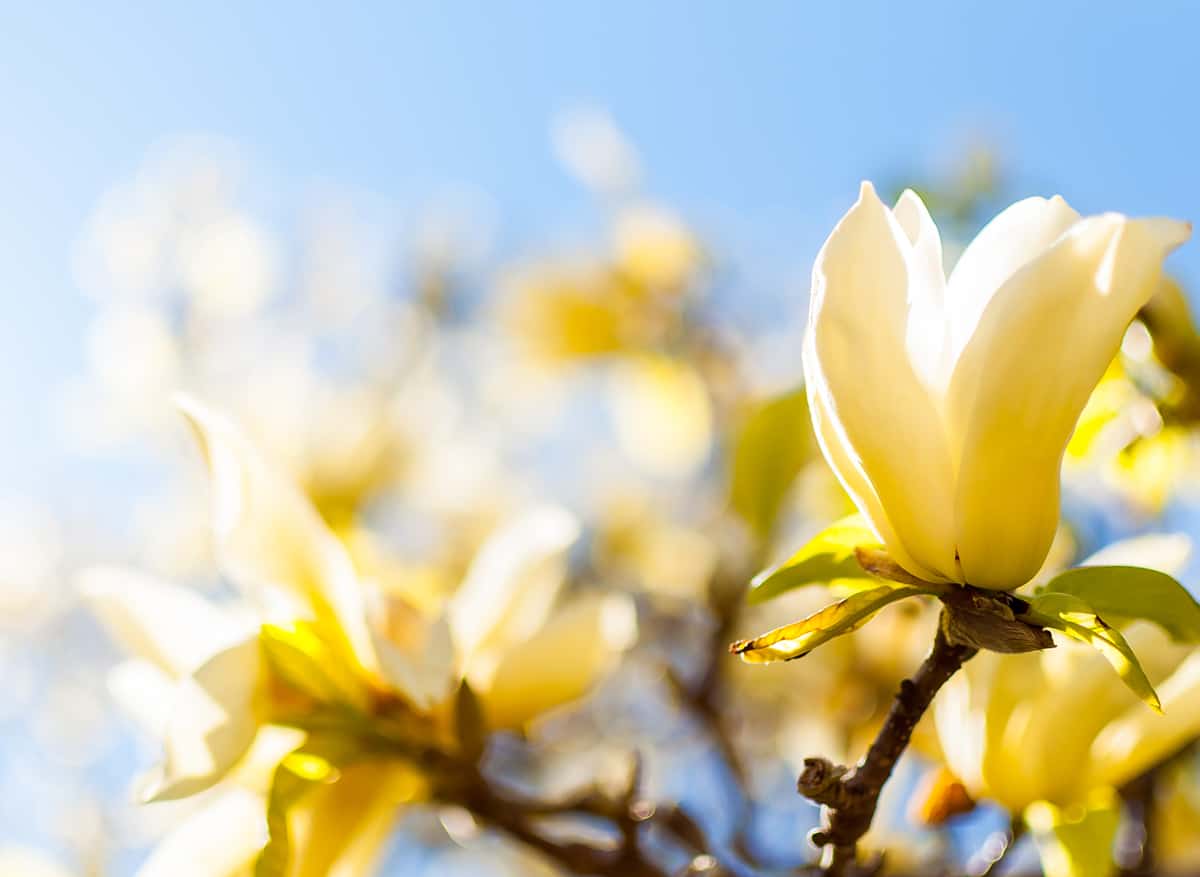 This magnolia is a second-generation hybrid, whose parents are Magnolia × brooklynensis 'Woodsman' and Magnolia 'Gold Star'. This is an early bloomer, sending out flowers on bare branches before the foliage starts to emerge, usually in March. The flowers look demure and delicate, in a pale shade of buttery yellow and flushed with pink at their base.
Standing upright on the branches, the flowers typically measure around 5 inches across. This is a particularly hardy variety of magnolia trees, which can be grown in USDA hardiness zones 4 to 8. The tree is able to withstand exceptionally low temperatures, however, these can damage the flowers. If your climate still experiences frost in early spring, this can destroy the early blooming blossoms.
Yulan Magnolia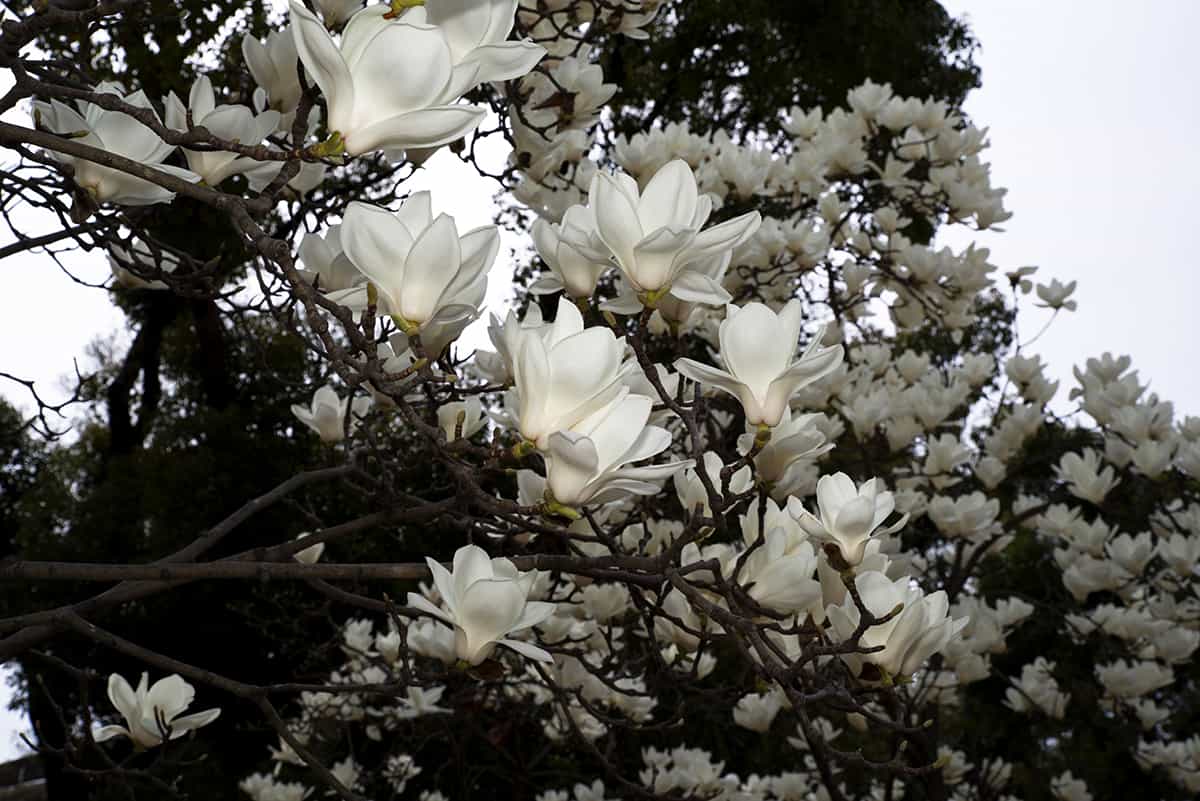 The Yulan Magnolia tree (Magnolia denudata) is native to China, and typically blooms in March. It will need to be around 6 or 7 years of age before it is able to produce flowers, and these will be creamy white and cup-shaped.
The flowers have an intense lemon scent and will measure around 4 inches across. In late summer the flowers will develop into red fruits, which open to reveal red seeds which are suspended via a cotton-like fiber. The tree is deciduous and will reach heights of up to 40 feet. It can be grown as a shrub, but this is less common. It can be grown in USDA hardiness zones 6 to 9.
Anise Magnolia
Also known as Willow-leafed Magnolia, the Anise Magnolia (Magnolia salicifolia) blooms in early spring. The flowers are heavily fragranced in a scent similar to anise, which is where the name 'Anise Magnolia' comes from. The white flowers arrive on bare branches several weeks before the foliage appears.
The leaves of the tree resemble willow leaves, hence the other common name for this plant, and they are orange-red when they first unfurl. By summer the leaves are a fresh green color on the surface, and white beneath. These fade to yellow by fall, when the tree sheds the foliage.
This magnolia tree is not the hardiest and fares better in climates that do not get as cold during winter. It is best suited to growing in USDA hardiness zones 6 to 9. Growing the tree in warmer zones is also beneficial to the flowers because they are less likely to suffer from late frosts.
Mid-Blooming Magnolias
Magnolia 'Galaxy'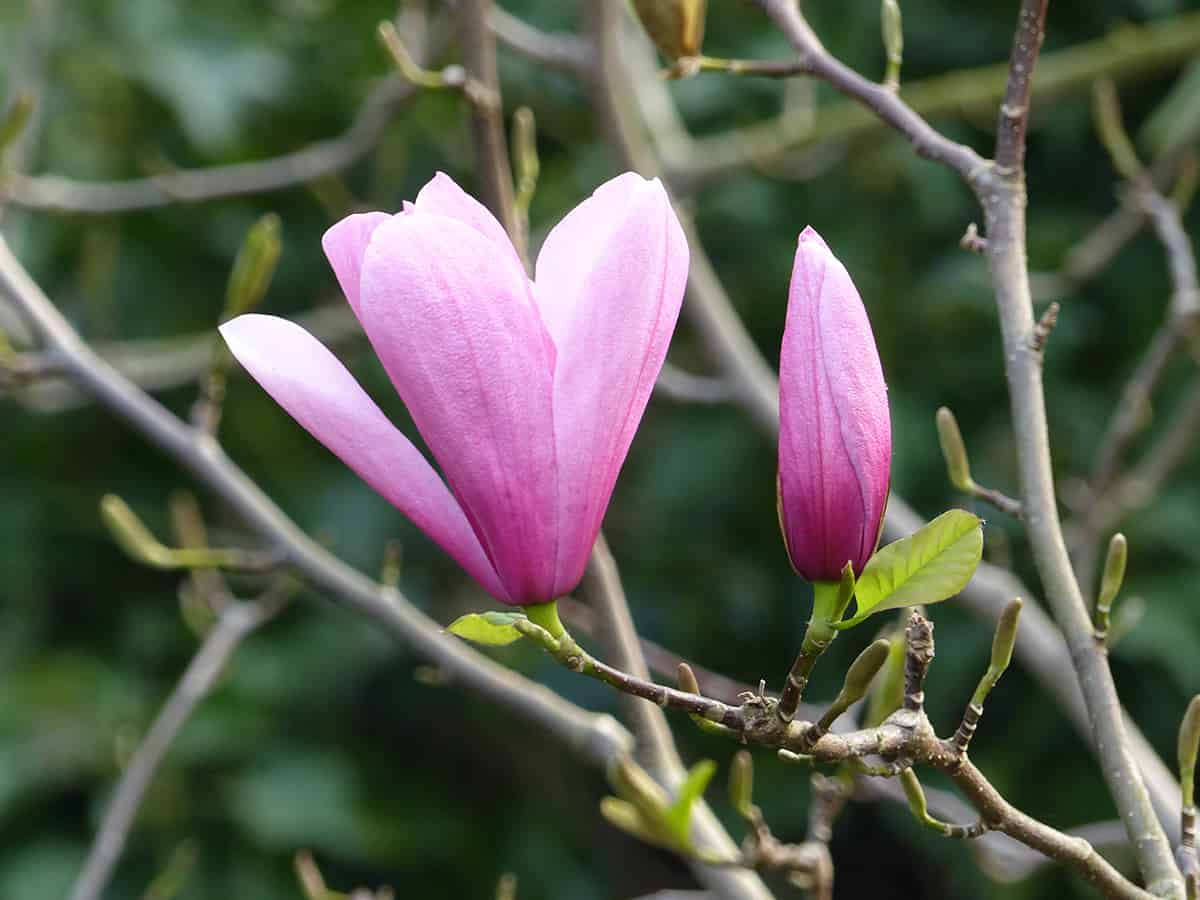 This is a small, deciduous magnolia tree, which is the result of hybridizing Magnolia liliiflora and Magnolia sprengeri 'Diva'. It will bloom in the middle of spring, with a mass of huge deep pink flowers measuring 8 inches across. The flowers start out as dark burgundy buds on naked branches, and fully mature before the arrival of the foliage.
The tree is hardy through zones 5 to 8, and the flowers usually bloom late enough that they escape any damage a late frost could cause, although this is not guaranteed. The flowers can remain on the tree for many weeks, providing a long-lasting display of color.
Saucer Magnolia 'Alba Superba'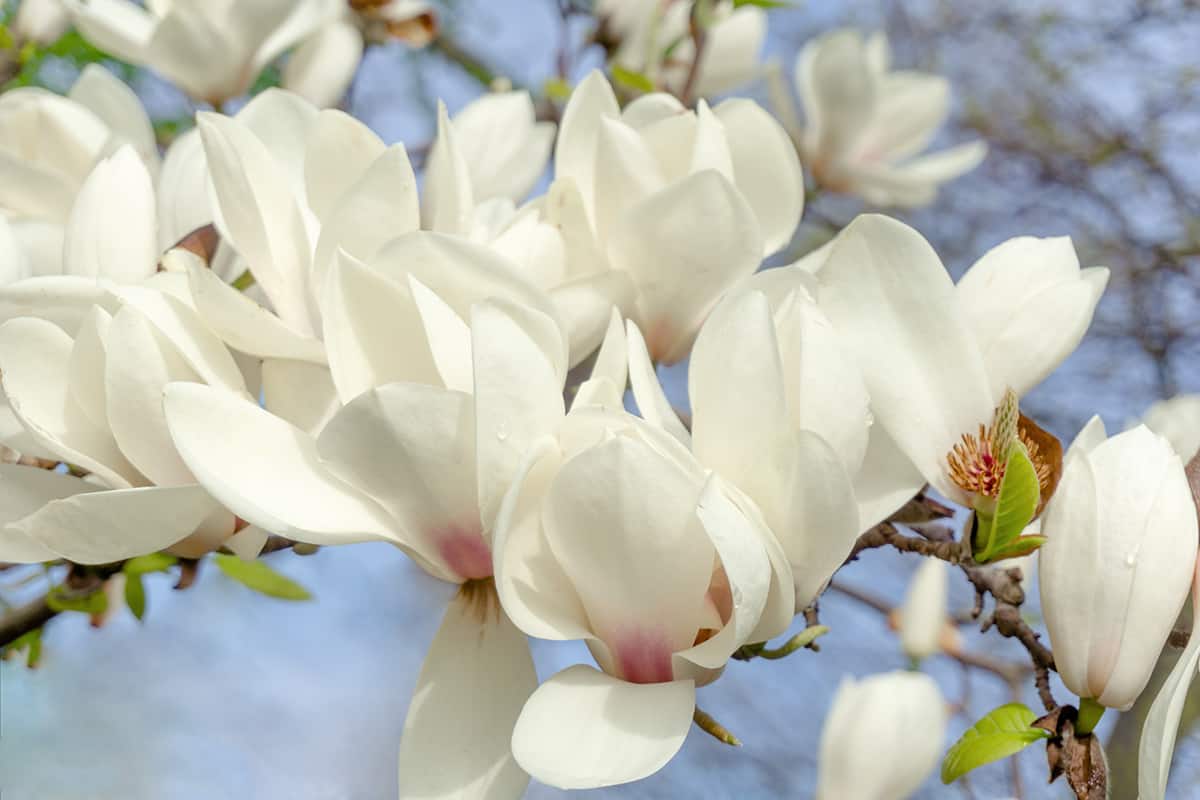 This small magnolia tree blooms in the middle of spring with enormous pretty flowers on naked stems. The blooms are shaped like open tulips, starting out a dark shade of pink-purple at the base and gradually fading out to a sweet white pink at the tips.
The leaves of this plant are also oversized, at around 8 inches each in length. It is hardy through zones 6 to 9, and grows to ultimate heights of around 20 feet.
Late Blooming Magnolias
Magnolia 'Yellow Bird'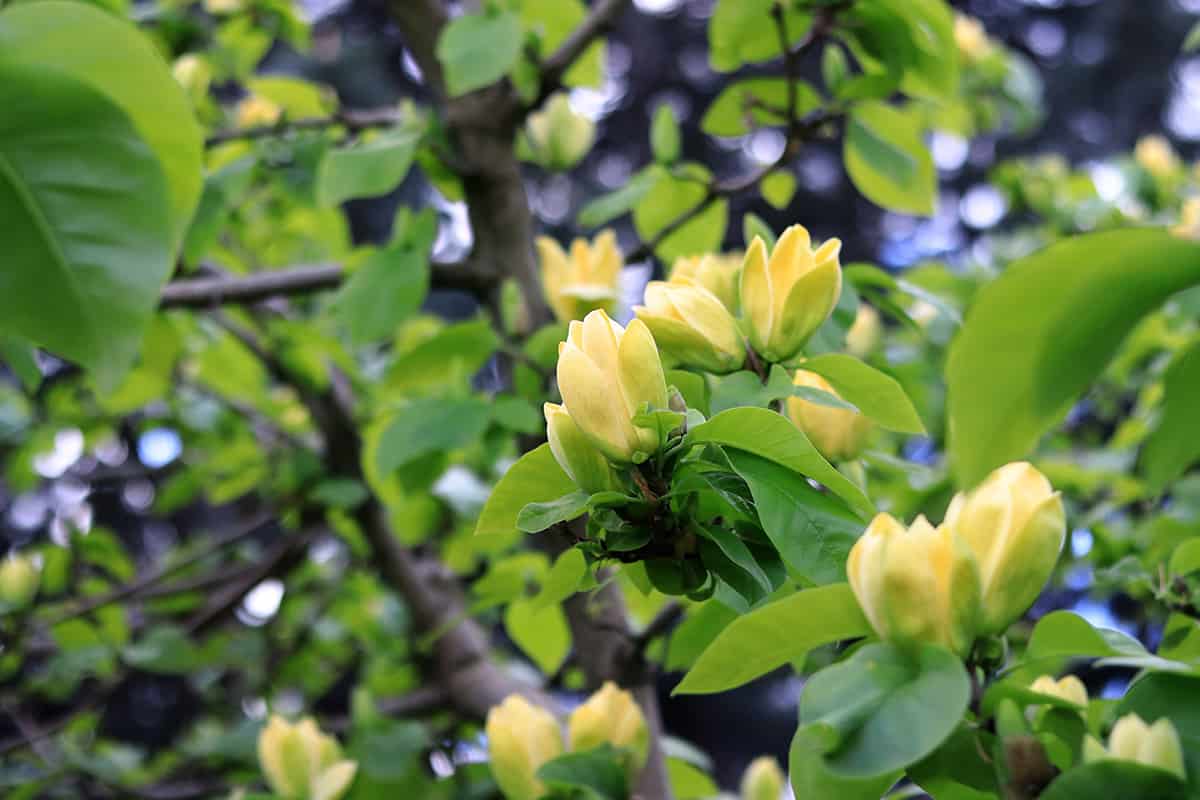 This magnolia is a hybrid and a prolific bloomer, with flowers opening up in late spring at the same time that the leaves are unfurling. Flowers are yellow and quite small, but they appear in such a huge abundance that they do not fail to make a dramatic impact.
The flowers are also long-lasting, remaining on the tree for around 3 weeks. As a late bloomer, this magnolia tree is not subjected to the late frosts that can occur in early to mid-spring, which means it will reliably flower each year.
Cucumber Tree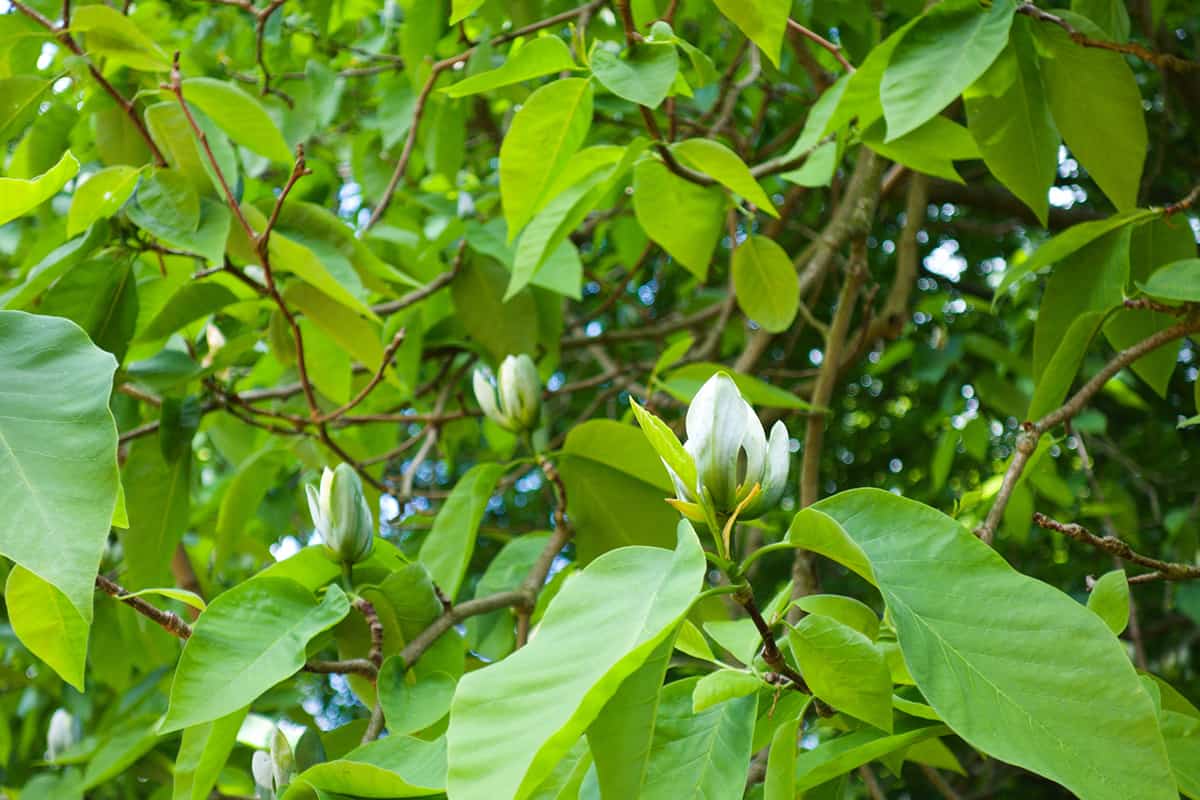 The Cucumber Tree (Magnolia acuminata) is a large variety of magnolia tree that reaches up to 70 feet tall. It is a late bloomer, with flowers arriving toward the end of spring, however, many people will miss this tree blooming entirely, because the flowers are not very obvious. In a shade of yellow green, the flowers are a similar color to the tree's foliage, so they fade into the background.
They also tend to be produced quite high up on the tree, where people may not be able to see them. This tree needs to reach maturity before it can bloom at all, and this is typically around 12 years of age, so you may be waiting some time for flowers if you have a young Cucumber Tree. This magnolia can be grown in USDA hardiness zones 4 to 8.
Mulan Magnolia 'Nigra'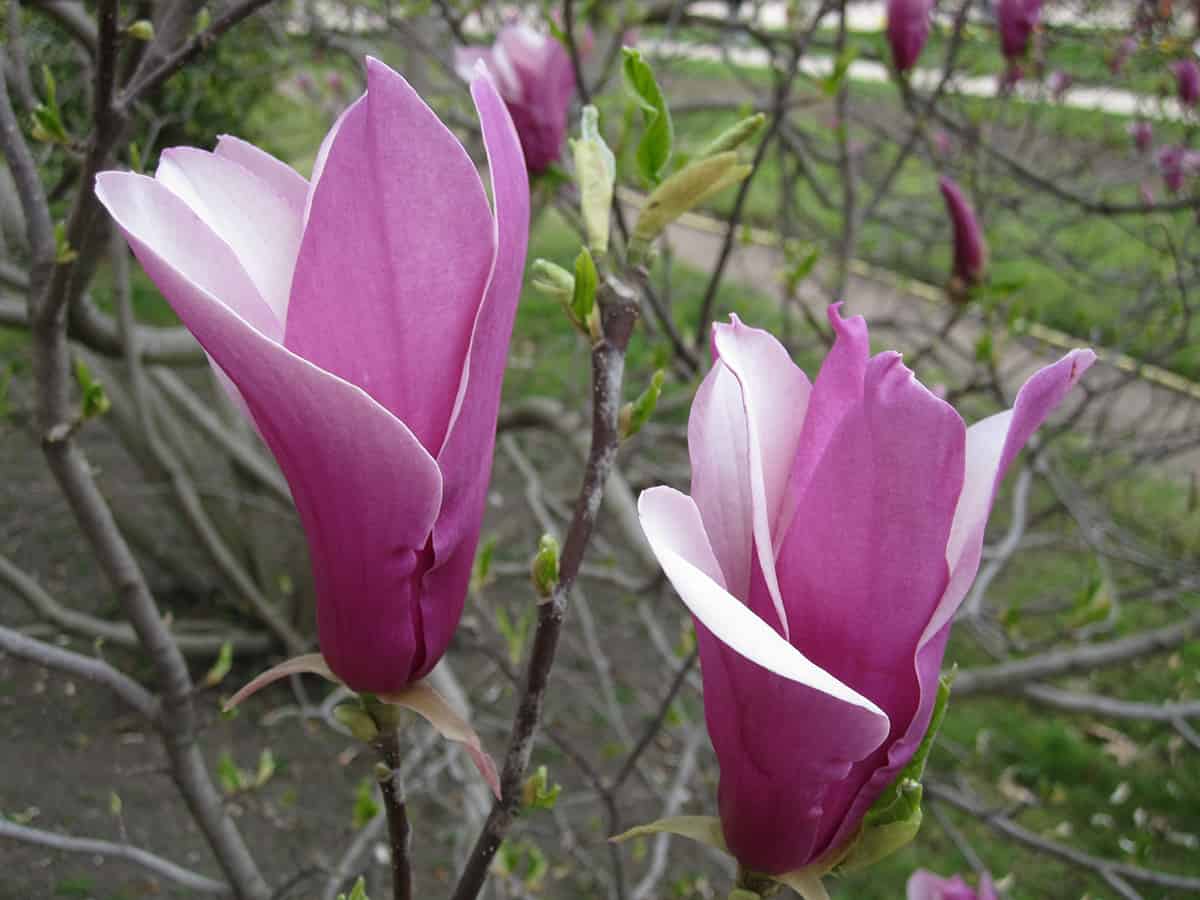 This is a late-blooming magnolia, which can be grown as a shrub or small tree. It will flower in late spring with blossoms which are dark red on the outside, and pale red on the inside.
It can continue to bloom sporadically throughout summer in ideal conditions. It can be grown in hardiness zones 5 through 9.