Yellow is a color associated with joy, optimism, and warmth. It is synonymous with sunshine, which is a symbol of light, life, energy, and positivity.
Yellow flowers can make a garden feel cheerful and energetic, so it's no surprise that this is a popular color choice when it comes to which plants to grow in the garden. Here we look at a range of trees and shrubs which produce yellow flowers, covering a wide range of growing conditions, climates, sizes, and growth habits.
Butterfly Bush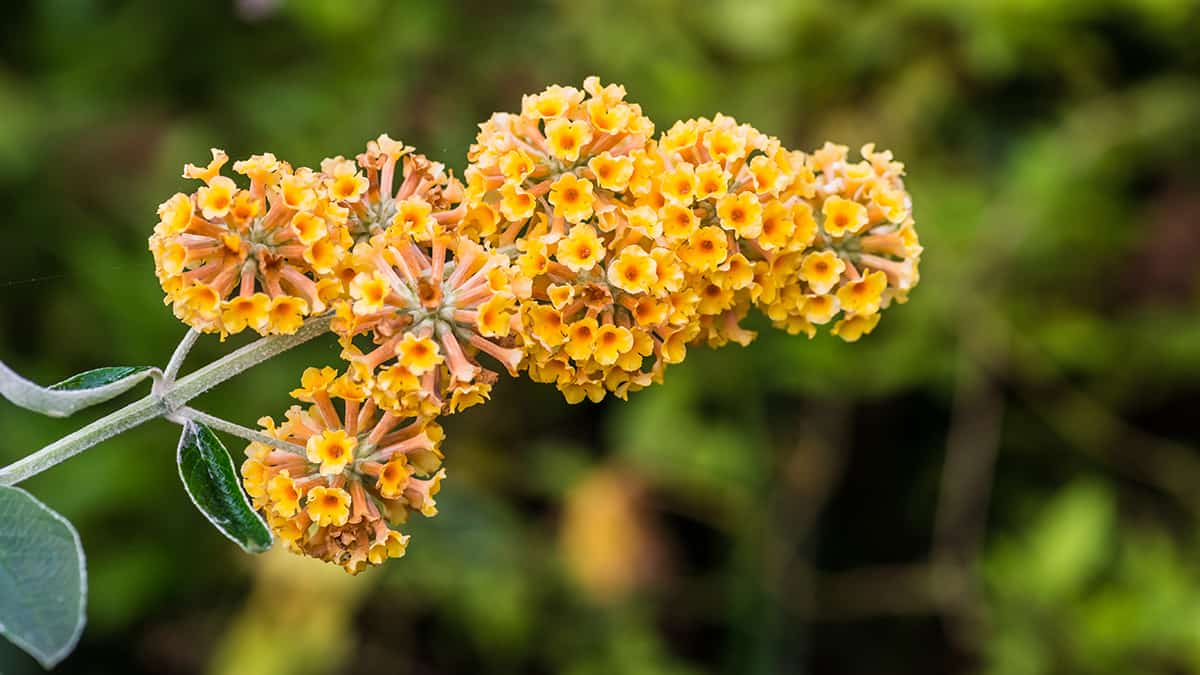 Botanical name: Buddleja × weyeriana
Family: Scrophulariaceae
USDA hardiness zones: 5- 9
Mature height: Up to 7 feet
Mature spread:  Up to 5 feet
Yellow varieties: 'Sungold', 'Honeycomb'
This Butterfly Bush takes the shape of a deciduous shrub, with gentle arching stems that produce cone-shaped clusters of flowers at their tips.
In the yellow varieties of this plant, the flowers are tiny and have a sweet scent, but the clusters are so large and densely packed that the overall look is very dramatic. Flowers will continue to bloom sporadically from spring right through to fall, adding color to the garden at a time when few other plants will be producing flowers.
The foliage of the shrub is gray-green and will drop from the plant in the fall. The flowers are extremely popular with pollinators, hence the common name of 'Butterfly Bush', because it is such a magnet for butterflies. The 'Sungold' variety of this plant has achieved the 'Award of Garden Merit' from the Royal Horticultural Society. It can be grown in full sun, partial shade, or dappled shade, though the best flowering will occur when the plant receives more light.
Yellow Rabbitbrush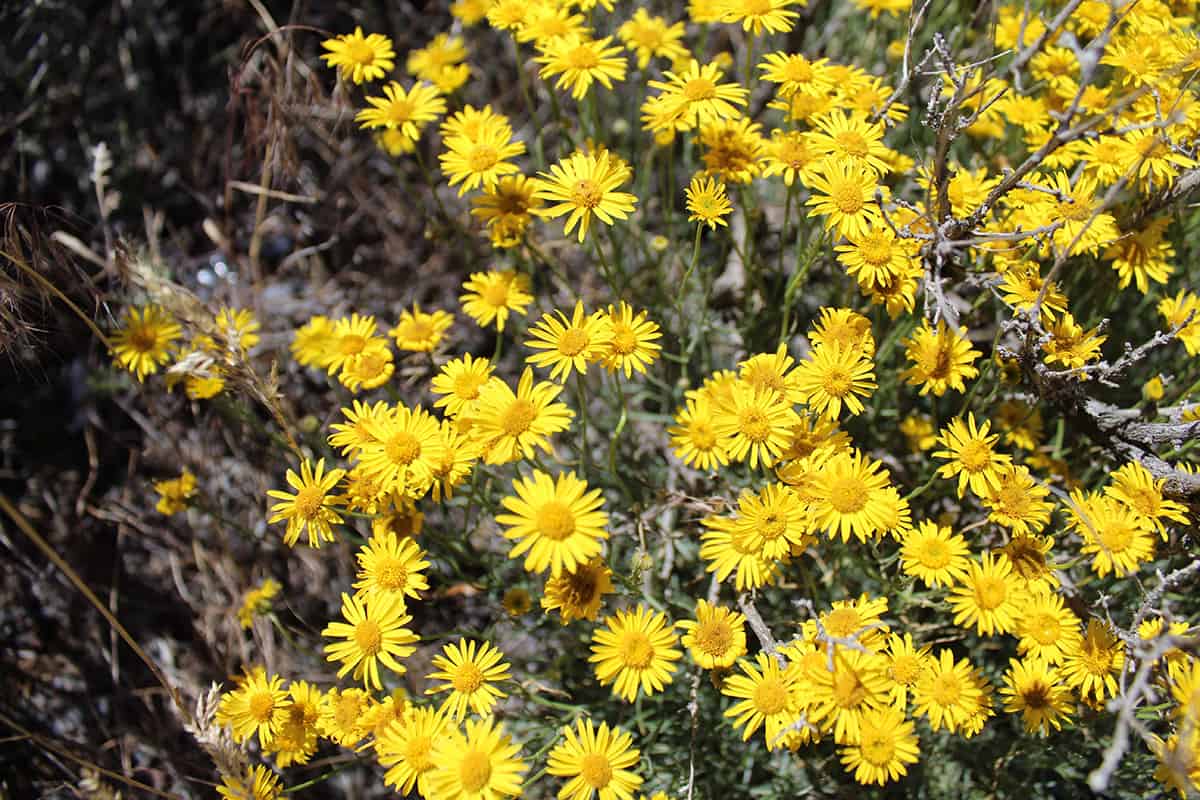 Botanical name: Chrysothamnus viscidiflorus
Family: Asteraceae
USDA hardiness zones: 3- 8
Mature height: 1 foot to 3 feet
This low growing deciduous shrub is native to North America, commonly growing on hillsides and in dry valleys. It has a long blooming period, producing clusters of tiny yellow flowers from June through to September. The flowers, despite their small size, are quite showy due to their unusually stretched shape and the fact that the plant blooms in such abundance.
This is a good plant to use for erosion control and stabilizing soil. It spreads vegetatively to produce many new plants in surrounding areas and has a tendency to become weed-like in some conditions, growing particularly aggressively in open fields which have been overgrazed or suffered from burns. Yellow Rabbitbrush thrives in full sun and dry soils.
Damianita Daisy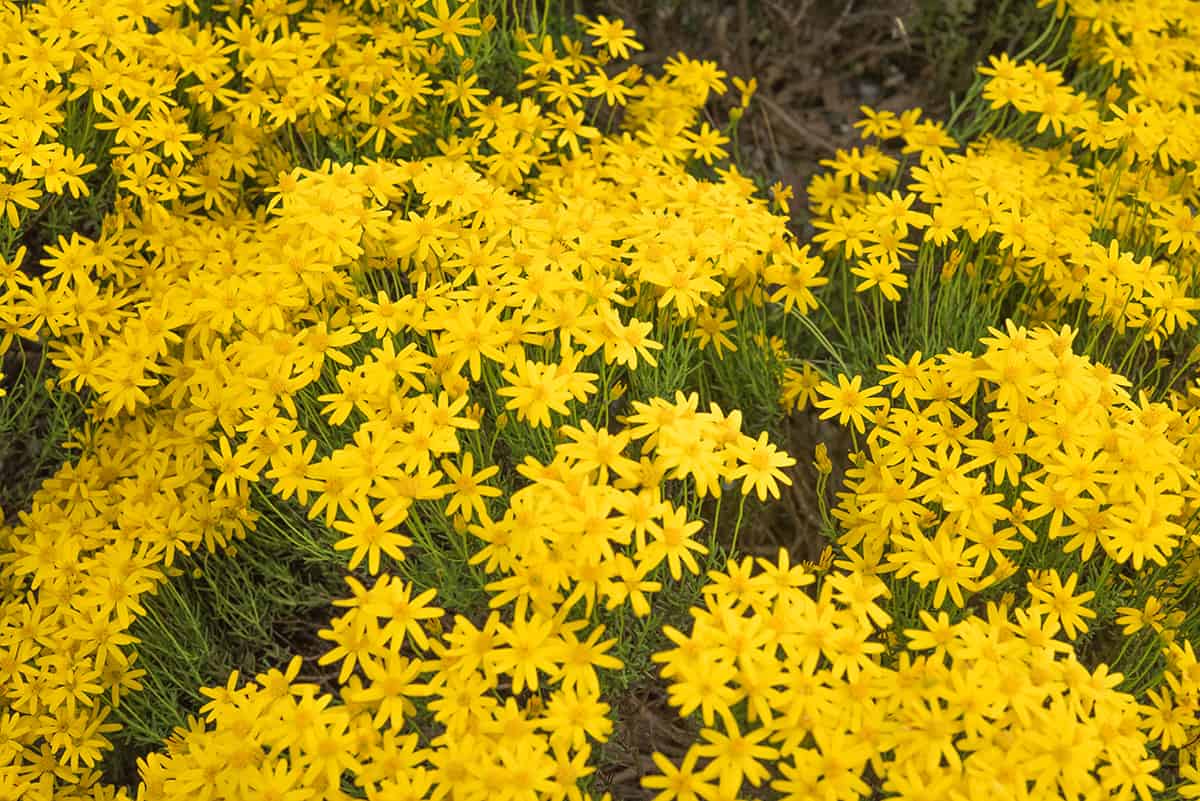 Botanical name: Chrysactinia mexicana
Family: Asteraceae
USDA hardiness zones: 7- 11
Mature height: 1 to 2 feet
Mature spread: 1 to 2 feet
This small shrub is native to Mexico and parts of the southwest US. It is ideal for adding plenty of color to hot and dry climates through summer since it thrives on neglect and blooms heavily with an array of cheerful bright yellow daisies, each measuring around 1 inch across.
The foliage of the plant is also attractive, taking the form of green needle-like leaves which have a mounding habit and are wonderfully aromatic. The plant is great for rock gardens, borders, and ground cover. It thrives in full sun and is tolerant of both drought and poor soils. Providing moisture in the soil during spring and summer will result in more blooms.
Island Tree Poppy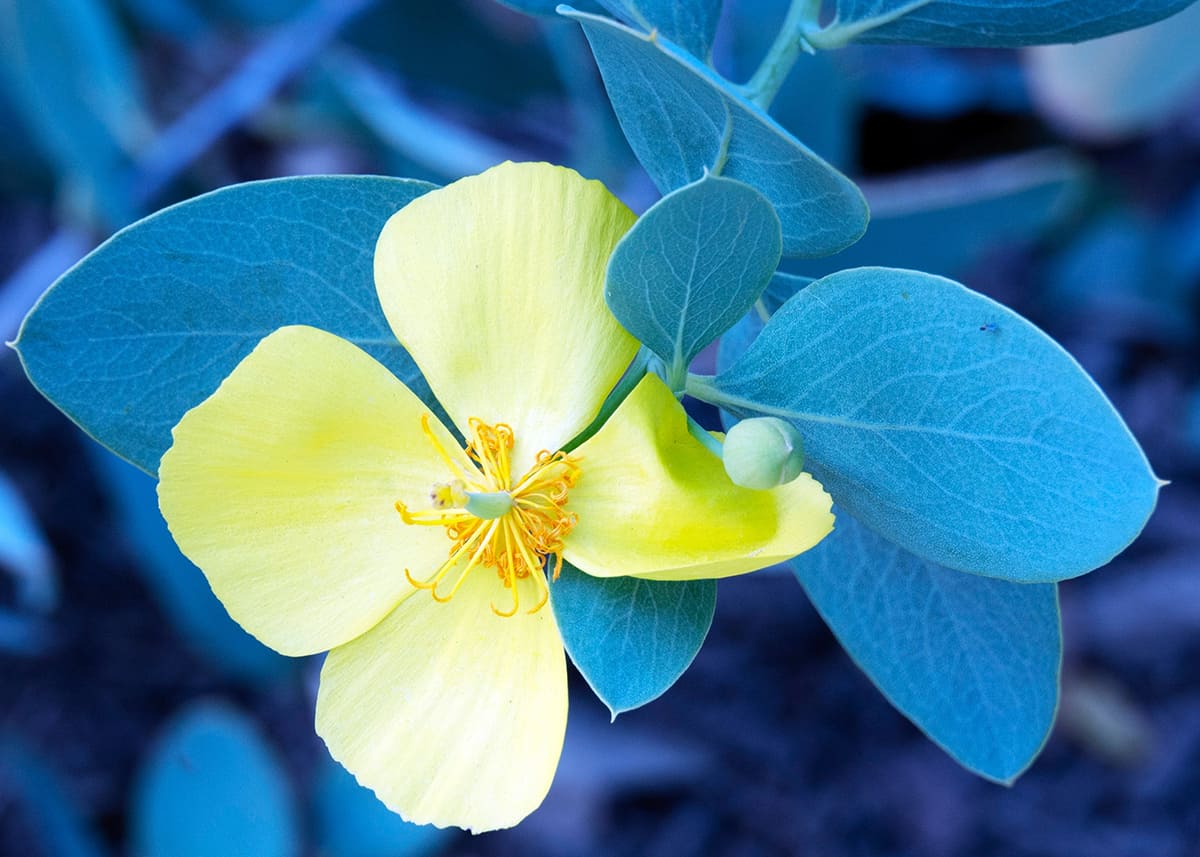 Botanical name: Dendromecon harfordii
Family: Papaveraceae
USDA hardiness zones: 8- 10
Mature height: 8 to 20 feet
Mature spread: 8 to 20 feet
This stunning plant is native only to the Channel Islands off the coast of California, US. It can be grown as a large shrub or small tree, and is also commonly known as the Channel Islands Poppy Tree. The plant is easy to grow and care for, and blooms heavily from spring through to summer and then sporadically throughout the remainder of the year.
The flowers are an intense, rich yellow color, and they typically measure around 3 inches across. They are held against the backdrop of blue-green evergreen foliage. The Island Tree Poppy needs to be in a position of full sun but otherwise is very adaptable to its growing conditions. It grows rapidly, gaining as much as 3 feet in size each year.
Forsythia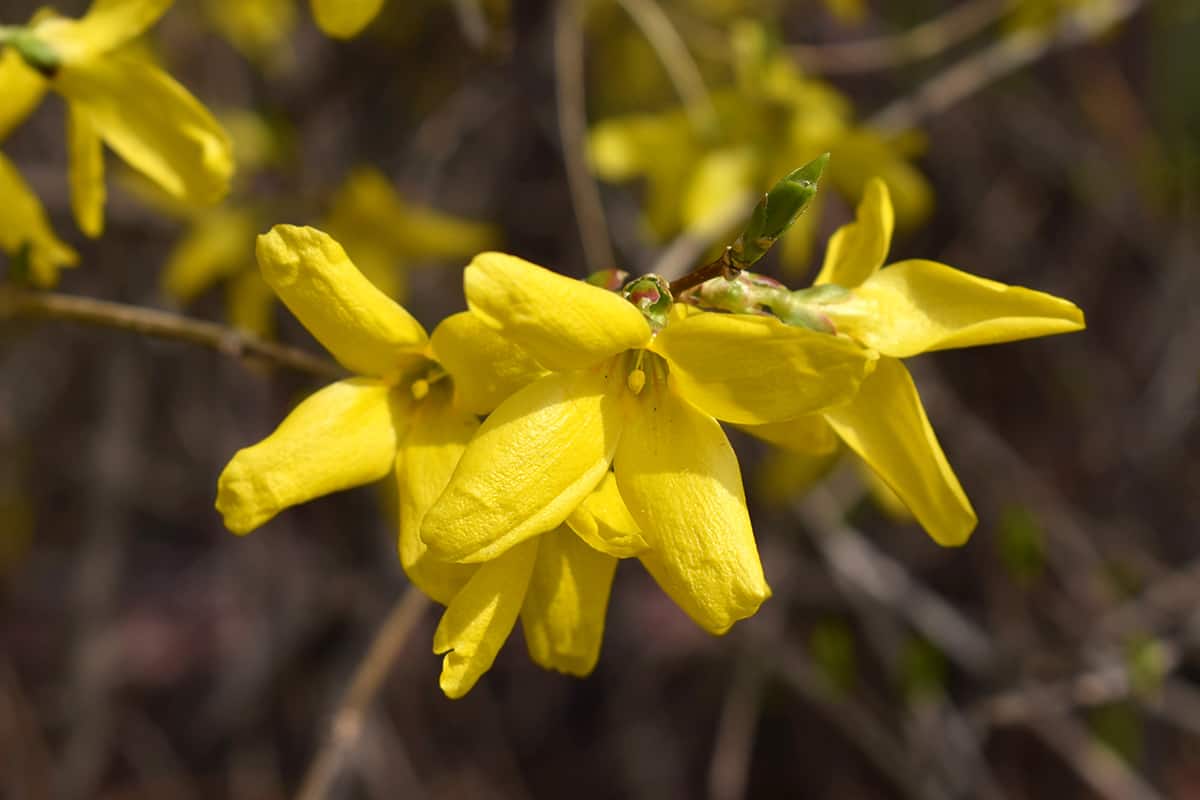 Botanical name: Forsythia sp.
Family: Oleaceae
USDA hardiness zones: 5- 9
Mature height: 2 to 10 feet
Mature spread: 3 to 12 feet
Yellow varieties: Korean Forsythia (Forsythia ovata), Weeping Forsythia (Forsythia suspensa), Border Forsythia (Forsythia x intermedia)
Forsythia refers to a genus of plants with more than ten species, all of which are native to Asia, with the exception of one which is native to Europe. They are deciduous shrubs, small to medium in size, which produce a profusion of yellow flowers. The blooms line the arching or weeping branches of the tree, and they emerge on the plant's naked stems in early spring, before the foliage has arrived.
The result is a spectacular floral display, bringing joyful color to the garden as early as March. These plants prefer moist soil which drains well, and they thrive in full sun or partial shade, though more flowers will be produced in a position of full sun.
Cape Jasmine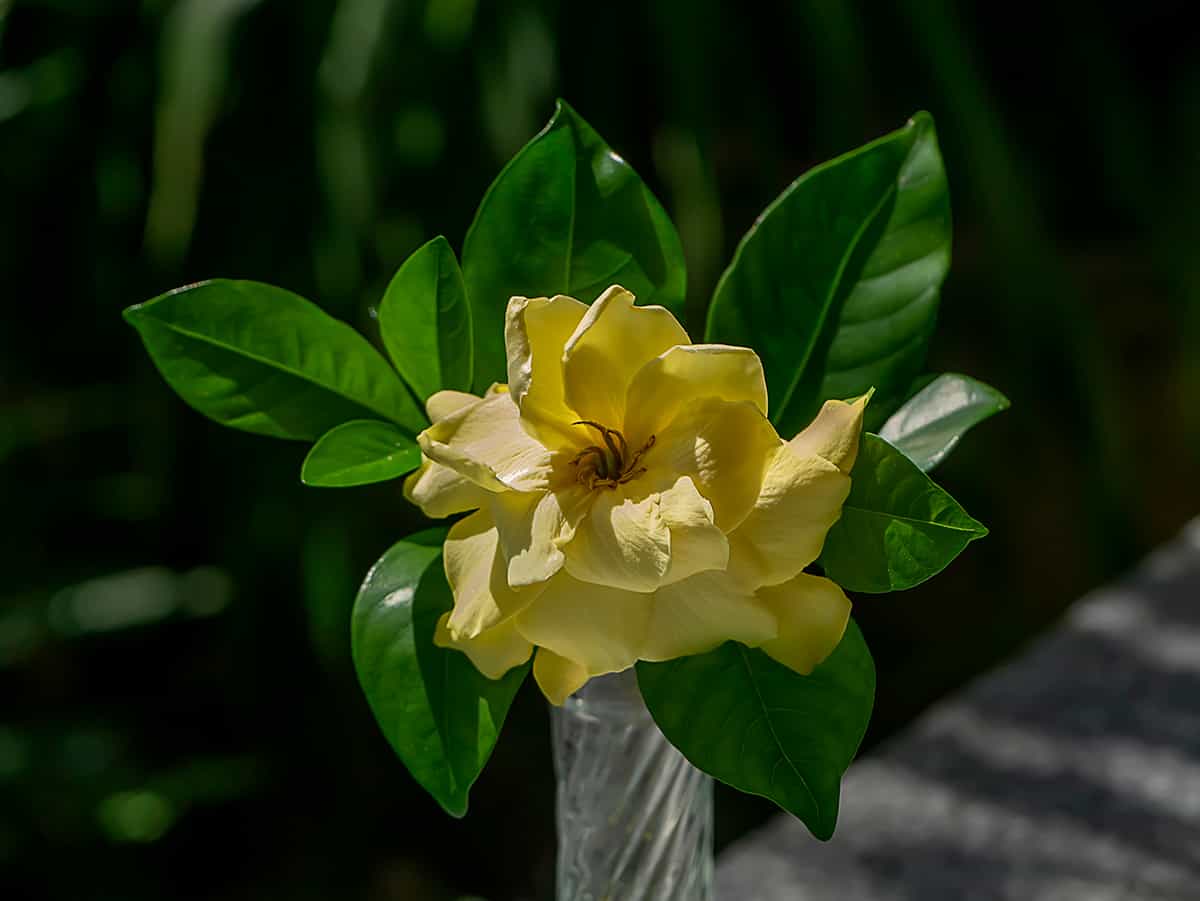 Botanical name: Gardenia jasminoides
Family: Rubiaceae
USDA hardiness zones: 8- 11
Mature height: 2 to 3 feet
Mature spread: 2 to 3 feet
Yellow varieties: 'Golden Magic'
Native to Southeast Asia, Cape Jasmine is also commonly known as Gardenia. It is an evergreen shrub known for its glossy leather-like leaves and heavily scented white flowers. However, there is a variety of Cape Jasmine which produces vivid buttery yellow flowers, and this is known as 'Golden Magic'.
This yellow Cape Jasmine blooms with large double flowers measuring up to 3 inches across. The flowers are white when they emerge, before gradually taking on a soft yellow and eventually deep golden yellow shade. Like other Gardenia, the yellow flowers have a strong sweet fragrance, so the plant is ideal for positioning along walkways or close to outdoor seating areas where the scent can be enjoyed. Grow the shrub in consistently moist soil in a spot that gets full sun or partial shade.
Tropical Hibiscus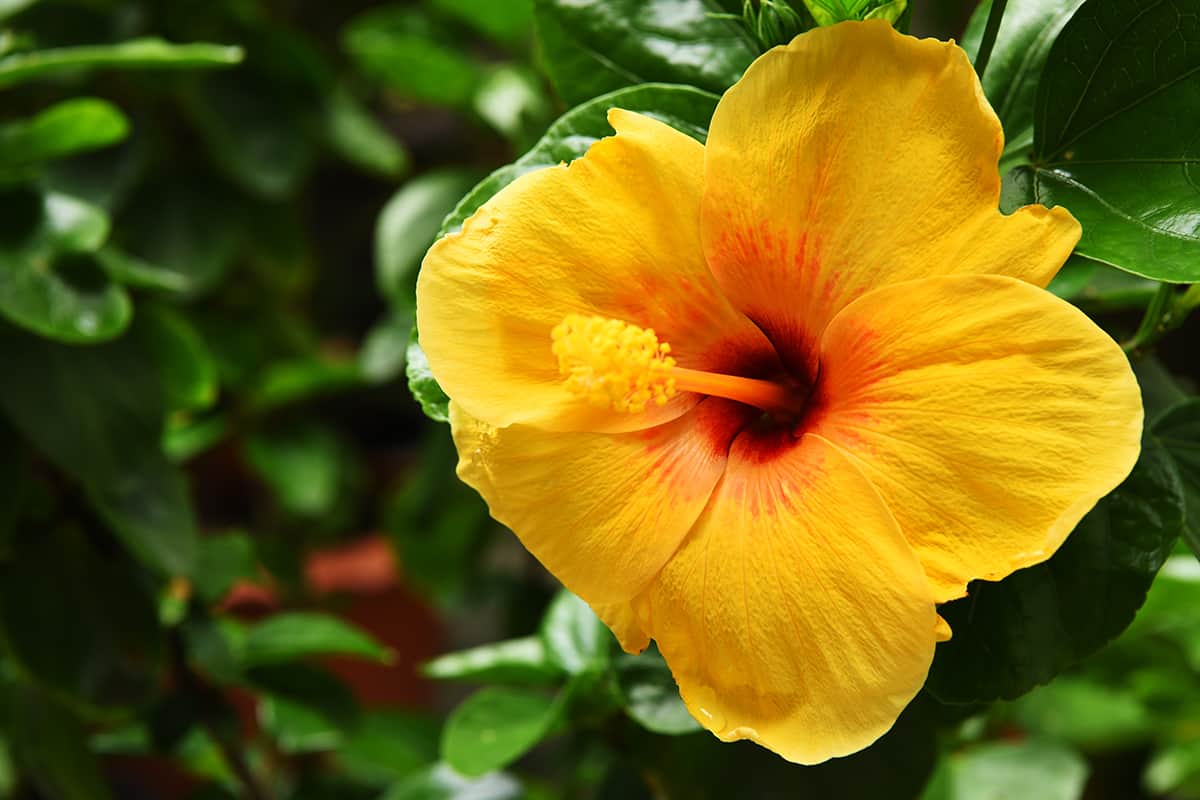 Botanical name: Hibiscus rosa-sinensis
Family: Malvaceae
USDA hardiness zones: 9- 11
Mature height: Up to 10 feet
Mature spread: Up to 6 feet
Yellow varieties: 'Hula Girl', 'Yellow Giant'
The Tropical Hibiscus is native to Vanuatu, a collection of islands in the South Pacific Ocean. Hibiscus plants are evergreen shrubs with dark green leaves and impressively colorful flowers. The flowers can come in various shades, including red, pink, orange, white, and purple, but there are also some yellow varieties, including 'Hula Girl' and 'Yellow Giant'.
'Hula Girl' produces exotic-looking flowers that are bright red at the center, and then dark yellow around the middle, fading out to pale yellow at the tips of the petals.
Interestingly, hibiscus plants bloom heavily, but each flower only lasts a single day. These are fast-growing shrubs which can gain as much as 2 feet in size in a single year. Grow them in full sun or partial shade in moist and well-draining soil.
St. John's Wort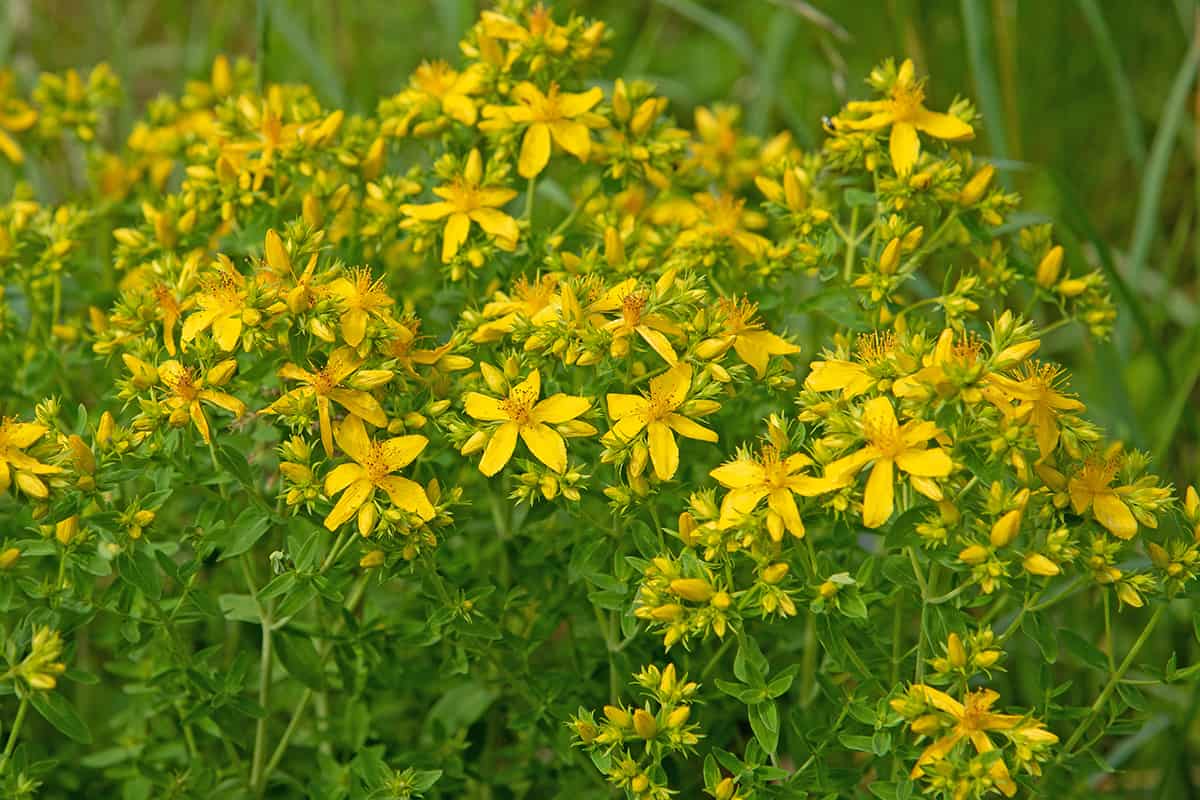 Botanical name: Hypericum perforatum
Family: Hypericaceae
USDA hardiness zones: 5- 9
Mature height: 1 to 2 feet
Mature spread: 1 to 2 feet
St. John's Wort is a type of wildflower that is classified as invasive in some parts of the United States. It is most commonly known for its medicinal uses and has been relied on for centuries for naturally treating mental health problems such as depression. Today it is still commonly sold as a dietary supplement for people who suffer from depression. This plant takes the form of a low-growing shrub, and it produces beautiful and interesting yellow flowers.
The flowers bloom in midsummer through to fall, with vivid yellow petals which open out like roses and a dense spray of yellow stamen which are tipped with bright red anthers. Flowers bloom individually or in clusters and look striking against the dark blue-green foliage of the plant.
Since this shrub grows rapidly via underground stems and has such a low growing habit, it is popularly used as ground cover. It will tolerate a wide range of soils, including dry soils, but prefers well-draining soils which are moderately moist. It thrives in full sun or partial shade but will flower more heavily in full sun.
Winter Jasmine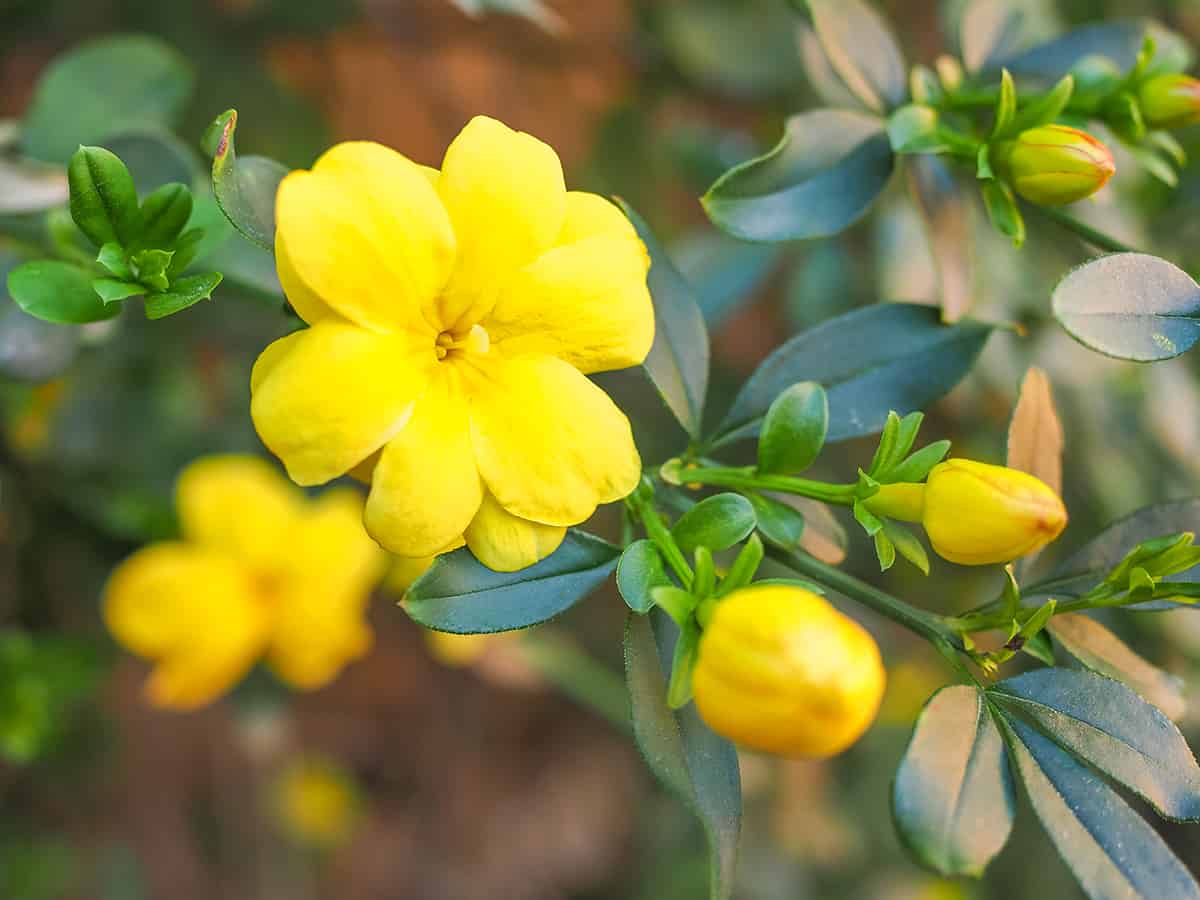 Botanical name: Jasminum nudiflorum
Family: Oleaceae
USDA hardiness zones: 6- 9
Mature height: 4 to 15 feet
Mature spread: 3 to 6 feet
This is a deciduous shrub with long, willowy branches which drape down in gentle arches. The plant is native to China and has received the Award of Garden Merit from the Royal Horticultural Society. It is a prolific early bloomer whose flowers adorn the bare slender branches in late winter or early spring before the leaves have started to emerge.
The flowers are bright yellow, with six petals on each bloom, measuring around 1 inch in diameter. When grown as a shrub, this plant will form a mound of around 4 feet in height, or it can be grown as a trailing vine to reach lengths of 15 feet.
It is beautiful when planted in a high planter or at the edge of a wall, so its branches can cascade down to the ground. Grow the Winter Jasmine in full sun for most flowers, though the plant will also tolerate partial shade and even full shade in moist conditions.
Golden Chain Tree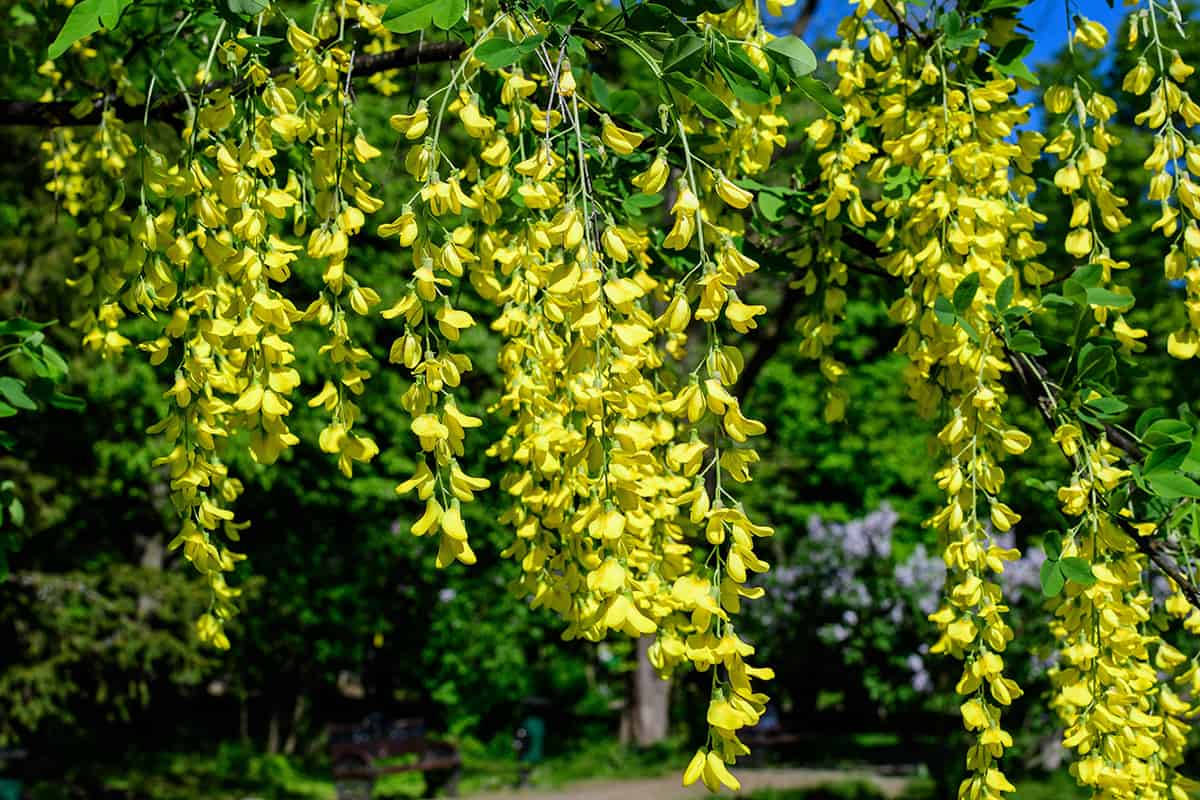 Botanical name: Laburnum sp.
Family: Fabaceae
USDA hardiness zones: 5 – 8
Mature height: 15 to 30 feet
Mature spread: 15 to 30 feet
The Golden Chain Tree, also commonly known as Laburnum, is a tree native to Europe, which is known for the huge racemes of yellow flowers which dangle from the branches from late spring to early summer. There are two species of Laburnum, which are the Common Laburnum (Laburnum anagyroides) and the Alpine Laburnum (Laburnum alpinum).
These plants have been crossed to create a hybrid, which is the Laburnum x watereri, and it is this species that is most commonly used in landscape planting because it has superior qualities over the Common Laburnum and Alpine Laburnum. Part of the pea family, the flowers of the Golden Chain Tree strongly resemble peas, and they hang in long drapes of up to 24 inches for a bright and dramatic effect.
The tree flowers heavily, so the resulting look when in bloom is quite breathtaking. The flowers are also pleasantly fragranced and develop into ripe pods by the fall. Grow this plant as a large shrub or small tree in full sun or partial shade.
Texas Lantana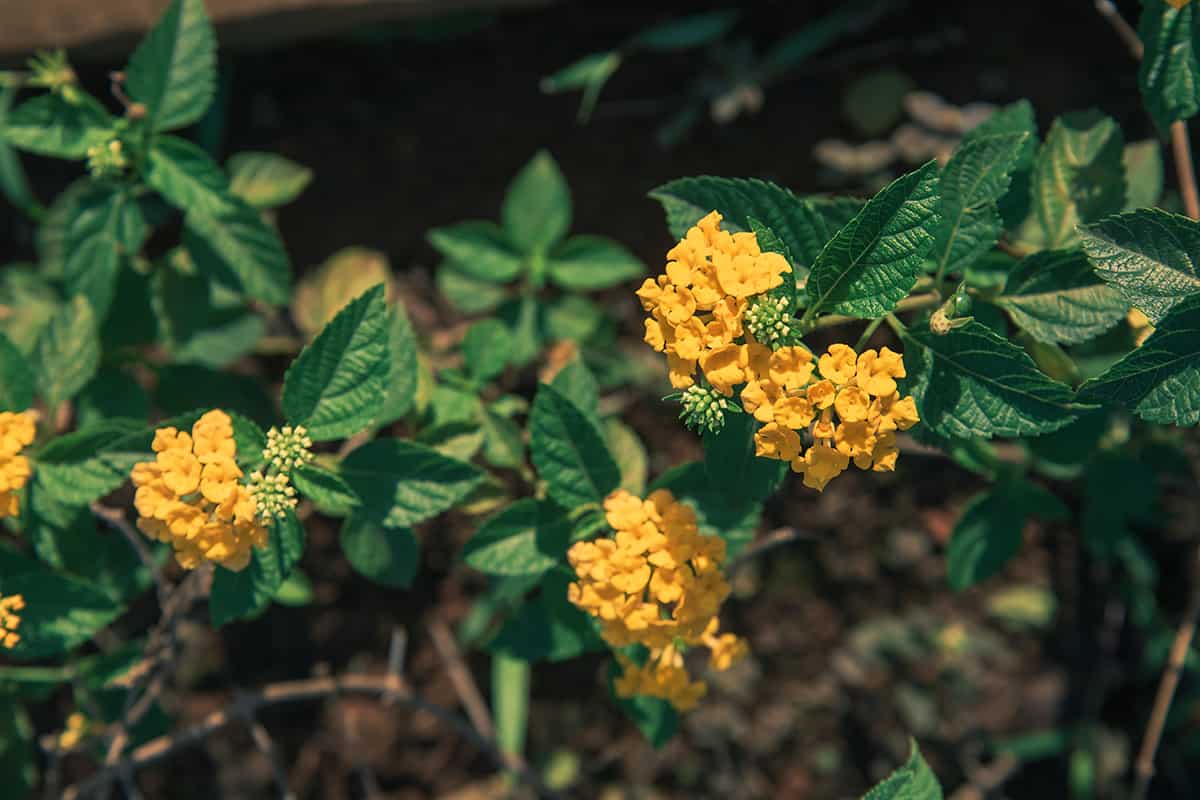 Botanical name: Lantana urticoides
Family:  Verbenaceae
USDA hardiness zones: 8- 11
Mature height: Up to 3 feet
Mature spread: Up to 6 feet
This is a deciduous shrub that is native to Mexico and the southern United States. It has a mounding and spreading habit, which results in the plant being significantly wider than it is tall. The Texas Lantana is favored for its extensive blooming period, with flowers first appearing in mid-spring and remaining right through to fall.
The flowers will emerge with yellow petals, which slowly develop into a shade of orange by light summer, and continue to a bright shade of red by fall. The tubular blooms are held in densely packed clusters and are hugely popular with pollinators. The plant itself is very tough and will survive in extreme heat and drought. It is commonly used as an attractive groundcover or as a specimen plant on rocky, infertile soils where many other plants will not thrive.
After flowering, the blooms give way to berries which are a dark shade of purple which verges on black, and these berries are toxic to both humans and animals, but they are favored by birds, most notably the quail. Grow the plant in full sun for the best display of flowers, and prune it in winter to control its size and shape.