Using flowering shrubs in the garden, as opposed to shrubs that are favored for their foliage, can add an extra dimension to the garden when the plants are in bloom.
Orange flowering shrubs, in particular, are great for creating a sense of joy and energy in the landscape, and orange flowers will present a vivid contrast against green leaves.
Here we look at a variety of shrubs which produce orange flowers, and work well in home gardens.
Orange Flowers for the Garden
Orange is a color that symbolizes positivity, creativity, strength, and warmth. It is an overwhelmingly optimistic color which never fails to brighten the mood of any space it is used in. If you want a garden landscape that is bursting with happiness and an uplifting energy, then orange is a good color theme to choose.
Though many deciduous plants can offer orange-colored foliage in the fall, orange flowers are also a wonderful addition to a garden because these will typically bloom through spring and summer, at a time when foliage is rarely taking on warmer hues.
Orange is not the most popular choice of color for flowers, but it is also not especially rare, so you should have no problem sourcing orange flowering plants for your garden.
Flowering Maple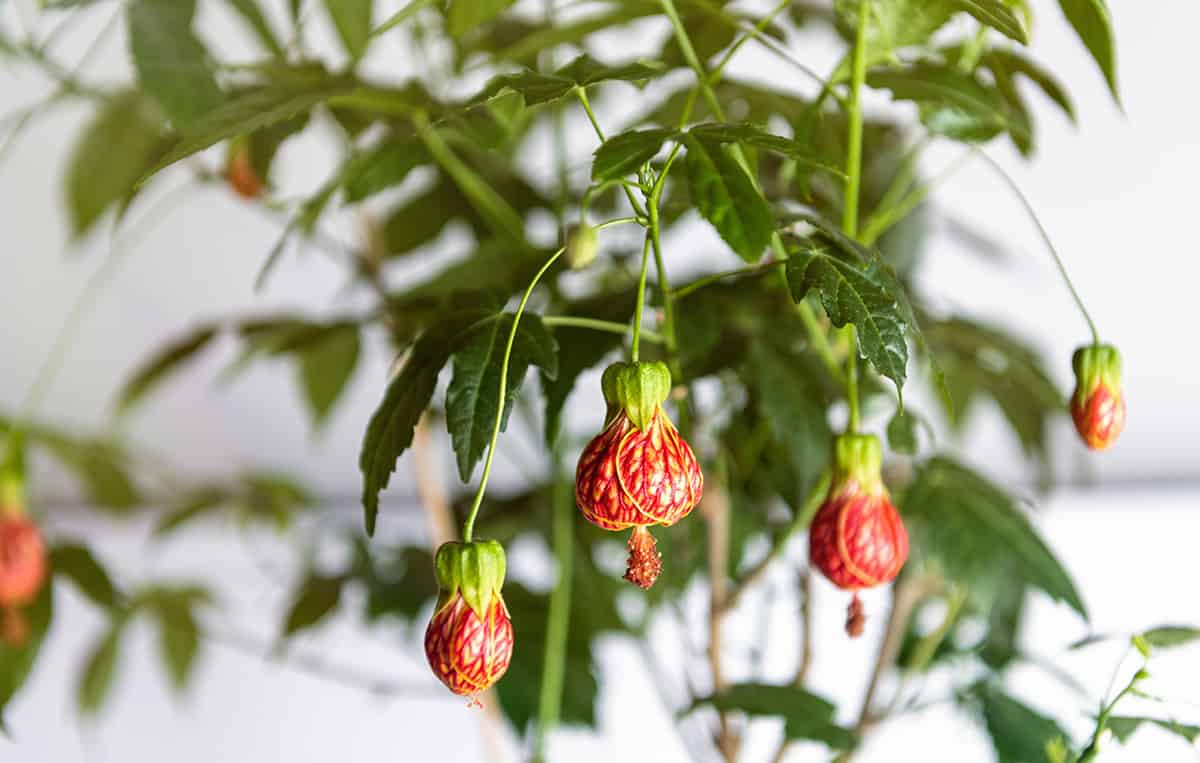 Botanical name: Abutilon sp.
Family: Malvaceae
USDA hardiness zones: 8- 11
Mature height: 10 inches to 10 feet
Mature spread: 10 inches to 6 feet
Orange varieties: 'Lucky Lantern Tangerine', 'Victor Reiter'
Flowering Maple plants are evergreen perennial shrubs that are sometimes grown as annuals or even houseplants. They are also commonly known as Chinese Lantern plants, Parlor Maple, and Chinese Bellflowers. The height of their popularity was during the Victorian era, though they are currently experiencing a comeback in gardening design.
Despite their name, Flowering Maples are not related to true maple plants (Acers), but they are so-called because their leaf shape is similar to the maple leaf. Flowering Maples can produce blooms in a variety of colors, including orange, red, white, and yellow. They have a long blooming period from spring right through to fall, bringing an abundance of vibrant color to the garden for several months of the year.
The flowers start out as small spherical buds, which resemble miniature pumpkins in orange varieties of the plant. These develop into bell-shaped flowers with tissue-paper thin petals, which dangle down from the arching branches of the shrub. This is a hot climate plant though it can be grown as a seasonal annual in colder regions.
It thrives in full sun or partial shade and performs best in soil which is kept consistently moist, especially during summer.
Angel's Trumpet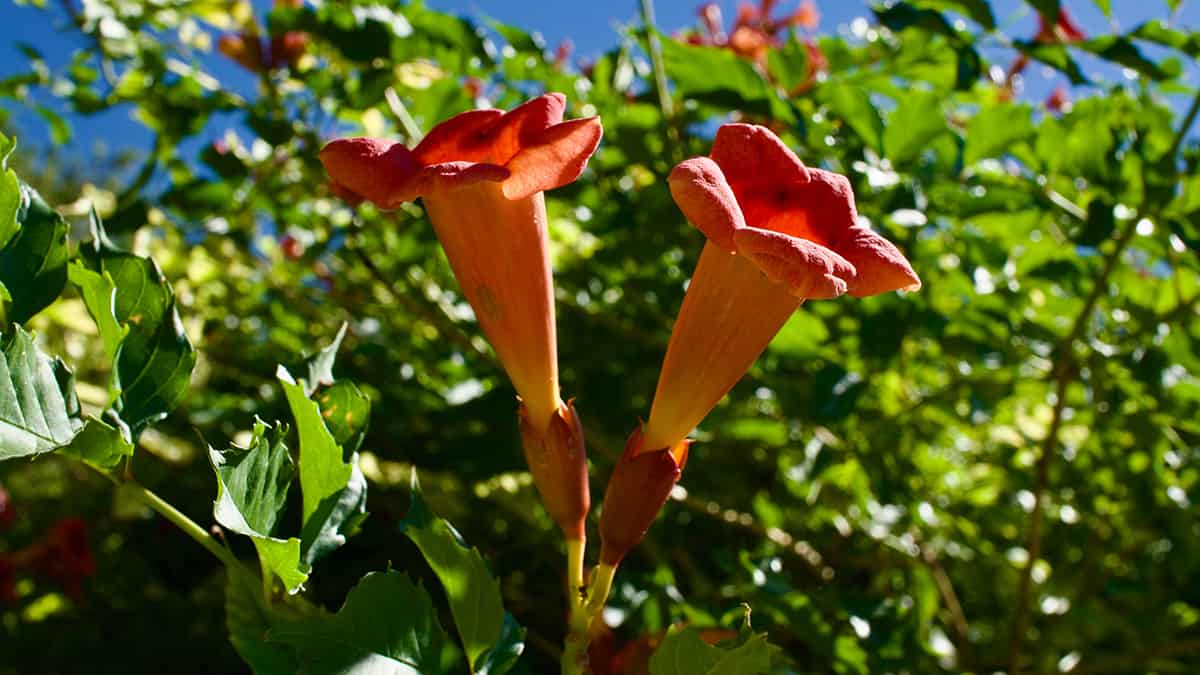 Botanical name: Brugmansia versicolor
Family: Solanaceae
USDA hardiness zones: 9 – 11
Mature height: 10 to 15 feet
Mature spread: 10 to 15 feet
Brugmansia versicolor (Angel's Trumpet) is native only to Ecuador, though it is now extinct in the wild, and has been since 2014. However, this plant is widely cultivated throughout nurseries and gardens across the world. It can be grown as a large shrub or small tree, and is loved for its attractive peach-orange colored flowers.
The plant blooms in the middle of summer, and the flowers persist into the fall. They are extraordinarily large, with each flower measuring around 15 inches in length. The flowers are trumpet-shaped and hang like pendulums vertically from the branches. Initially the flowers are cream in color, but after a matter of hours they develop into a salmon-like color, which they can maintain for many months.
The plant blooms in abundance, so that it looks almost covered in striking flowers. Besides its aesthetic appeal, the Angel's Trumpet is also favored for the fragrance the flowers emit, which can scent the air for hundreds of feet around the plant. There are other species of Angel's Trumpet plants, some of which produce orange flowers, and some which do not.
The hybrid plant Brugmansia x candida 'Grand Marnier' sends out apricot colored blooms measuring 12 inches long, while the Brugmansia suaveolens produces pure white flowers of a similar size. The Angel's Trumpet plant is extremely decorative and adds great drama to the garden landscape.
It thrives in full sun but will appreciate some afternoon shade in very hot climates. It is not hardy and therefore grows as a perennial in warm regions, but can also be grown as an annual or houseplant in colder climates. It relies heavily on regular fertilizer applications, and a soil which is heavy in organic material.
Japanese Quince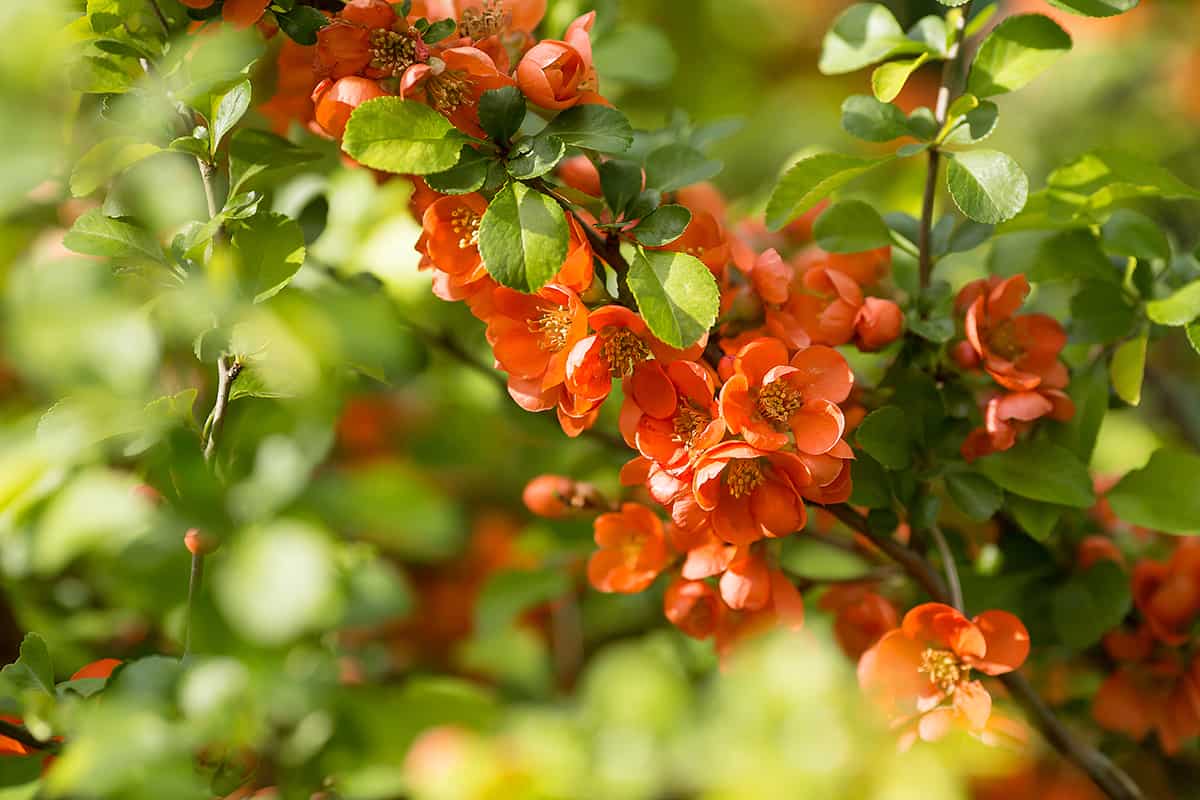 Botanical name: Chaenomeles japonica
Family: Rosaceae
USDA hardiness zones: 5 – 9
Mature height: 2 to 3 feet
Mature spread: 3 to 6 feet
Orange varieties: Chaenomeles speciosa 'Falconnet Charlet' , Chaenomeles speciosa 'Geisha Girl', Chaenomeles speciosa 'Double Take Peach', Chaenomeles x superba 'Coral Sea', Chaenomeles x superba 'Cameo'
Japanese Quince is a deciduous shrub with a low growing habit, growing wider than it does tall. Its flowers bloom exceptionally early in the season, during late winter or early summer. They arrive on bare branches, with the foliage emerging several weeks later. The blooms are hugely popular with bees and, after pollination, will develop into round fruits measuring around 2 inches across, with yellow or green skin.
These fruits are not considered appealing when eaten raw, but they are popularly used for producing jellies and jams. Japanese Quince is an excellent choice of orange flowering shrub for beginner gardeners or those wanting to add low maintenance color to their landscape.
The plant thrives in any soil type and will grow well in full sun through to shade. Once well established, the Japanese Quince is tolerant of drought. It can be trained to grow up a wall, but is more commonly used for low hedging or borders.
Firebush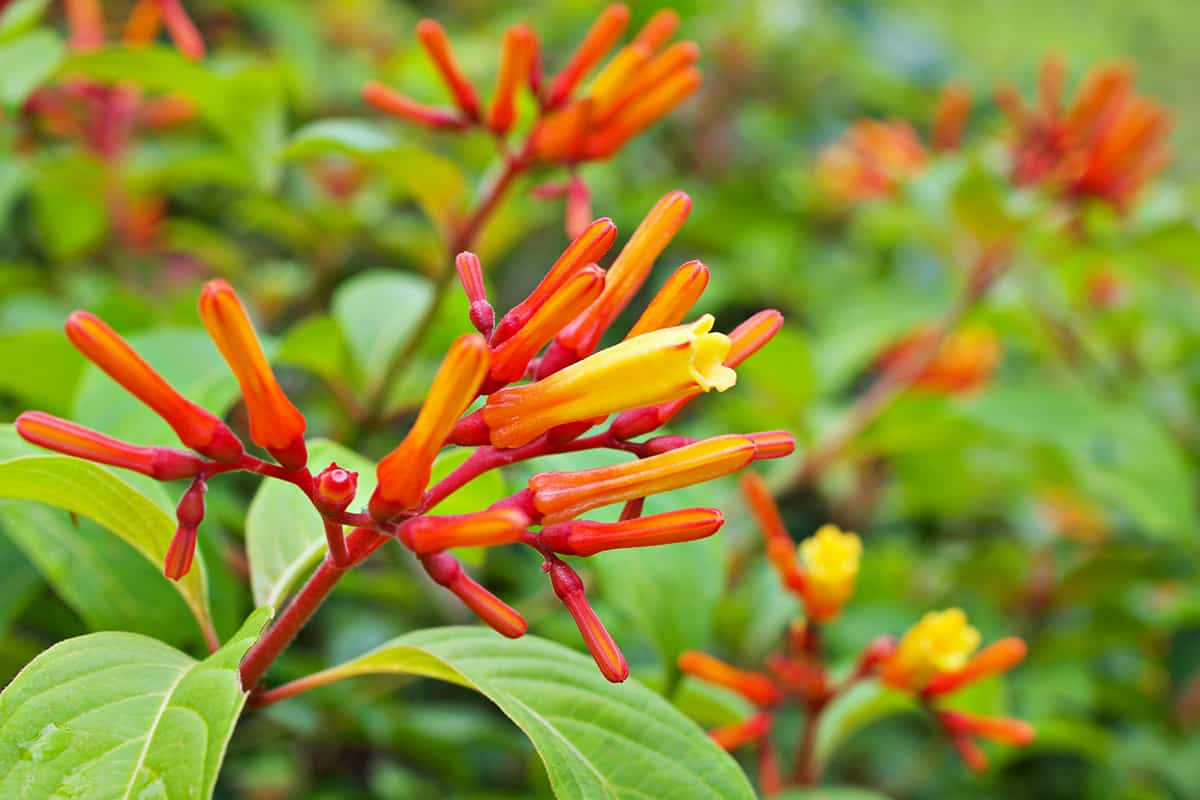 Botanical name: Hamelia patens
Family: Rubiaceae
USDA hardiness zones: 9 – 11
Mature height: Up to 15 feet
Mature spread: Up to 8 feet
This evergreen shrub is native to the subtropical and tropical regions of the Americas, from Florida down to Chile. It produces fiery orange flowers in long tube shapes, which appear in clusters at the tips of branches. The plant is renowned for blooming heavily, with a profusion of unusual flowers adorning the Firebush for much of the year in hot climates.
In cooler climates, it will flower during summer and into fall. Each tubular flower will reach around an inch in length, and these are highly attractive to hummingbirds along with other pollinators. In fact, another common name for this plant is the Hummingbird Bush.
By late fall, the flowers will have given way to clusters of glassy blackberries, which provide a source of food for birds and other wildlife. The foliage of the plant adds further interest to the landscape, with leaves being a muted green color, deepening to red through winter.
The Firebush is commonly grown as hedging in hot climates, where it will reach heights of between 8 and 15 feet. In cooler regions, the plant grows as an annual and will not exceed 3 feet in height. Grow the Firebush in full sun, with afternoon shade in the hottest regions. The plant is tolerant of drought, but will flower more profusely when kept in moist soil.
Rock Rose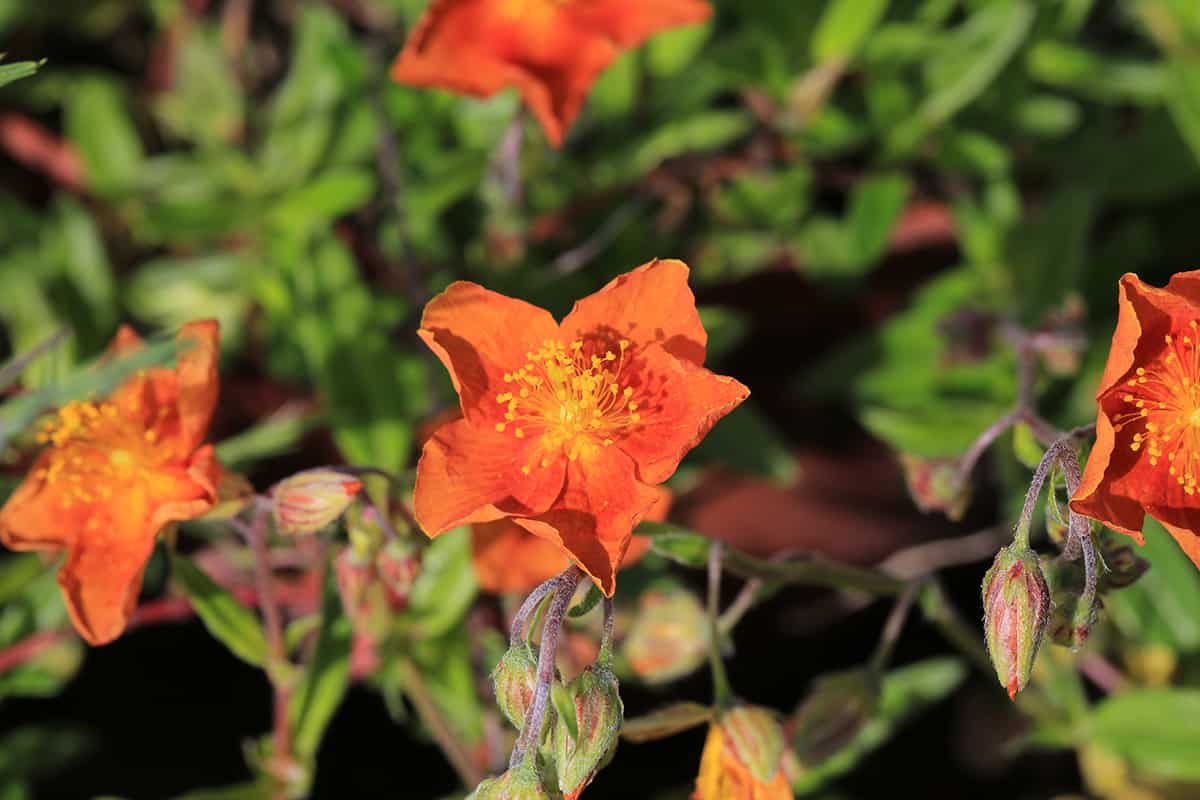 Botanical name: Helianthemum
Family: Cistaceae
USDA hardiness zones: 4- 9
Mature height: Up to 8 inches
Mature spread: Up to 2 feet
Orange varieties: 'Henfield Brilliant', 'Orange Phoenix', 'Pershore Orange', 'Ben Mohr', 'Bronze Carpet'
Rock Rose is an evergreen shrub that is low-growing. It hugs the ground to produce a carpet-like structure, covered in intensely vibrant flowers from spring through to the middle of summer. Rock Rose plants can flower in white, yellow, orange, red, and pink, but the orange variety 'Henfield Brilliant' is among the most popular.
This is an award-winning cultivar that is known for its showy flowers. Each flower blooms only for a single day, but more buds continually arrive on the plant so that it can remain in flower for a number of weeks. This is a Mediterranean native which is exceptionally easy to grow. It thrives in full sun, and will tolerate extreme drought. It is ideal for use as an attractive ground cover, and will also work well in rock gardens, borders, and for edging.
Texas Lantana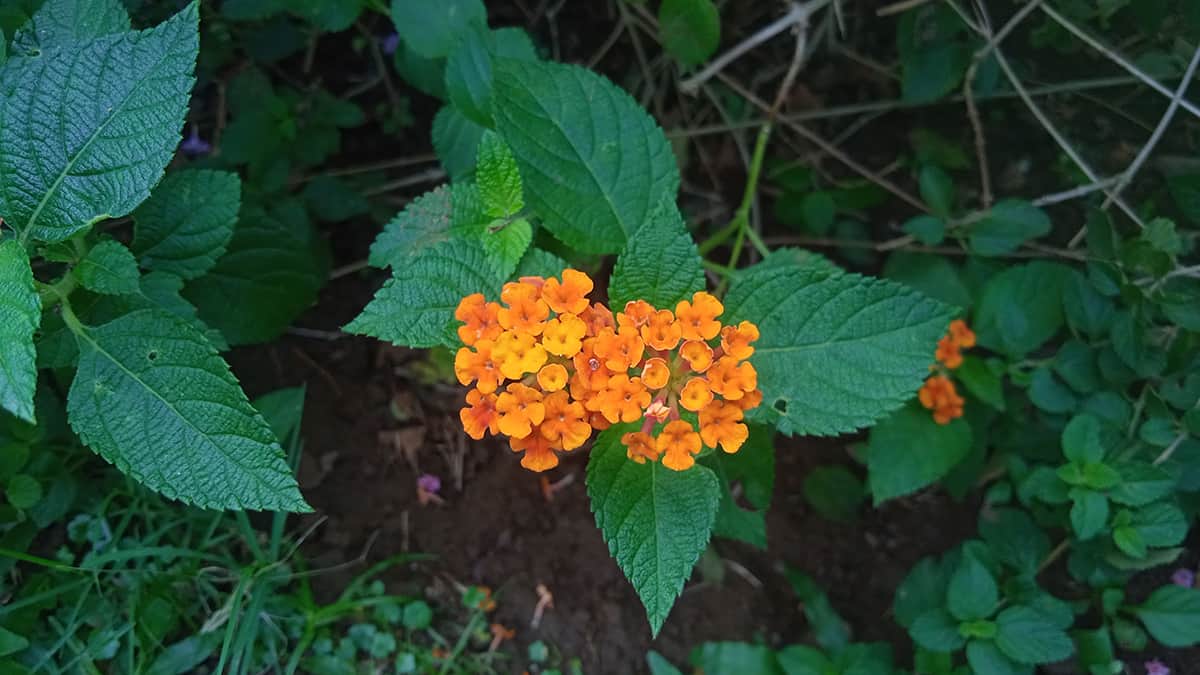 Botanical name: Lantana urticoides
Family:  Verbenaceae
USDA hardiness zones: 8 – 11
Mature height: Up to 2 feet
Mature spread: Up to 6 feet
This plant, also known as the Calico Bush, grows natively as a perennial shrub across Texas, Mississippi, Louisiana, and Mexico. It has a spreading and mounding habit, producing rounded clumps which are wider than they are tall. This is an ideal choice of the orange flowering shrub if you are looking to add color for much of the year since the flowers of the Texas Lantana bloom from spring right through to fall, usually being killed off by the first frost.
The flowers are tube-shaped and are held in packed clusters, with petals ranging from yellow through to orange and fiery red, developing to a deeper intensity as the seasons progress. These develop into round, dark blue berries, which are poisonous to mammals, but savored by birds.
This is a plant that thrives in hot climates, and is not troubled by drought or high levels of heat. It grows well in dry, poor soils, though will also perform well in soils with a medium moisture content. Use the Texas Lantana as a low-growing informal hedge to bring several seasons of color to the garden.
Bush Monkey Flower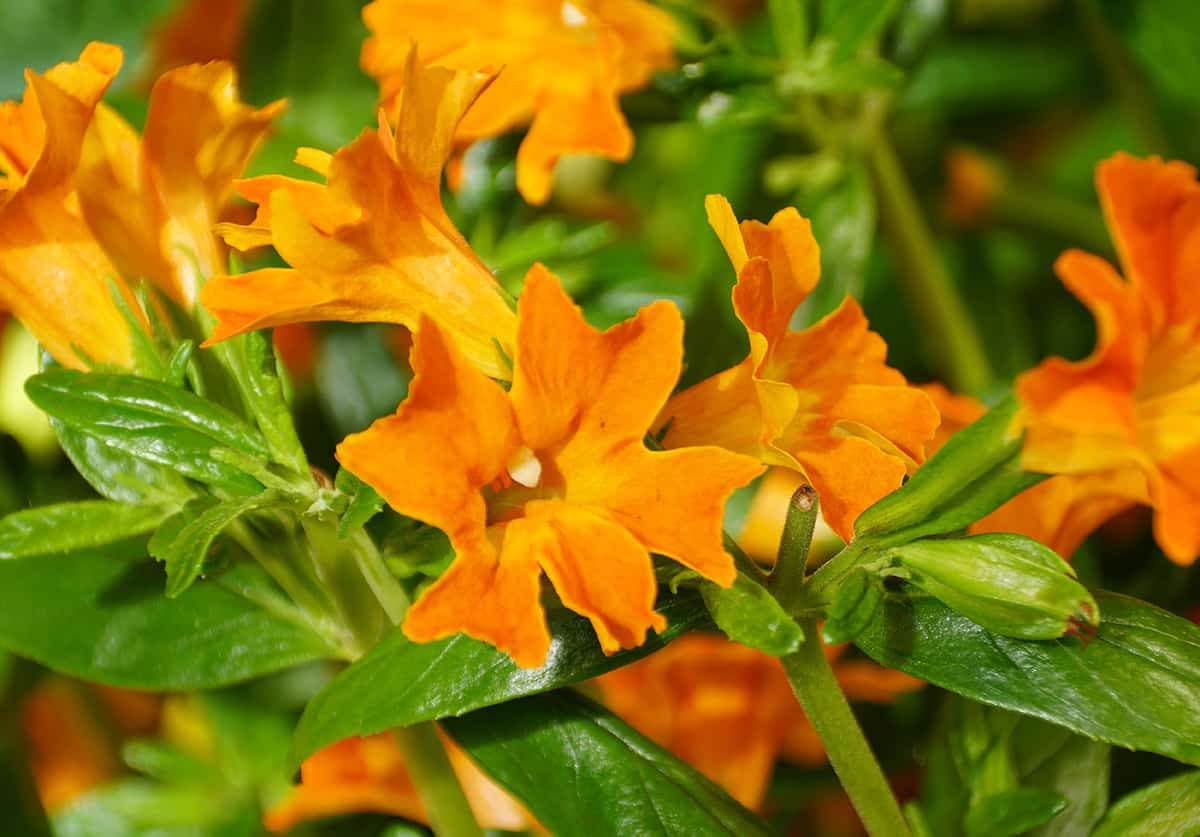 Botanical name: Mimulus aurantiacus or Diplacus aurantiacus
Family: Phrymaceae
USDA hardiness zones: 7 – 11
Mature height: Up to 4 feet
Mature spread: Up to 3 feet
This US-native plant is also known as the Sticky Monkey Flower, the Orange Monkey Flower, and the Orange Bush Monkey Flower. It grows throughout California and parts of Oregon, and has long been used for its medicinal benefits to heal burns and sores. It is an evergreen shrub which produces tropical-looking flowers throughout spring and summer.
The blooms are trumpet-shaped, with the petals having flared, frilled edges. They will flower in various shades of orange, including salmon, peach, orange-yellow, and fiery orange-red. Each flower can include a number of different shades, with an ombre fade effect as the colors transition.
The flowers will measure a little over 1 inch in length, and they make for an exotic, colorful bush, which has received the Award of Garden Merit from the Royal Horticultural Society. Grow the Bush Monkey Flower in a well draining soil, in full sun to partial shade. Once established, the plant is drought tolerant, and it can grow in poor soils.
Rhododendron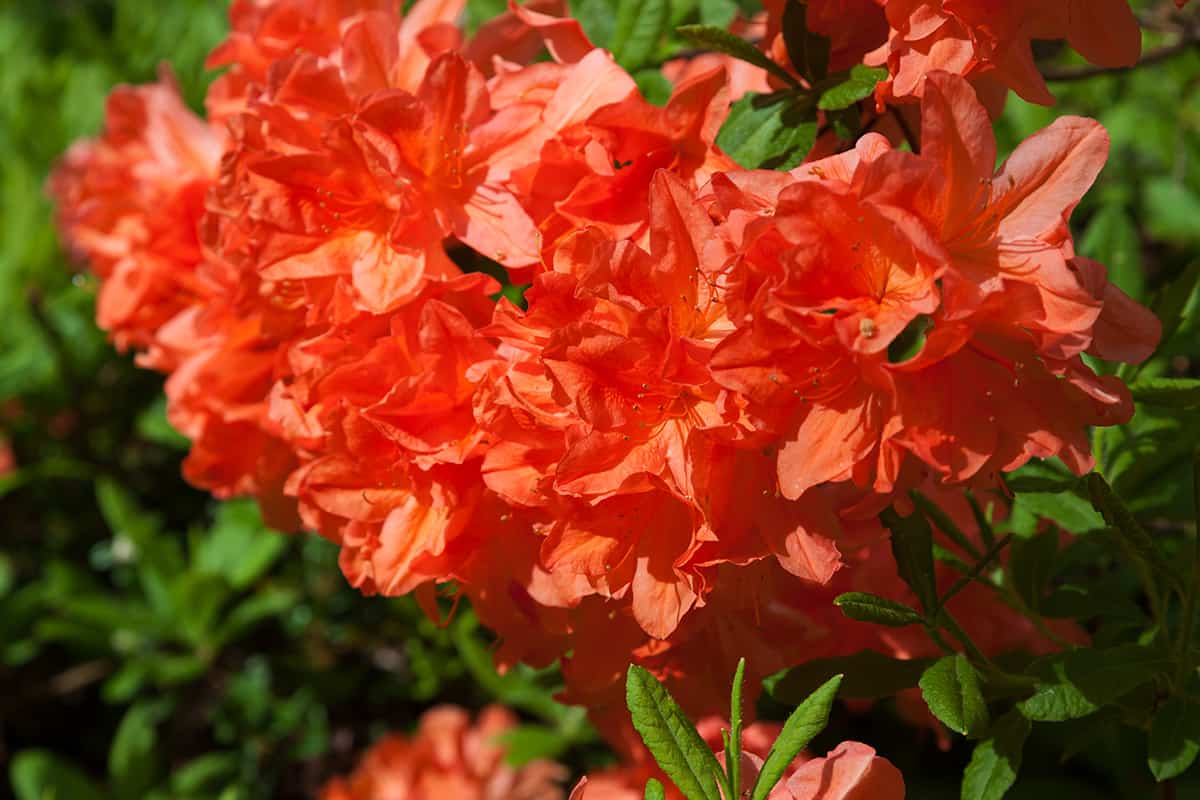 Botanical name: Rhododendron sp.
Family: Ericaceae
USDA hardiness zones: 3 – 8
Mature height: Up to 6 feet
Mature spread: Up to 6 feet
Orange varieties: 'Gibraltar', 'Golden Lights',  'Klondyke'
Rhododendron is a genus of plants encompassing over 1000 different species. There are numerous orange flowering shrubs among these, including the Gibraltar Rhododendron with deep flame orange, frilled petals, and the Golden Lights Rhododendron with golden orange, funnel-shaped blooms.
The latter is a creation of the Morton Arboretum at the University of Minnesota, and forms part of the Northern Lights Series of Rhododendrons. This is a group of Rhododendrons which were bred specifically to be able to cope with the harsh Minnesota winters, and as a result these plants are hardy down to zone 4, compared with most other Rhododendrons, which can only be grown upwards of zones 5 and 6.
Rhododendrons produce trusses of showy flowers at various times throughout spring and summer, depending on the variety of the plant. They grow to form medium to large shrubs with dense foliage, which makes them ideal for creating informal hedging and colorful privacy screening.
They thrive in well draining soils and typically prefer full sun or partial shade, along with a site protected from strong winds. Rhododendrons can be evergreen or deciduous and are considered toxic to most animals, including dogs, cats, and horses.