Foliage can often be considered as the background to brightly colored flowers, but for many plants, the foliage is actually the star of the show. If you select your plants carefully, opting for shrubs and trees which have unusual or interesting foliage, you will be able to enjoy a colorful display in your garden, even when flowers are not in bloom.
If you love to see the red foliage of deciduous trees and shrubs in fall, then why not consider using plants which have red leaves all year round? This way you can have vibrancy in your garden throughout the seasons, instead of just once a year for a handful of weeks.
There are not many shrubs that retain their red-colored foliage throughout the year, which just makes the ones that do this all the more special and spectacular. If you are looking for shrubs with red leaves all year, consider these options:
Japanese Barberry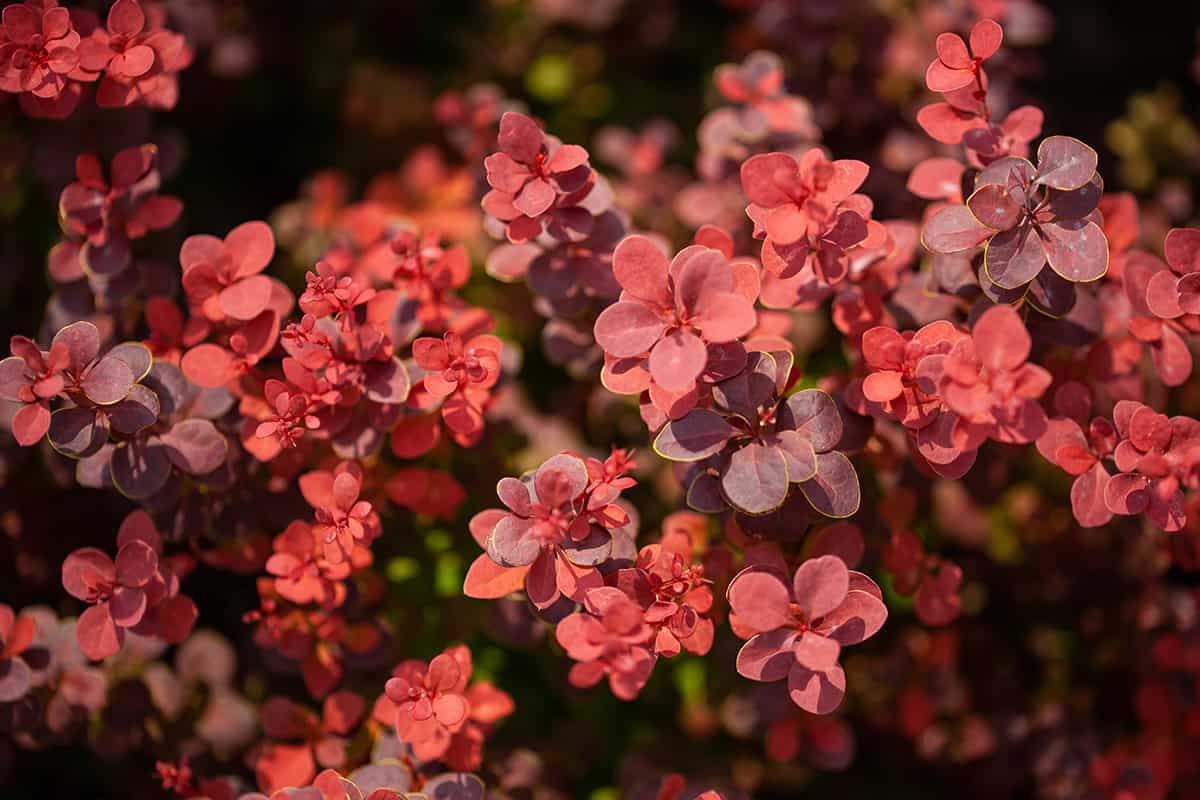 Botanical name: Berberis thunbergii
Family: Berberidaceae
USDA hardiness zones: 4- 8
Mature height: Up to 6 feet
Mature spread: Up to 6 feet
Red varieties: 'Red Chief', 'Red Pillar', 'Rose Glow', 'Crimson Pygmy', 'Fireball', 'Atropurpurea Nana', 'Orange Rocket', 'Rosy Rocket', 'Dart's Red Lady', 'Superba', 'Golden Ring', 'Pink Queen', 'Burgundy Lace'.
Japanese Barberry is also commonly known as Red Barberry in reference to the red-colored foliage it produces. These shrubs are deciduous, and different varieties have slightly different foliage colors and growth patterns, but in general, you can expect the foliage to emerge red in summer, and then develop to a deeper or more vibrant shade of red in fall before the plant sheds its leaves.
Japanese Barberry comes in various sizes, for example, the 'Fireball' cultivar will grow to between 1 and 2 feet in both heights and spread, whereas the 'Orange Rocket' can reach heights of up to 5 feet. The foliage on these plants is ovate and quite small, at less than an inch in length per leaf. They produce fairly insignificant flowers in spring, but these can develop into showy berries.
Japanese Barberry is native to Asia and has become naturalized across much of the United States, and is actually considered an invasive species in some regions. It is easy to grow, preferring full sun or partial shade, and it is tolerant of a wide range of conditions, including drought, pollution, and clay soils
Smokebush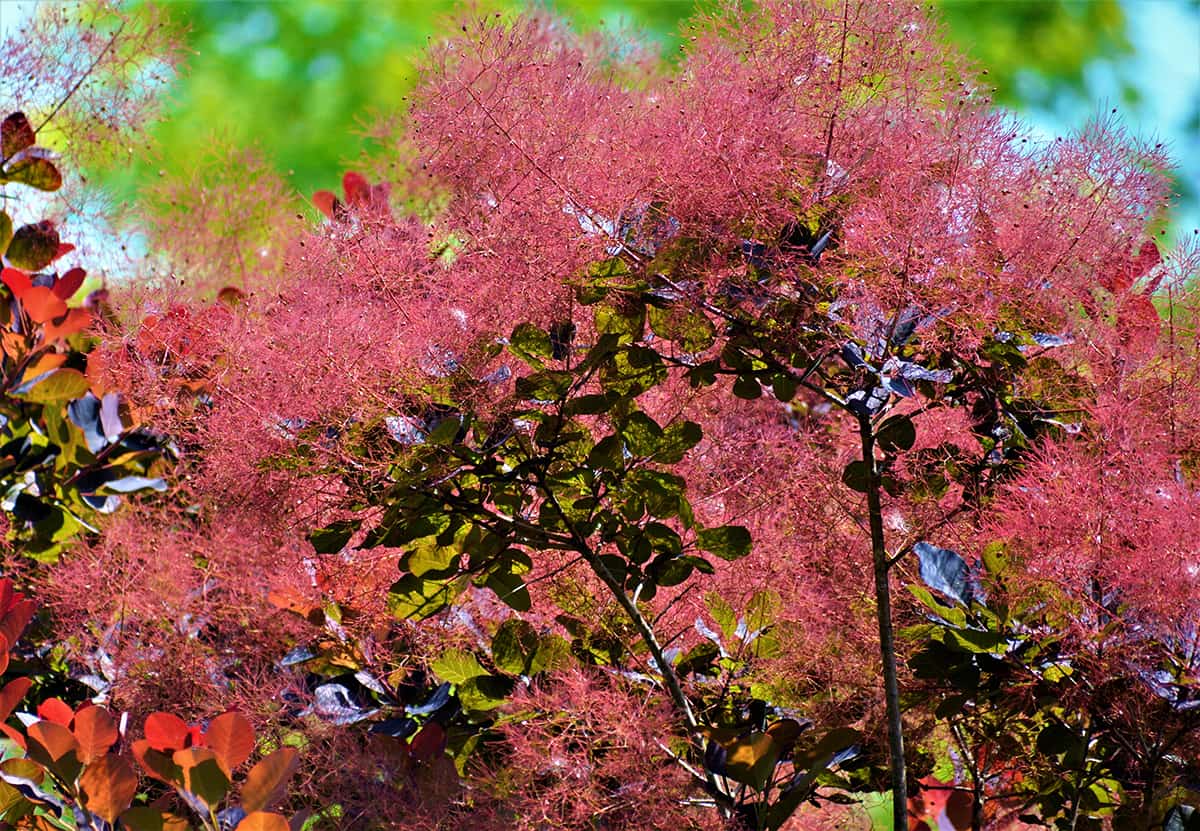 Botanical name: Cotinus coggygria
Family: Anacardiaceae
USDA hardiness zones: 5- 7
Mature height: Up to 15 feet
Mature spread: Up to 20 feet
Red varieties: 'Velvet Cloak', 'Royal Purple'
The Smokebush is a plant popularly grown as a garden shrub, but it can also take the shape of a small tree. It is native to the Southeastern US and is deciduous. It produces ovate foliage which can vary in size from 1 to 5 inches long. The foliage of the Smokebush remains red for the duration that it is on the plant, but it can transform through different shades.
Typically the red varieties of this shrub will produce deep red foliage in spring, which gradually becomes a shade of red-purple through summer. By fall, the leaves have taken on a rich and vibrant shade of red. The plant also produces flowers which arrive in late spring.
These are large clusters of fluffy pale pink to gray colored blooms, which are said to look like clouds of smoke hovering over the shrub. This is where the common name of 'Smokebush' comes from. The plant is drought tolerant once well established and can survive in a range of poor soil types. It can grow in full sun or partial shade, but the most vivid foliage colors will result from high levels of exposure to light.
Hazel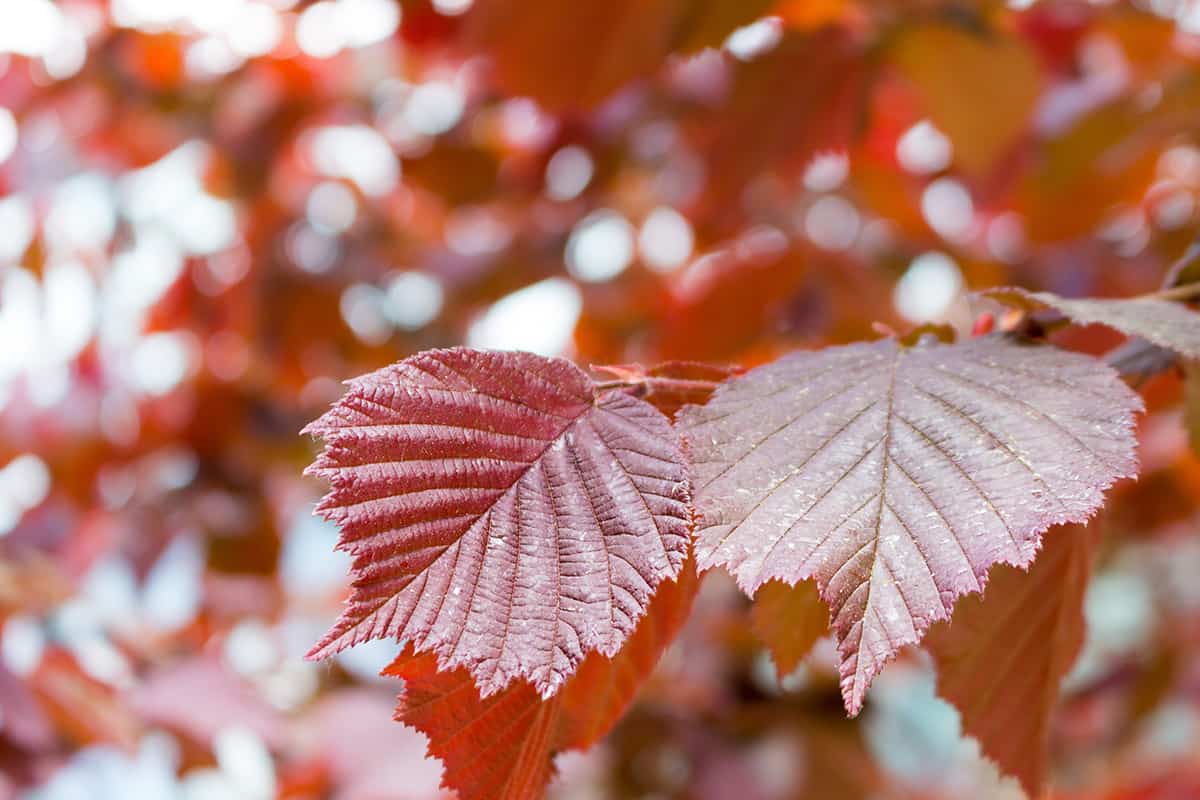 Botanical name: Corylus avellana
Family: Betulaceae
USDA hardiness zones: 3- 9
Mature height: Up to 13 feet
Mature spread: Up to 13 feet
Red varieties: 'Red Majestic'
The hazel belongs to the birch family of plants, which can take the form of shrubs or trees. These plants are native to England and some of Asia, and it is the 'Red Majestic' variety that produces year-round red foliage. This is quite a compact variety with a spreading habit.
It is slow growing, taking up to 20 years to reach a mature height of between 8 and 13 feet. The foliage is ovate, and has a burgundy color through spring and summer, before eventually developing a flush of green in fall. The plant also produces pink catkins later in winter, which gives it additional interest through the season, when much of the landscape is typically quite dull.
Ninebark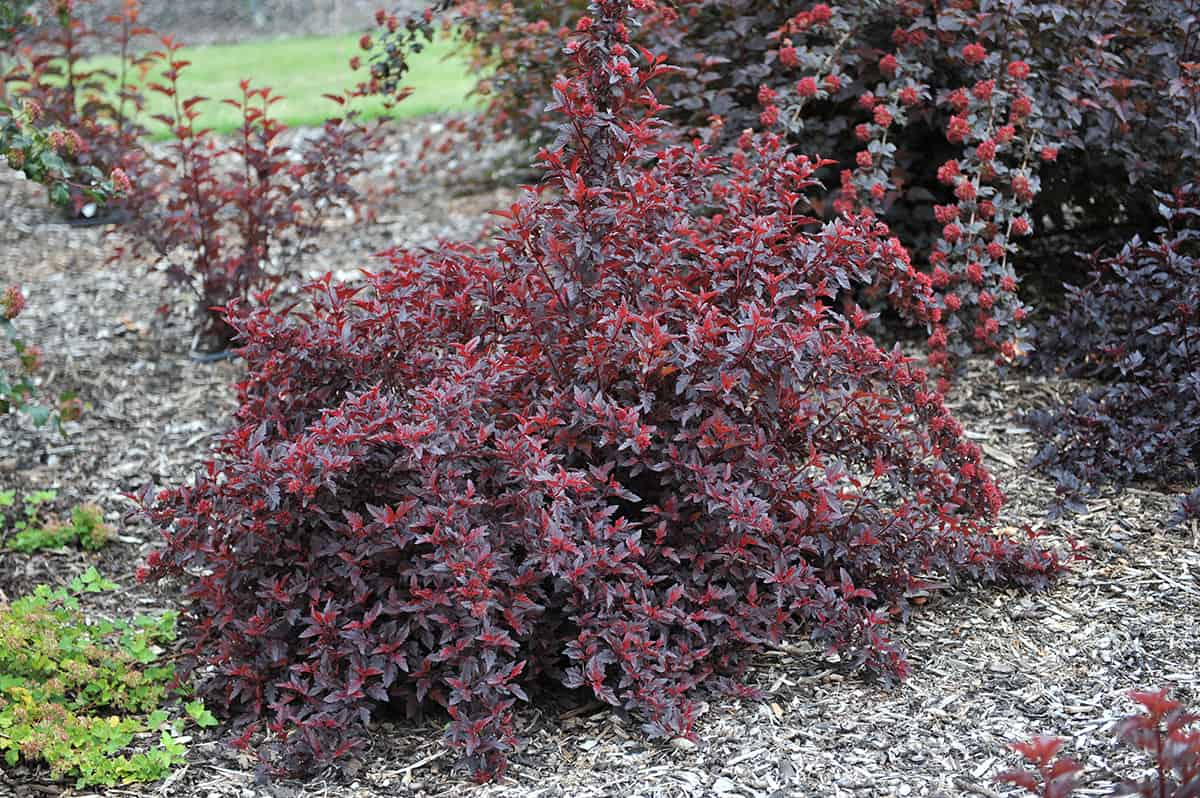 Botanical name: Physocarpus opulifolius
Family: Rosaceae
USDA hardiness zones: 3- 7
Mature height: 6 to 10 feet
Mature spread: 6 to 10 feet
Red varieties: 'Monlo', 'Diabolo', 'Coppertina', 'Summer Wine'
Ninebark, or Common Ninebark, is a shrub in the rose family that is native to Asia and North America. It is a deciduous plant, though retains interest through all seasons due to its unusual bark which is revealed in fall when the shrub sheds its leaves. The foliage of the plant is a deep shade of red-purple, and the leaves are shaped similarly to maple leaves, with distinctive lobing.
In late spring, the plant produces an abundance of creamy flowers which stand out against the backdrop of red foliage. This is an exceptionally hardy plant, ideal for cool climates and a wide range of soil conditions. The plant can cope with a variety of light conditions, from full sun through to heavy shade, however, for heavy blooming and the most vibrant foliage color, a generous amount of sun is required.
Chinese Fringe Flower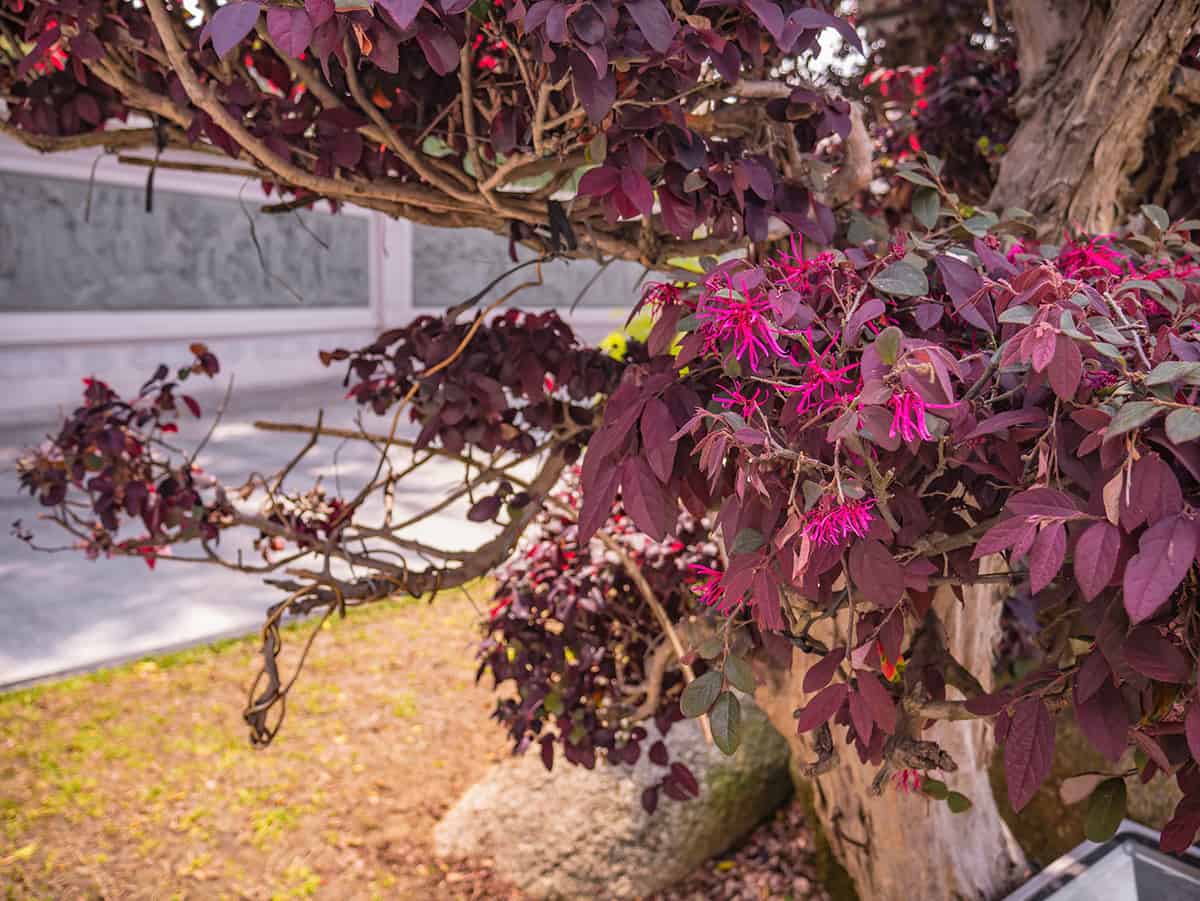 Botanical name: Loropetalum chinense
Family: Hamamelidaceae
USDA hardiness zones: 7- 10
Mature height: Up to 4 feet
Mature spread: Up to 6 feet
Red varieties: 'Burgundy', 'Firedance', 'Black Pearl'
The Chinese Fringe Flower is an evergreen shrub that is known for its vibrant foliage and showy flowers. The leaves of the plant are ovate and have a crinkled texture. They can range in color from red to hot pink and purple. As an evergreen shrub, the Chinese Fringe Flower has foliage that remains in the leaf all year round, providing a dazzling shock of color to winter gardens.
The flowers of this plant have long and slender petals, and they strongly resemble Witch Hazel (Hamamelis sp.) flowers, which is unsurprising as these plants are closely related. This shrub grows best in partial shade, in rich, well-draining soil which is neutral to slightly acidic. The compact size of this shrub makes it ideal for filling space between larger plants or for growing in a container on a patio.
Plum Leaf Sand Cherry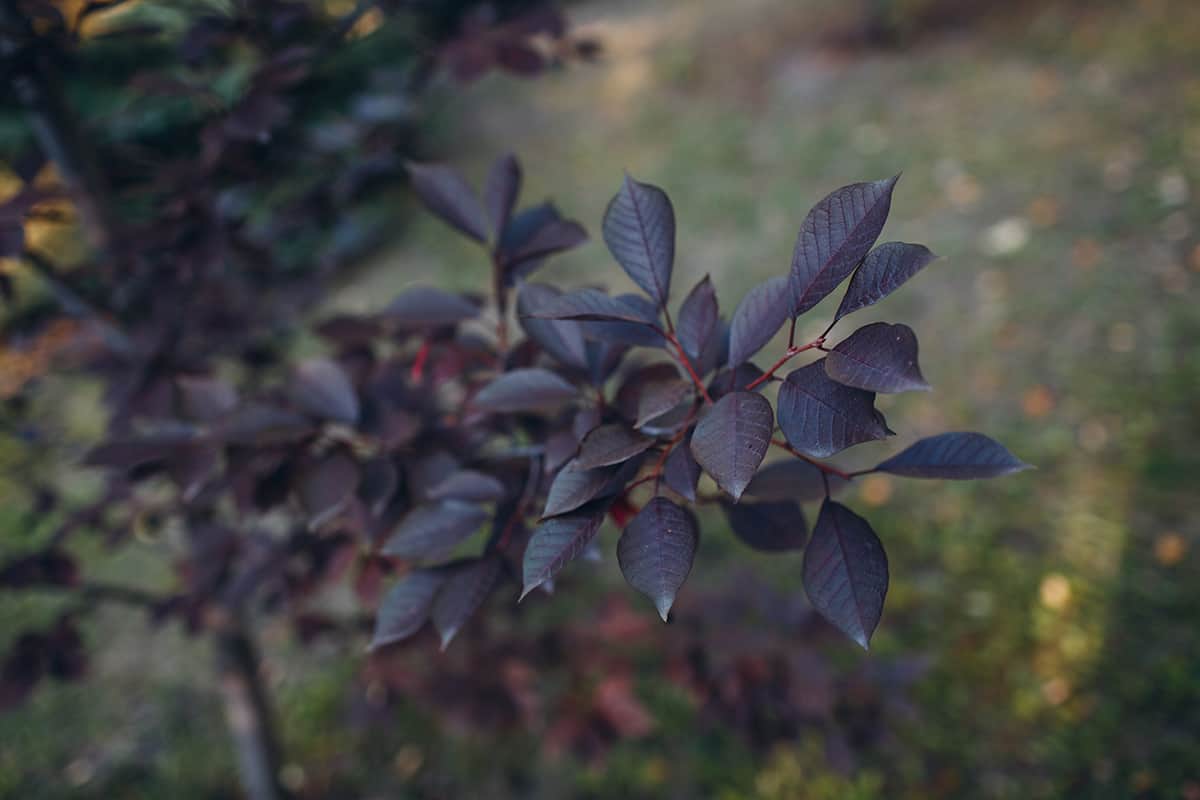 Botanical name: Prunus x cistena
Family: Rosaceae
USDA hardiness zones: 2- 8
Mature height: Up to 8 feet
Mature spread: Up to 8 feet
Red varieties: Prunus x cistena
This is a cherry plant that can be grown as a shrub or a dwarf tree. It is a hybrid, produced by crossing the parent plants Prunus cerasifera and Prunus pumila, native to Asia and North America, respectively. The Plum Leaf Sand Cherry is named after its plum-colored leaves, which emerge on the naked branches at the same time as pink-white blossoms begin to line the stems.
Initially, the foliage is bright red, and it retains this color through summer, before taking on the shade of red-golden brown in the fall. This is an easy-care shrub that will reward the grower with bright colors and interest throughout every season.
It requires little maintenance and is tolerant of a wide range of conditions, including drought, over-pruning, heat, and low temperatures. It thrives in full to partial sun.
Eastern Redbud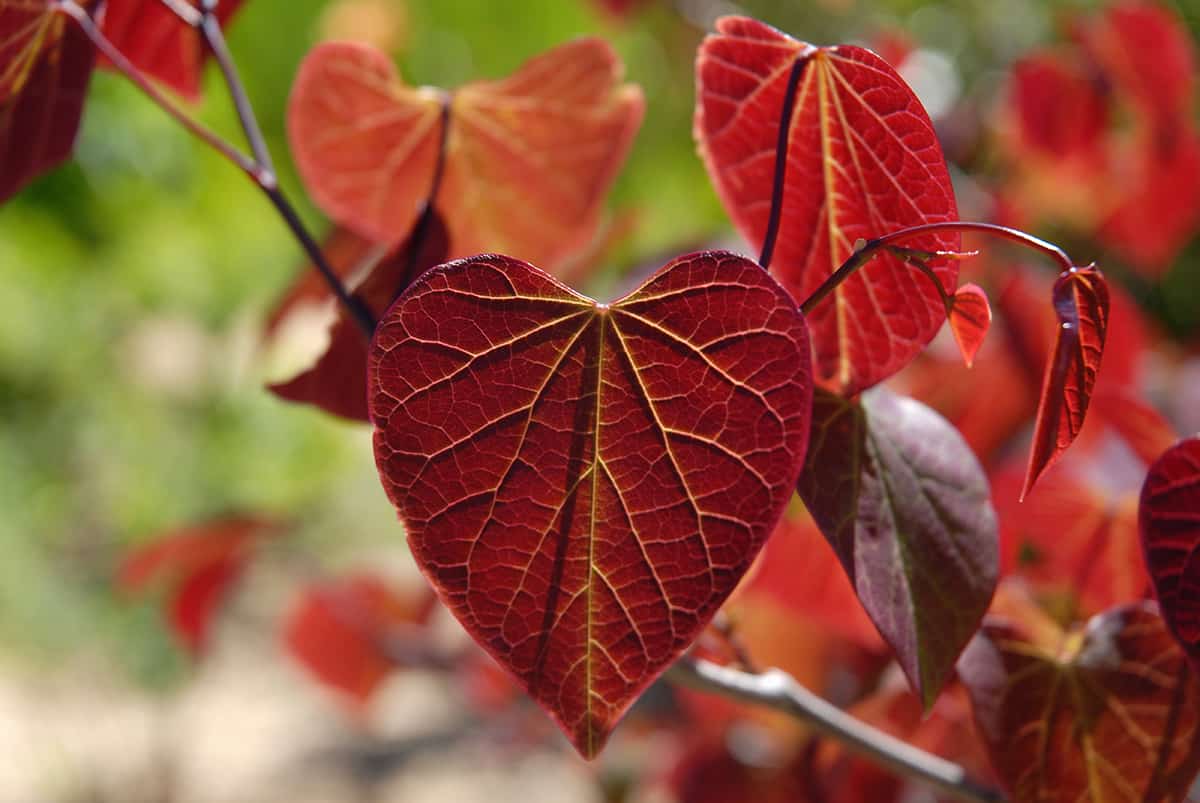 Botanical name: Cercis canadensis
Family: Papilionaceae
USDA hardiness zones: 5- 9
Mature height: 12 to 30 feet
Mature spread: 20 to 30 feet
Red varieties: 'Forest Pansy', 'Flame Thrower', 'Black Pearl', 'Burgundy Hearts'
The Eastern Redbud is native to North America. It is deciduous and is grown as either a shrub or a multi-stemmed tree. It is the state tree of Oklahoma and is known for the profusion of bright pink blossoms it produces on bare branches in spring. However, some types of Eastern Redbud are also loved for their brightly colored foliage.
Varieties such as 'Forest Pansy' and 'Flame Thrower' produce leaves that emerge in late spring in shades of red, red-orange, and red-pink. These develop to a deeper shade of red-purple as the season progresses, before dropping from the plant in fall. The leaves are heart-shaped and have a lustrous finish that can make them appear quite dazzling. These plants enjoy full sun or partial shade and require well-draining soils.
Dog Hobble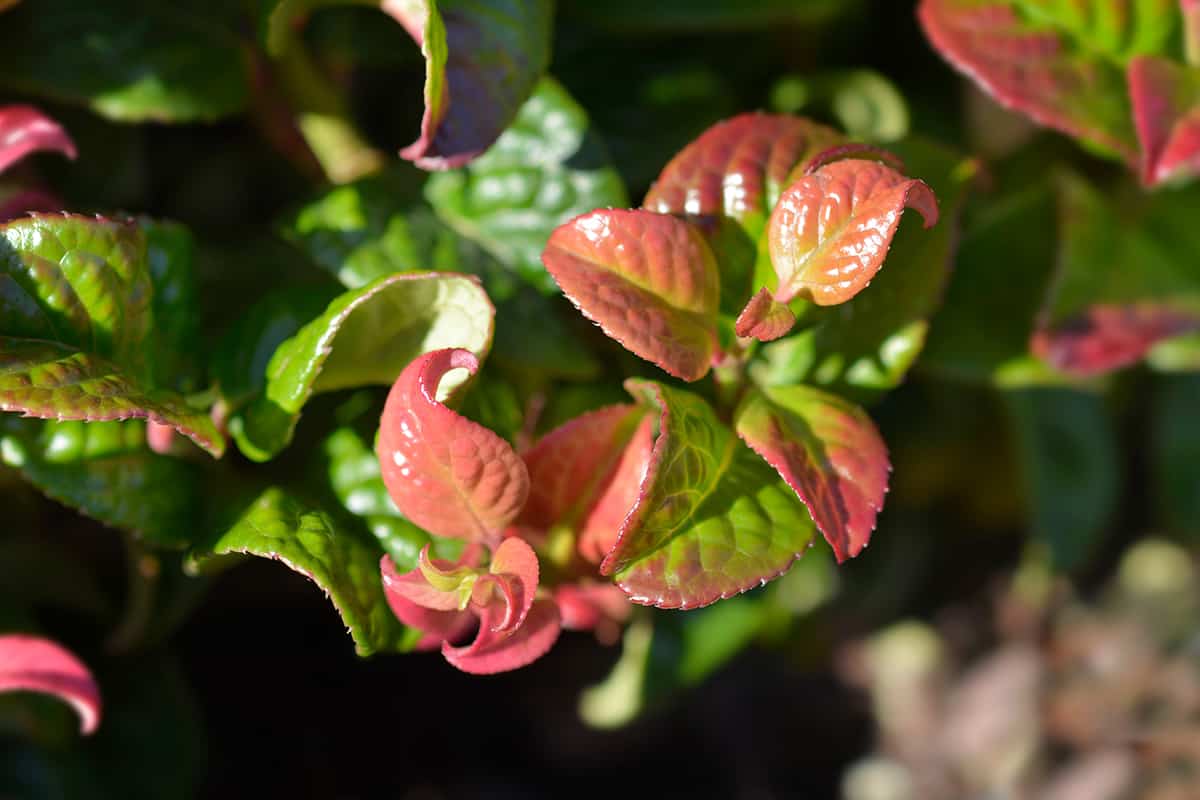 Botanical name: Leucothoe fontanesiana
Family: Ericaceae
USDA hardiness zones: 5- 8
Mature height: Up to 6 feet
Mature spread: Up to 6 feet
Red varieties: 'Zeblid', 'Scarletta', 'Rainbow'
Dog Hobble is native to the southeast US, and takes the form of a fountain-shaped shrub. It produces gently arching stems that are red in color and draped in glossy foliage of varying shades of red and pink. The 'Scarletta' variety of Dog Hobble has leaves that start out a bright shade of ruby red and fade to a burgundy color in fall and winter, with flushes of green in the middle.
The 'Rainbow' variety has pink-red foliage which is marbled with a creamy white color. Clusters of white flowers dangle from the stems in spring, providing an intense contrast against the brightly colored leaves. Dog Hobble is a shade-loving shrub, so it's a great option for adding year-round color to darker corners of the garden. Position it in partial or full shade, and keep the soil consistently moist. It should be noted that this plant is very toxic to animals, so keep it away from all pets.
Cordyline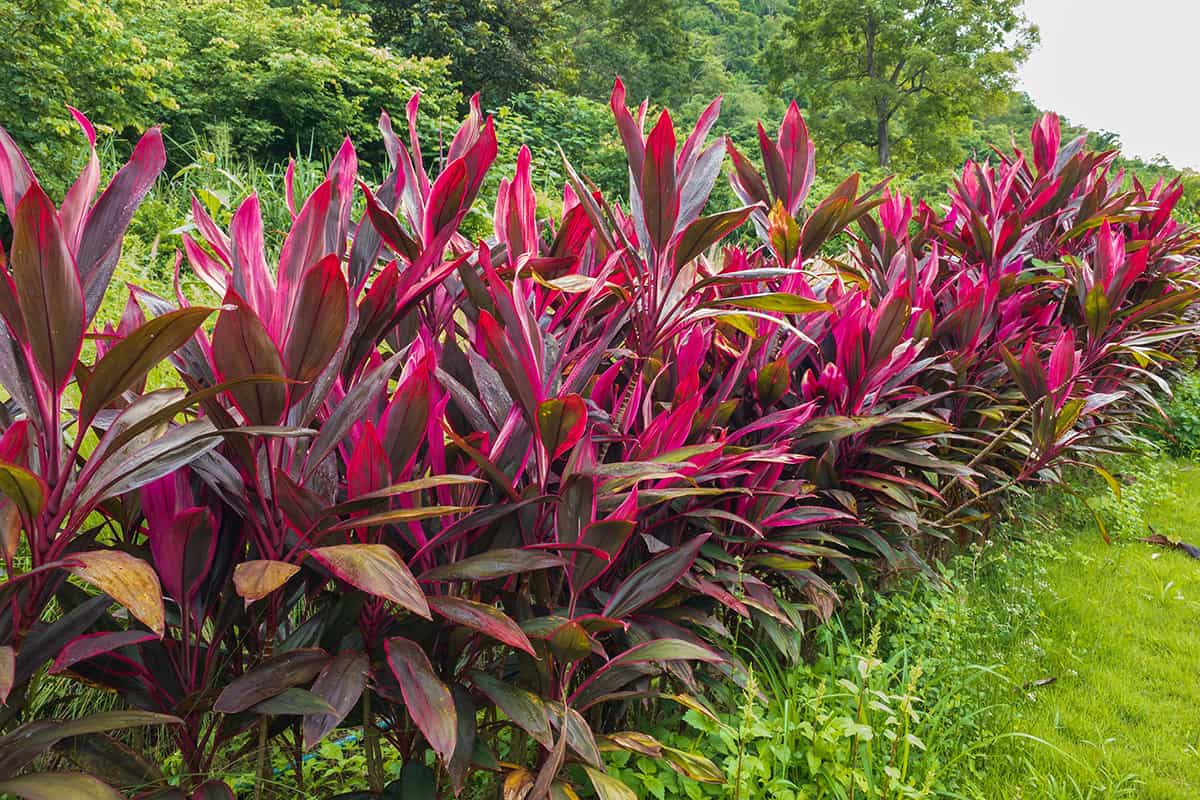 Botanical name: Cordyline australis
Family: Asparagaceae
USDA hardiness zones: 8- 12
Mature height: 2 feet to 20 feet
Mature spread: 2 feet to 10 feet
Red varieties: 'Red Star', 'Red Sensation', 'Torbay Red', 'Pink Passion'
Cordylines are also known as 'Cabbage Palms', since they do resemble a palm tree with their cascading strap-like foliage which sprays out from a central point. Cordylines come in various shades of green, but there are a few varieties that have striking red foliage, including 'Red Star' and 'Red Sensation'.
These plants have leaves that vary in color from vivid pink-red to deep burgundy, but the color of each plant is retained throughout the year and does not fade or change color. As evergreens, these plants are perfect for adding color and interest to the garden through every season.
Some varieties stay quite compact, such as the 'Pink Passion' which grows to a mature height of between 2 and 4 feet, though others can take on a tree-like form, developing a trunk-like structure as they get older and reaching heights of up to 20 feet. Cordyline australis is native only to New Zealand, thriving in full sun or partial shade and preferring well-draining soils. They are tolerant of drought, and can survive through frost when mature.
Japanese Maple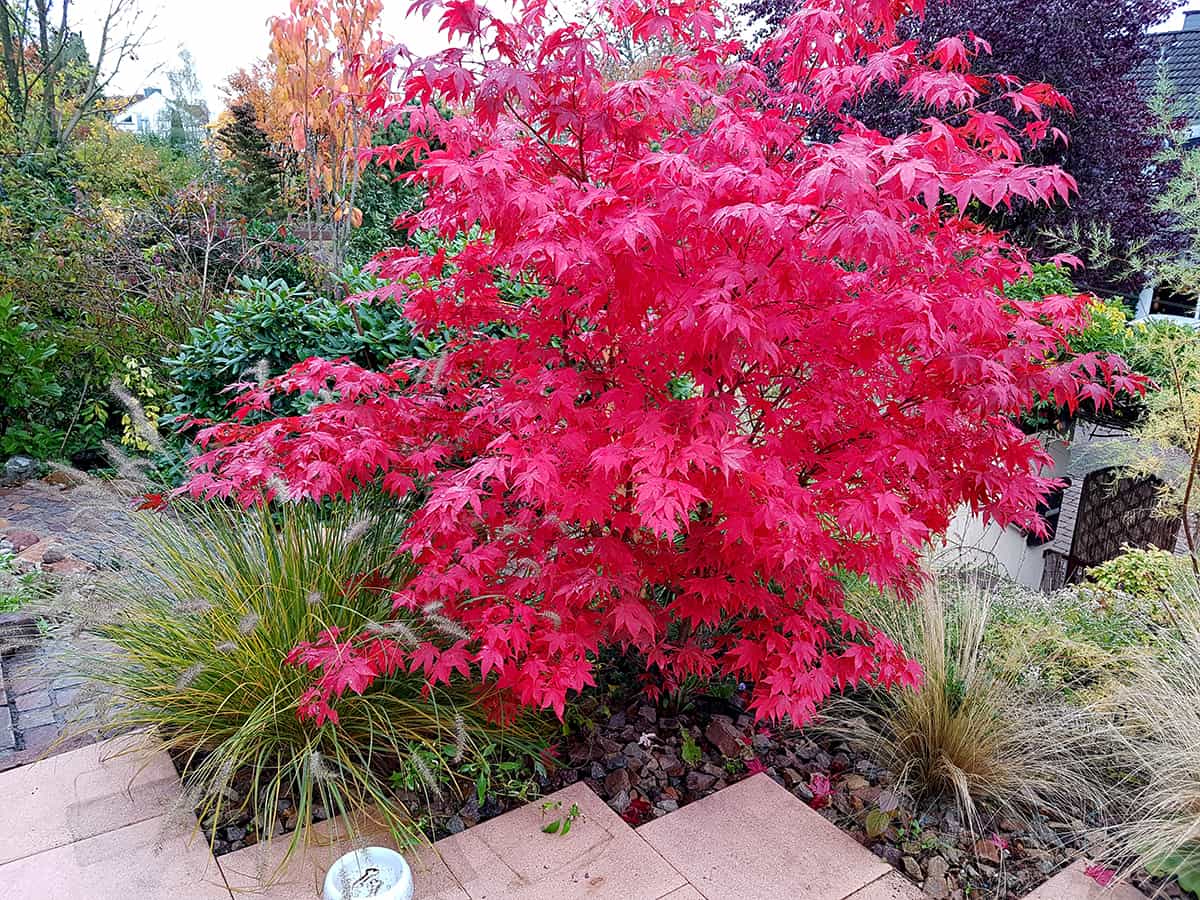 Botanical name: Acer palmatum
Family: Sapindaceae
USDA hardiness zones: 5- 9
Mature height: 4 to 25 feet
Mature spread: 4 to 25 feet
Red varieties: 'Crimson Queen', 'Beni-Maiko', 'Bloodgood', 'Chitose-Yama', 'Emperor I', 'Geisha Gone Wild', 'Osakazuki', 'Shin-Desojo', 'Crimson King', 'Yasemin'
Japanese Maples can be grown as shrubs or trees, ranging in eventual height from 4 feet up to 25 feet. Red varieties of these deciduous plants send out the foliage in spring, which can vary in color from bright orange-red to pink-red or deep purple-red.
In some cases, the leaves are variegated, for example in the case of 'Geisha Gone Wild', where the leaves are a dark purple-green, edged with bright pink-red. The foliage color often develops to a brighter shade during summer, fading to a darker color in fall. These are low-maintenance plants that add spectacular color to the garden from spring through to winter. They prefer partial shade and moist soil.