Plums are a popular type of fruit in the western world that you will commonly find in the grocery store or the local farmers market. They are scientifically known as drupes, or stone fruits, and they hail from the trees of the Prunus genus. Within this genus, there are over 400 different species, all producing different types of plums.
Many of these plums are edible when raw, while others are best utilized in baking pies or making jams and jellies. Some trees in the Prunus genus are cultivated solely for their ornamental value rather than for the fruits they produce since plum trees are renowned for having particularly beautiful blossoms in springtime.
Generally speaking, plums tend to have a spherical shape with an indentation at the top where their stalk is attached, often giving them the look of oversized cherries. Their skin can vary in color from dark purple to olive green, and their flesh will also vary in both color and taste. Here we explore the plums, which have red flesh, and the plants that produce these fruits.
Red Flesh Plums
Elephant heart plums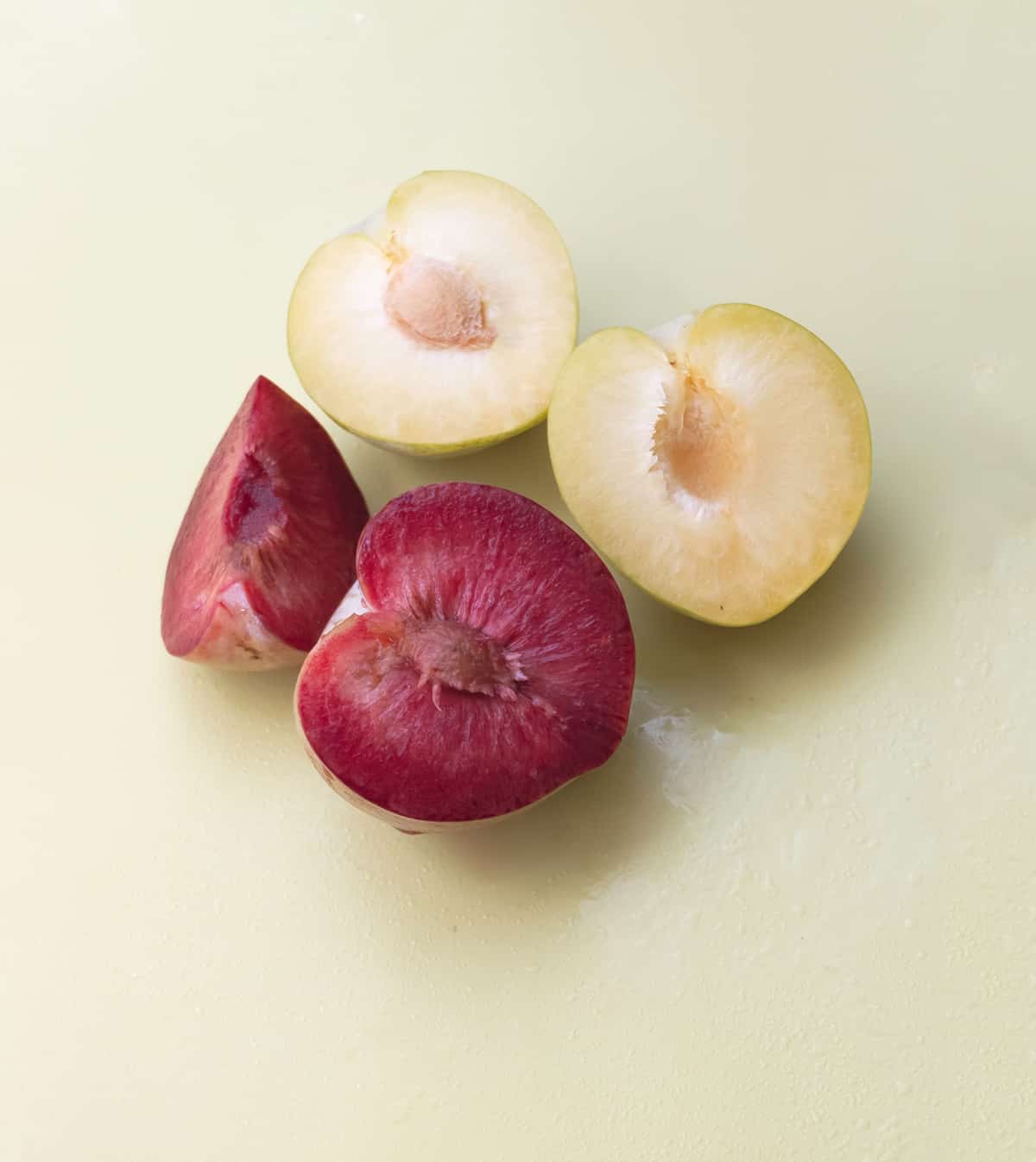 Overview
Elephant heart plums are a large variety of plums that typically measure around 3 inches in diameter, and as the name suggests, they are slightly heart-shaped. Their skin has a smooth powdery texture, which starts out in a golden shade of green but matures to a deep shade of purple-red.
The flesh of these plums is bright blood red, with some tinges of golden yellow near the middle of the fruit. The texture of the flesh is firm, dense, and incredibly juicy. The flesh does not cling to the central stone, which makes the Elephant heart plums easy to eat or prepare.
Flavor and Use
The flavor of Elephant heart plums is distinctive, with hints of vanilla. The taste is also said to resemble berries. Since the flesh of these plums is easy to separate from the stone, they work well for slicing in salads or on fruit platters. Their two-tone colored flesh, which is mostly red with a flush of yellow at the center, also means that they add an aesthetic appeal to dishes.
The flavor and texture of Elephant heart plums make them perfect for eating straight from the tree, but they can also be put to good use in tarts, jams, and conserves. You can store fresh Elephant heart plums in the refrigerator for up to 7 days.
Unfortunately, these plums are known to bruise easily, which has meant that they have fallen out of favor with large grocery stores since they don't travel well. You are more likely to find this type of plum in a local farmers' market or in specialty stores. They are one of the later ripening varieties of plum, which will usually be available towards the end of summer.
Tree
The Elephant heart plum is a type of Japanese plum which is grown from the Prunus salicina 'Elephant Heart' tree. The Prunus salicina tree belongs to the Rosaceae family and is native to China, though it is now distributed across Asia, Australia, and the United States. This particular cultivar of Japanese plum trees was first released in 1929, having been developed by Luther Burbank.
It is known to be difficult to cultivate, and the resulting fruits are quite delicate. These issues combined have culminated in many farms no longer growing the tree, and throughout California in the US, where plum trees are widely cultivated, this specific tree is usually only found on smaller specialist farms or in the gardens of home growers.
The Prunus salicina 'Elephant Heart' tree is a small deciduous tree that has a rounded crown when mature. It will reach typical heights of around 20 feet, with a similar-sized spread. They are suitable for growing throughout USDA hardiness zones 5 to 9 and should be planted in a position of full sun or, at the very minimum, in a spot where they receive 6 to 8 hours of direct sun each day.
Methley plums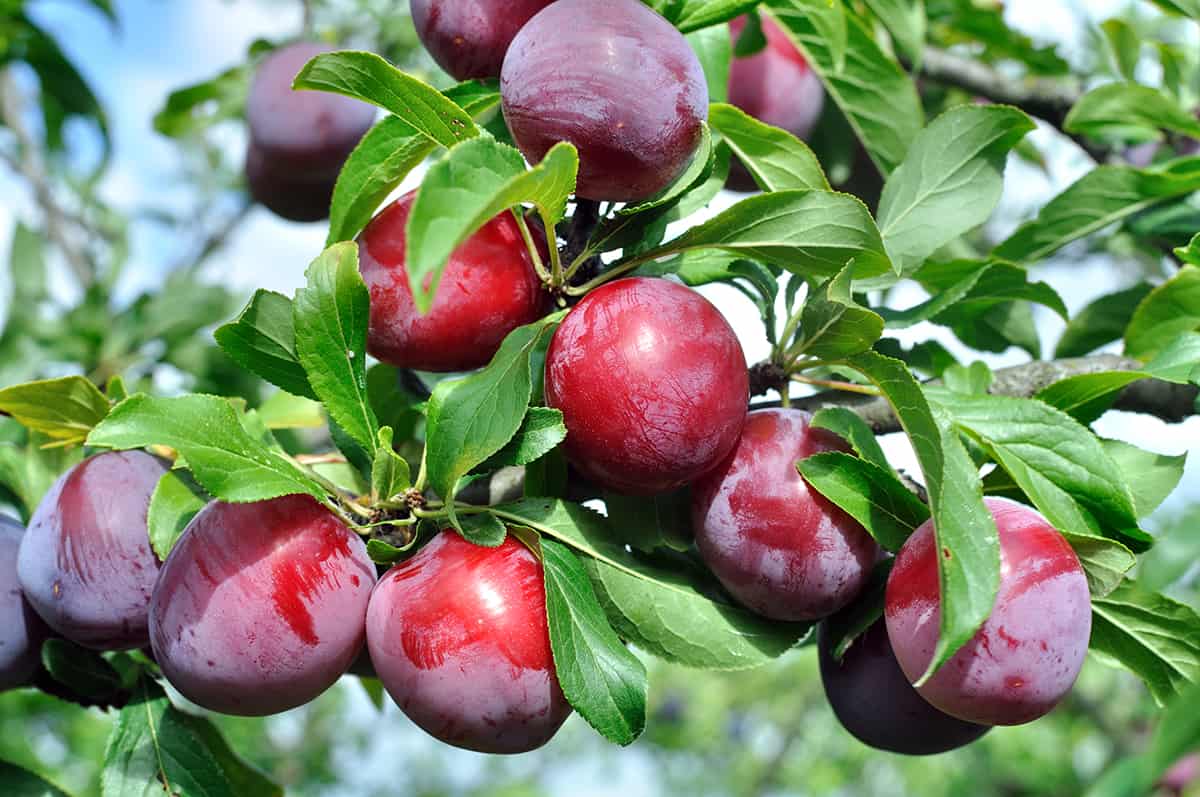 Overview
Methley plums have purple-red skin and a bright red flesh. The flesh of the fruit is very juicy and adheres strongly to the central stone, which can make the plums hard to prepare.
Flavor and Use
These plums are known for their sweet taste and the fact that they are available in midsummer, before many of the European varieties of plum. They are wonderful to be eaten straight from the tree and can also be used in baking or preserving.
The trees are reliable performers, producing an abundance of fruits, which makes them popular with growers. These plums can be removed from the tree before they are ripe since they will continue to ripen off the tree.
Tree
Methley plums are grown on Japanese plum trees called Prunus salicina 'Methley'. These are deciduous trees with a spreading crown, which flower very early in the season with stunning pink-white blossoms on bare branches.
They bloom so early that the flowers can be vulnerable to late spring frosts in some climates. Grow this tree in USDA hardiness zones 5 to 9, in full sun. It can adapt to a wide range of soils, including wet soils, but prefers a well-draining, loamy soil.
Santa Rosa plums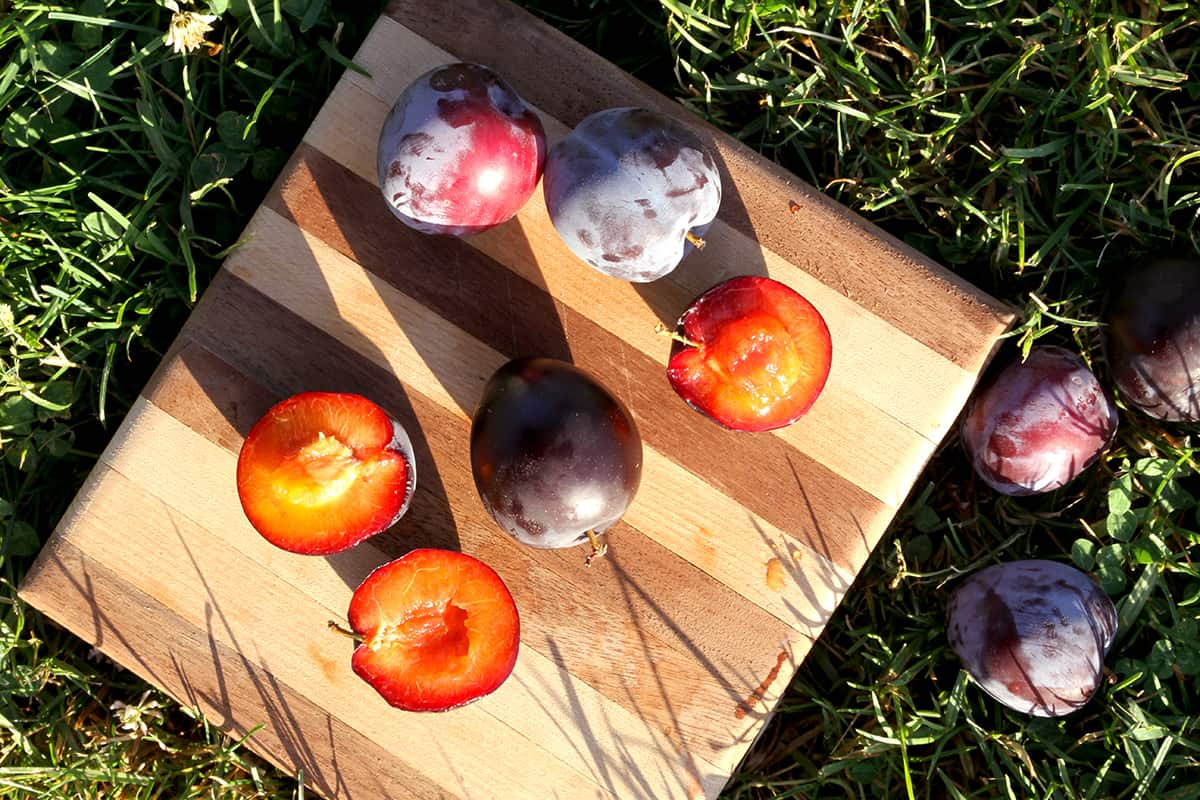 Overview
Santa Rosa plums are medium in size, measuring between 1.5 and 3 inches in diameter. They have smooth, glossy skin, which is red, fading into purple. The flesh is bright red towards the outer layer, but as it gets close to the stone, it takes on an orange hue. The flesh is juicy and firm and clings onto the stone of the fruit.
Flavor and Use
Santa Rosa plums are known for their high sugar content, which makes them very sweet tasting, though their skin has a tart quality that balances out the flavor nicely. These plums were developed in the early 1900s and became very commercially popular due to their high yield of fruit and ability to self-pollinate. However, they are now most widely grown in home gardens because their skin is delicate and doesn't travel well.
Tree
Santa Rosa plums are a type of Japanese plum grown on the Prunus salicina 'Methley'. They are hardy through zones 5 to 9, and thrive in both full sun and partial shade. The tree blooms early in spring with a profusion of pink-white flowers, and these develop into fruits that will be ripe by summer. Unlike many varieties of plum trees which need to be cross-pollinated, Santa Rosa plums are self-pollinating, so you can have a single specimen of this tree and still benefit from a bounty of fruits.
Satsuma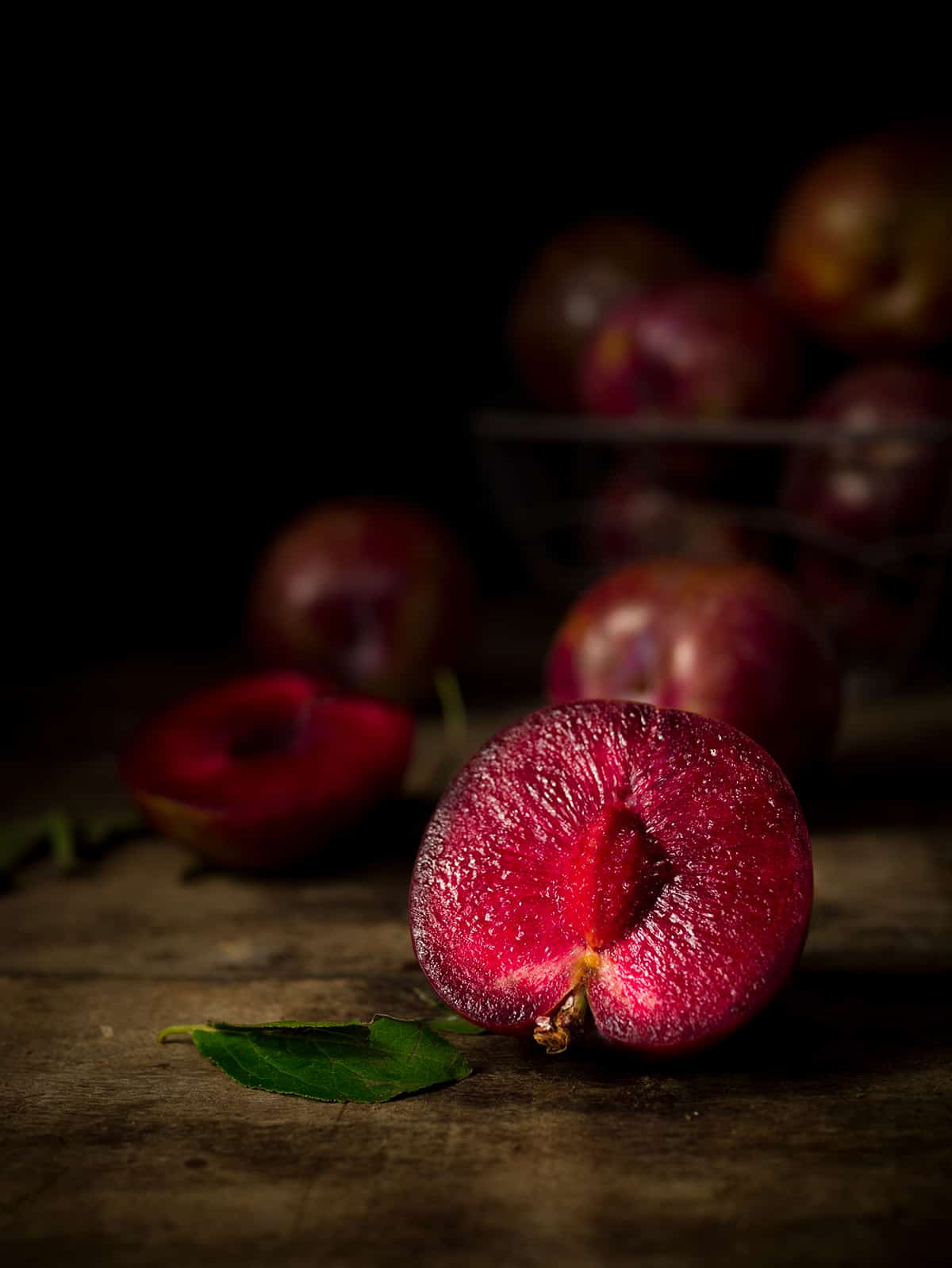 Overview
Satsuma plums are medium in size, at just under 3 inches in diameter. They have mottled, glossy skin in shades of green and deep red. The flesh inside is meaty and bright red, which has given rise to the common name of 'Blood Plum'. The skin can be quite tough, and it has a slightly bitter taste.
Flavor and Use
Satsuma plums have a sweet flesh with a subtle almond flavor. Their tough skins mean they travel well without sustaining damage or bruising, making them commercially viable. Throughout the 20th century, they were among the top variety of plum to be produced out of California, though their popularity has waned due to the introduction of newer hybrid varieties of plum.
These are still one of the favorite types of plum among home growers and will commonly be found at farmers' markets. They can be eaten straight from the tree and are also great for jams and pies.
Tree
The Satsuma plum comes from the Prunus salicina 'Satsuma'. This is a very hardy Japanese plum tree that can be grown through USDA hardiness zones 4 to 9. It is one of the parent trees of many popular plum varieties, such as the 'Santa Rosa'.
As well as producing delicious fruits, this is a very attractive type of tree that is cultivated for its beauty in the landscape. It is a very early bloomer, producing fluffy pink-white blossoms along bare branches in early spring.
Black splendor
Overview
This is a very early ripening variety of plum, which is available from late spring. The skin of the fruits is blue-black in color, and the inner flesh is an intense shade of scarlet red. The flesh clings to the stone of the fruit and is dense and juicy.
Flavor and Use
Black splendor plums have a tart flavor which is balanced out by rich sugar content. They can be eaten straight from the tree and also work well for baking and making jams and jellies.
Tree
These plums are another type of Japanese plum from the Prunus salicina 'Black Splendor' tree. These trees are hardy through USDA hardiness zones 5 to 9, and bloom exceptionally early, making them susceptible to damage from late winter frosts. It requires between 6 and 8 hours of direct sun each day.