Purple flowering trees are a visual delight, with blooms that contrast against the backdrop of green leaves in spring. Here we look at the best purple spring flowering trees.
Pawpaw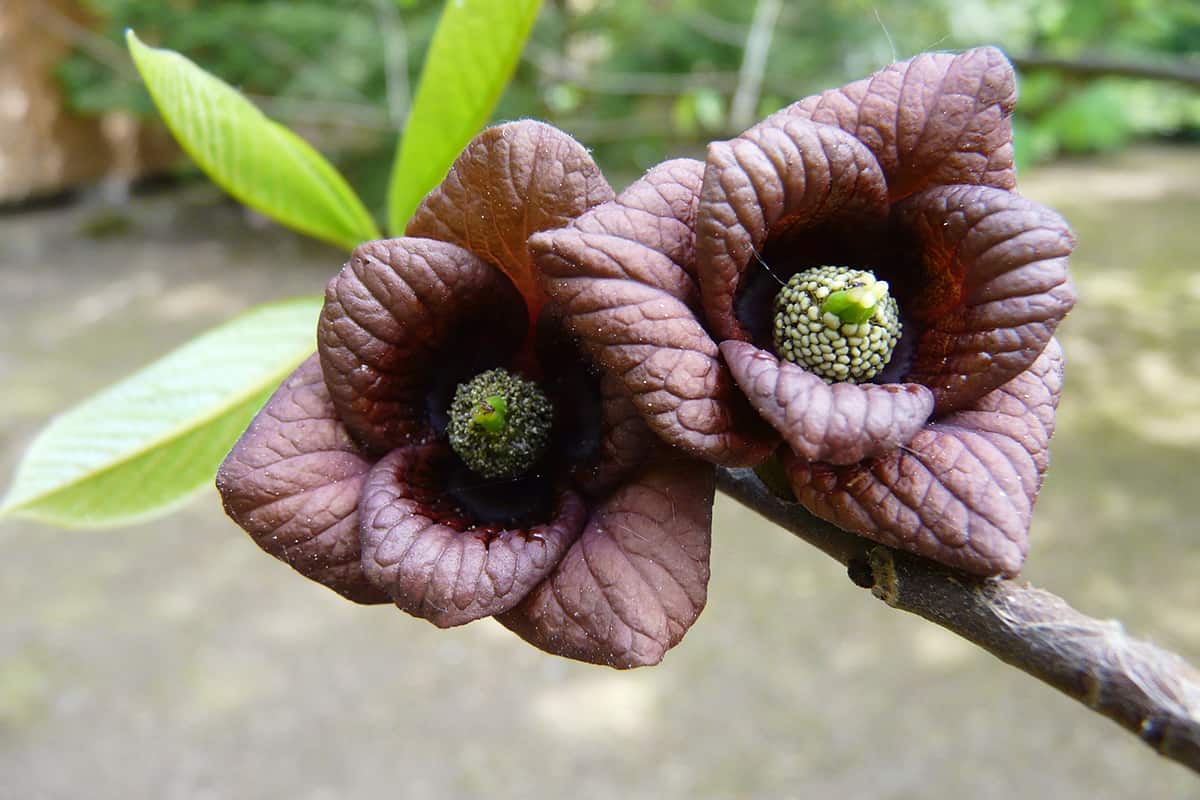 Botanical name: Asimina triloba
Common names: Paw paw, American Pawpaw, False Banana, Wild Banana, Indian Banana, Custard Apple
Plant family: Annonaceae
USDA hardiness zone: 5 – 9
Mature height: Up to 30 feet
Mature spread: Up to 30 feet
The pawpaw is a deciduous species that can be grown as a small tree or large shrub. It is native to Canada and the eastern United States, preferring climates that are neither too hot nor too cold. The plant is clothed in long and slender leaves measuring between 6 inches and 1 foot in length.
The foliage is a fresh shade of bright green and has a slight drooping quality. The flowers of the Pawpaw arrive in mid-spring, on bare branches before the leaves have a chance to unfurl. The flowers are cup-shaped and showy, with purple-red petals surrounding a bright pink middle. The flowers will typically measure around 2 inches in diameter, and contrast beautifully against the foliage when it makes an appearance.
The flowers are followed by fruits that are said to resemble the taste of bananas, hence the common name of 'false banana tree' and 'wild banana tree' for the Pawpaw. The fruits are oval-shaped with pale green-yellow skins, measuring around 5 inches in length when ripe.
They can be eaten raw, and are typically prepared as a dessert alongside ice cream, custard, and pies. The Pawpaw fruits are popular with wildlife, which will visit the tree to feast on the pawpaws. If the fruits are not eaten by wildlife, they can remain on the tree right into winter, dangling like baubles on the branches. By fall, the leaves of this deciduous tree turn golden orange before dropping to the ground.
Pawpaw trees should be grown in full sun or partial shade, in soil that is well draining with a wet to medium moist consistency. Long, warm summers are required for the Pawpaw to grow into a tree, otherwise, without enough time in the heat and sun, it will remain as a shrub. The same conditions are required for the Pawpaw to bear fruit.
Lignum Vitae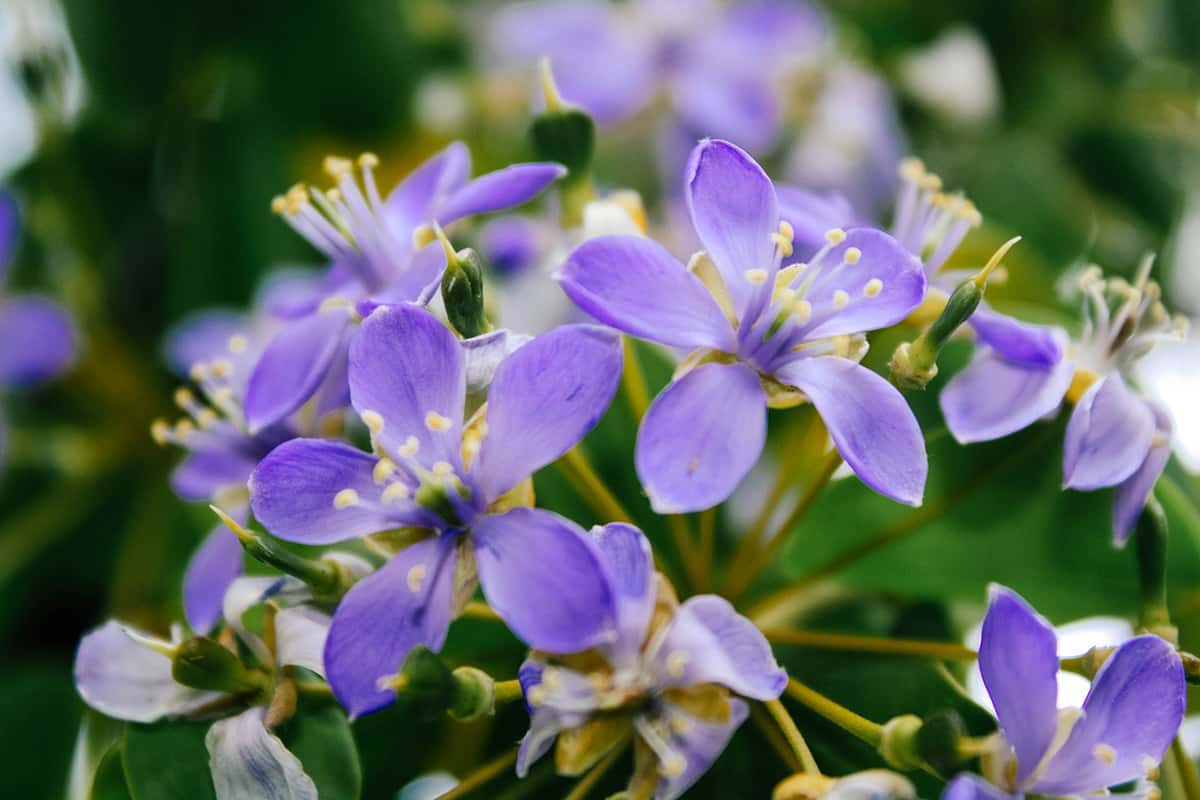 Botanical name: Guaiacum sanctum
Common names: Lignum Vitae, Holywood, Tree of Life, Ironwood
Plant family: Zygophyllaceae
USDA hardiness zone: 10 – 11
Mature height: Up to 30 feet
Mature spread: Up to 12 feet
The Lignum Vitae is the national tree of the Bahamas and is native to the tropical Americas, including the Caribbean, northern South America, Florida in the US, and Mexico. It is considered to be a threatened species in these habitats due to the destruction of the land and overconsumption of the Lignum Vitae wood.
The tree is slow growing and small, with an expected trunk diameter of just 20 inches and an average height of 23 feet. It produces exceptionally hard wood and is known as one of the hardest types of timber in the world based on a Janka Hardness Score of 4500, though isn't widely cultivated for this use due to its slow-growing nature and threatened status.
This plant can be grown as a small tree or large shrub, and it features leathery evergreen small leaves measuring up to 2 inches in length. These contrast against the showy clusters of purple flowers which bloom all year round, with their heaviest bloom occurring in spring. The star-shaped flowers are around an inch across, and they develop into showy orange berries which will burst open to reveal black seeds when they ripen, to be devoured by mockingbirds.
The Lignum Vitae is an attractive tree all year round and is especially well suited to coastal locations since it is saltwater and wind tolerant. The tree should be grown in full sun and will thrive in any soil type which drains well. It is very tolerant of drought and easy to care for.
Crabapple 'Kelsey'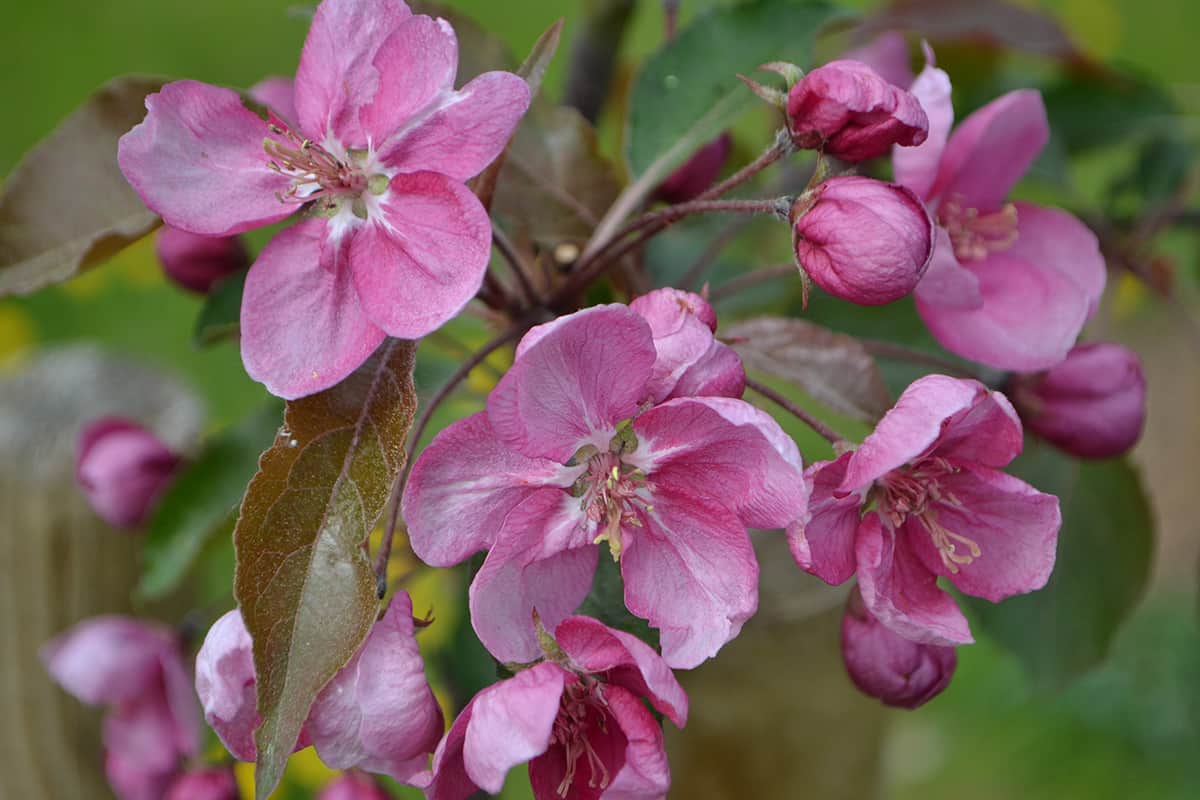 Botanical name: Malus 'Kelsey'
Common names: Crabapple
Plant family: Rosaceae
USDA hardiness zone: 2 – 7
Mature height: Up to 18 feet
Mature spread: Up to 18 feet
Crabapple trees are deciduous, and are found growing natively across North America, Europe, and Asia. They are known for their pretty white blossoms which are sometimes flushed with pink or purple, but the 'Kelsey' Crabapple tree differs because it produces delicate, entirely purple flowers. These emerge on the bare branches of the tree in the middle of spring, before the arrival of the leaves.
They develop into crabapple fruits with dark purple-red skin, and these can remain on the tree right into winter to add additional color to the landscape. Crabapples are edible, but they are quite bitter when eaten raw so are more commonly used in making jams and preserves. They have a high pectin content, which makes them especially suitable for jellies and sweet pies.
This purple flowering tree prefers to be grown in full sun and will perform well in soils that are fertile and well-draining.
Texas Mountain Laurel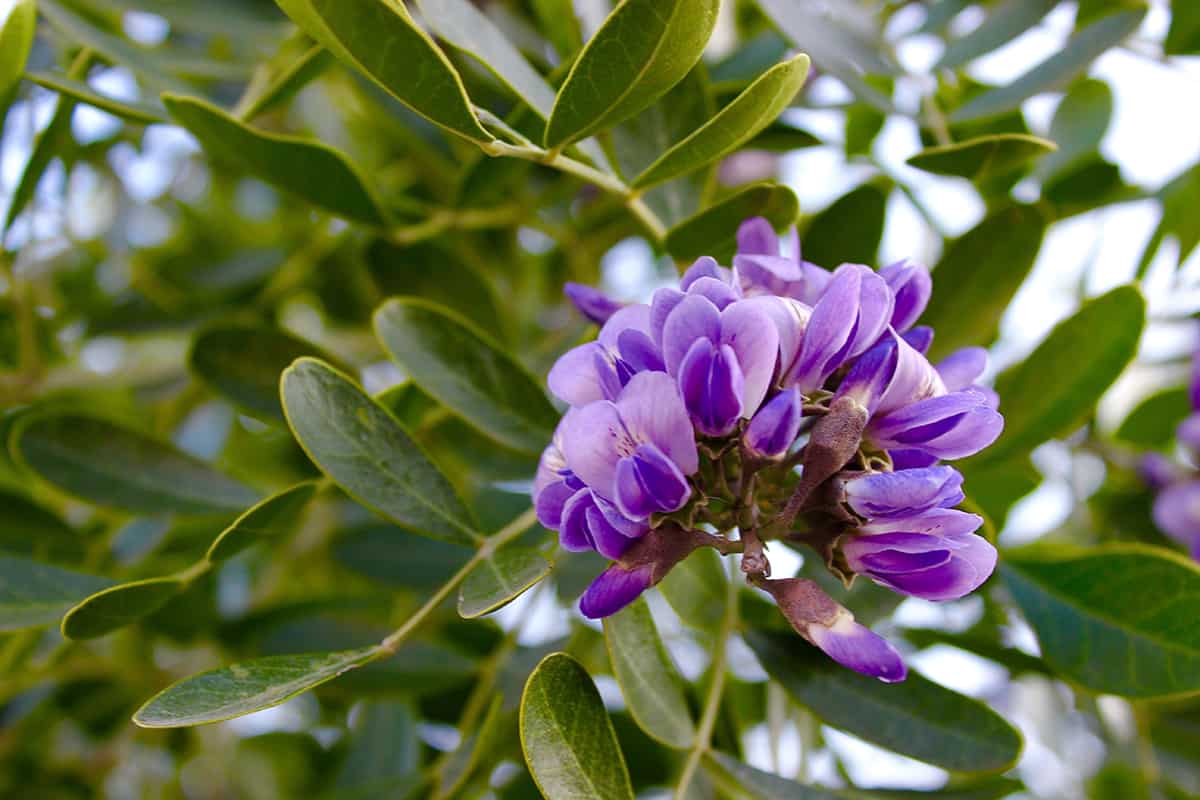 Botanical name: Sophora secundiflora, Dermatophyllum secundiflorum
Common names: Texas Mountain Laurel, Mountain Laurel, Mescal Bean Sophora, Mescal Bean Tree
Plant family: Fabaceae
USDA hardiness zone: 7 – 10
Mature height: Up to 25 feet
Mature spread: Up to 10 feet
The Texas Mountain Laurel is an evergreen plant that can be grown as a small tree or large shrub. It is native to Mexico, Texas, and New Mexico, and has a slow-growing habit. It is famed for its startling purple flowers which arrive in early to mid-spring in dense, drooping clusters. The flowers are visually similar to Wisteria flowers and have a strong grape-like scent.
The flowers develop into seed pods by summer, where they decorate the tree for several months right into winter. The seed pods are pale gray and furry, and they contain red seeds which are very decorative and have been used in making jewelry. Both the seeds and the flowers of the Texas Mountain Laurel are heavily toxic when ingested, so avoid growing this plant if you have young children or pets in the home who may explore their surroundings with their mouths. The foliage of this tree is thick and leathery, in a deep shade of emerald green.
The Texas Mountain Laurel is very tolerant of drought once established and is suitable for growing in containers on a patio or directly in the ground. Its dense, low-hanging foliage which remains on the tree all year round makes it useful as a privacy screen. Grow the Texas Mountain Laurel in well-draining soil, in full sun or partial shade.
Crape Myrtle 'Purple Magic'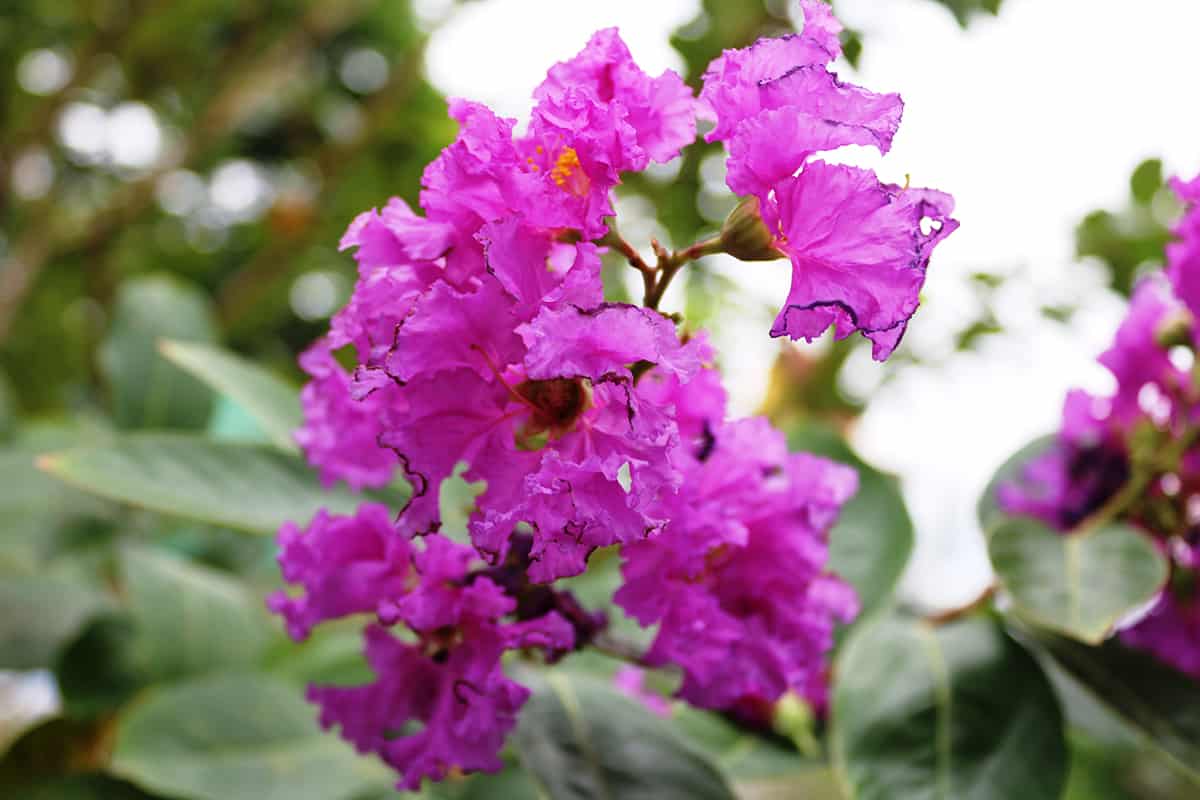 Botanical name: Lagerstroemia indica 'Early Bird Purple'
Common names: Crape Myrtle, Crepe Myrtle, Lilac of the South
Plant family: Lythraceae
USDA hardiness zone: 6 – 9
Mature height: Up to 10 feet
Mature spread: Up to 10 feet
Crape Myrtle plants can be grown as multi-stemmed shrubs or trees, and are renowned for their brightly colored flowers which have a long blooming period. Crape Myrtle can come in a wide range of colors, though most varieties have pink, red, or white flowers. For a purple flowering Crape Myrtle, choose the 'Purple Magic' variety, 'Infinitini Purple' or 'Early Bird Purple'.
'Purple Magic' blooms in dense clusters, with small purple flowers which are ruffled or crinkled. They arrive in late spring when the leaves are just emerging on the previously bare branches. If the spring flowers are deadheaded, the tree will experience a second flush of blooms towards the end of summer.
The leaves of the Crape Myrtle are thick, leathery, and glossy. They emerge in a rusty shade of red and gradually deepen to a fresh shade of green in the summer, and will drop from the tree in the fall. Crape Myrtle can be grown as an attractive specimen tree, or used as a flowering privacy screen.
Grow Crape Myrtle in full sun, in a well-draining soil that is kept evenly moist. This plant is tolerant of both drought and heat once established but should be regularly watered when young.
Desert Willow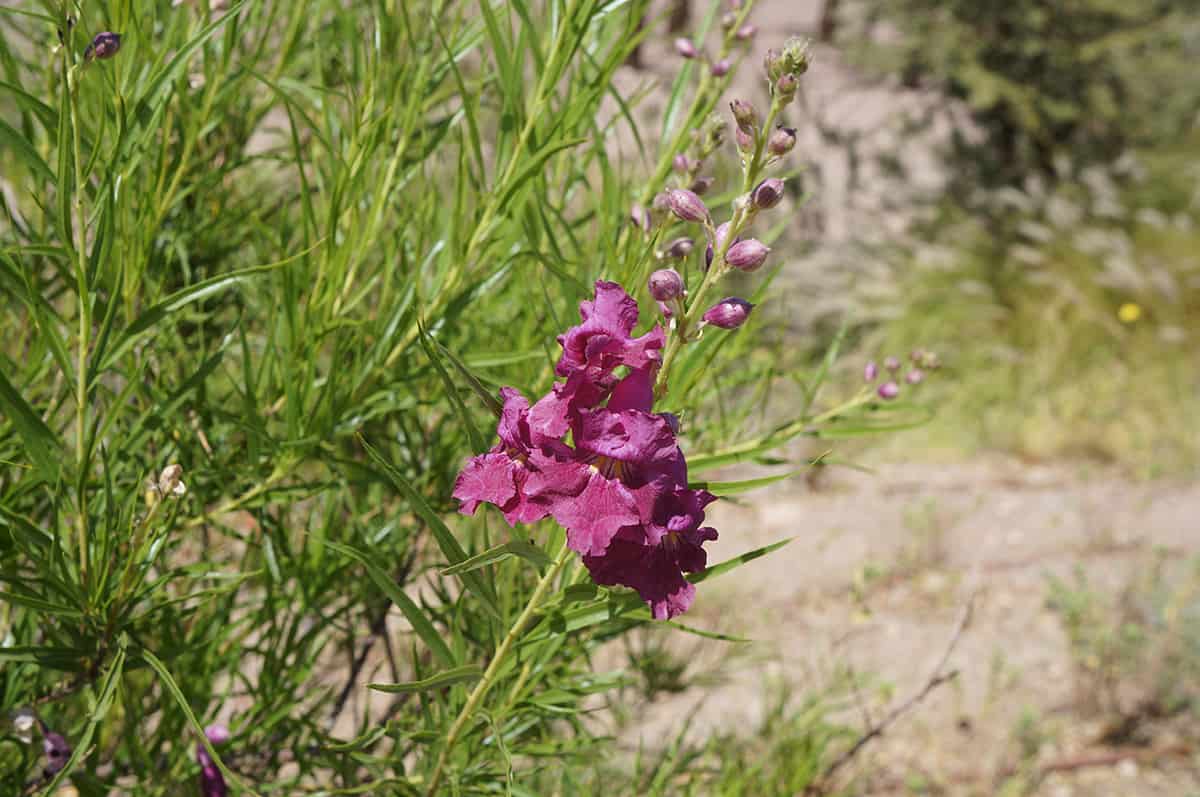 Botanical name: Chilopsis linearis
Common names: Desert Willow
Plant family: Bignoniaceae
USDA hardiness zone: 7 – 11
Mature height: Up to 30 feet
Mature spread: Up to 20 feet
The Desert Willow is a deciduous plant native to California in the US, down to Mexico. It can be grown as a shrub or tree, and despite its common name, is not related to true willow trees. The name Desert Willow comes from the fact that the narrow leaves of the plant resemble willow leaves.
This is a purple flowering tree that sends out flowers on the tips of branches towards the end of spring and can remain in bloom right until fall. The flowers are trumpet or funnel-shaped and come in shades of pink and purple. When the flowers fade, they develop into pods of beans which range from 6 to 10 inches in length, and dangle from the tree like decorative pendants. The bean pods will stay on the tree until the following spring, by which time hairy seeds will have developed which are popular as a source of food for birds.
Desert Willow grows quickly and easily and works well as an ornamental specimen plant in both containers or ground soil. It is also used as a means of erosion control in dry climates. It is highly tolerant of extreme heat and drought, though should be watered regularly until established. For a more prolific blooming season, offer supplemental watering during spring and summer.
Eastern Redbud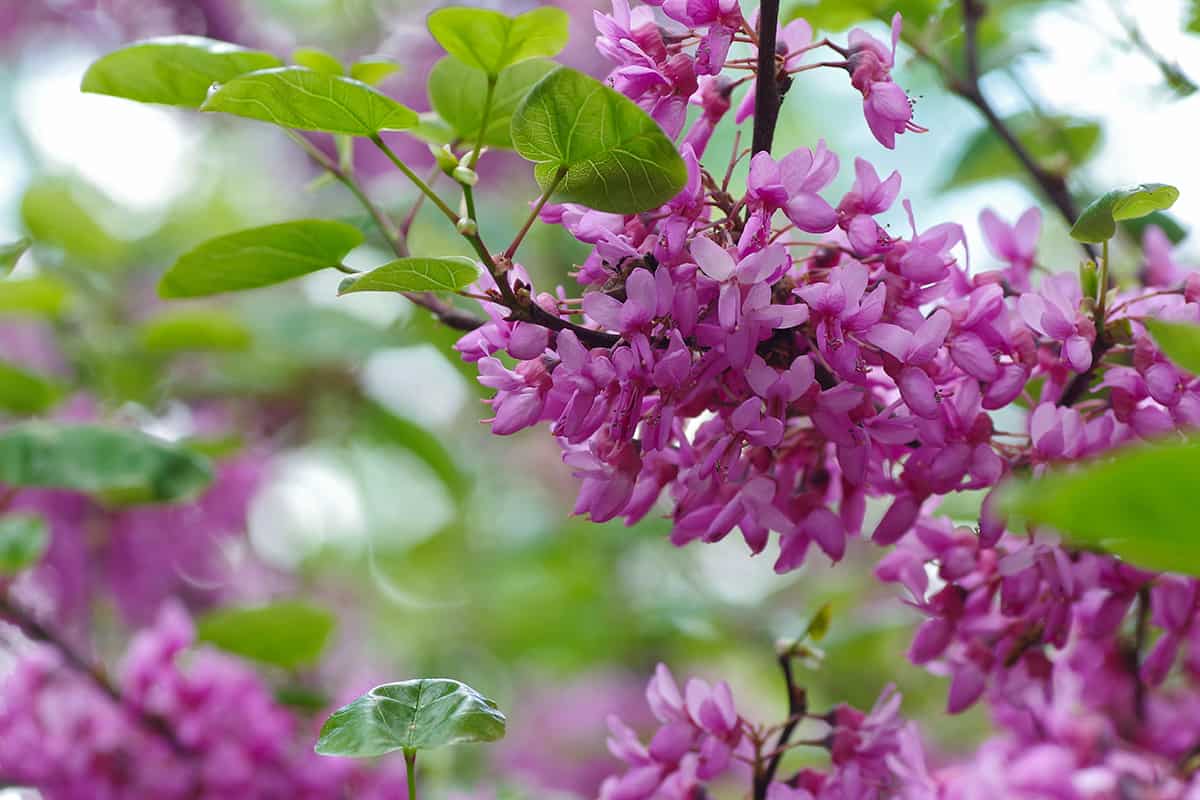 Botanical name: Cercis canadensis
Common names: Eastern Redbud
Plant family:  Fabaceae
USDA hardiness zone: 5 – 9
Mature height: Up to 30 feet
Mature spread: Up to 30 feet
The Eastern Redbud is native to North America, primarily featuring in the eastern region of the US, but it can also be found growing to the west in California and in more northerly locations such as Ontario in Canada. It takes the shape of a deciduous small tree or large shrub and grows slowly with far-reaching branches and an often gnarled or twisted trunk. The canopy of the Eastern Redbud is so broad that the tree can often have a greater spread than height.
The Eastern Redbud flowers early in spring on bare branches before the leaves have emerged. The flowers are small and range in color from pale pink to vivid violet purple, covering the lengths of the branches with dense clusters of blooms. They remain on the tree for several weeks and fade just as the leaves start to unfurl. The foliage of the Eastern Redbud is green through the summer and warms up to shades of yellow and orange before shedding in the fall.
The Eastern Redbud can be grown in full sun or partial shade. It will flower more profusely in full sun, however, in warmer climates, it will benefit from the relief of some shade during the summer months. It prefers well-draining soils which are kept moderately moist.
Rose of Sharon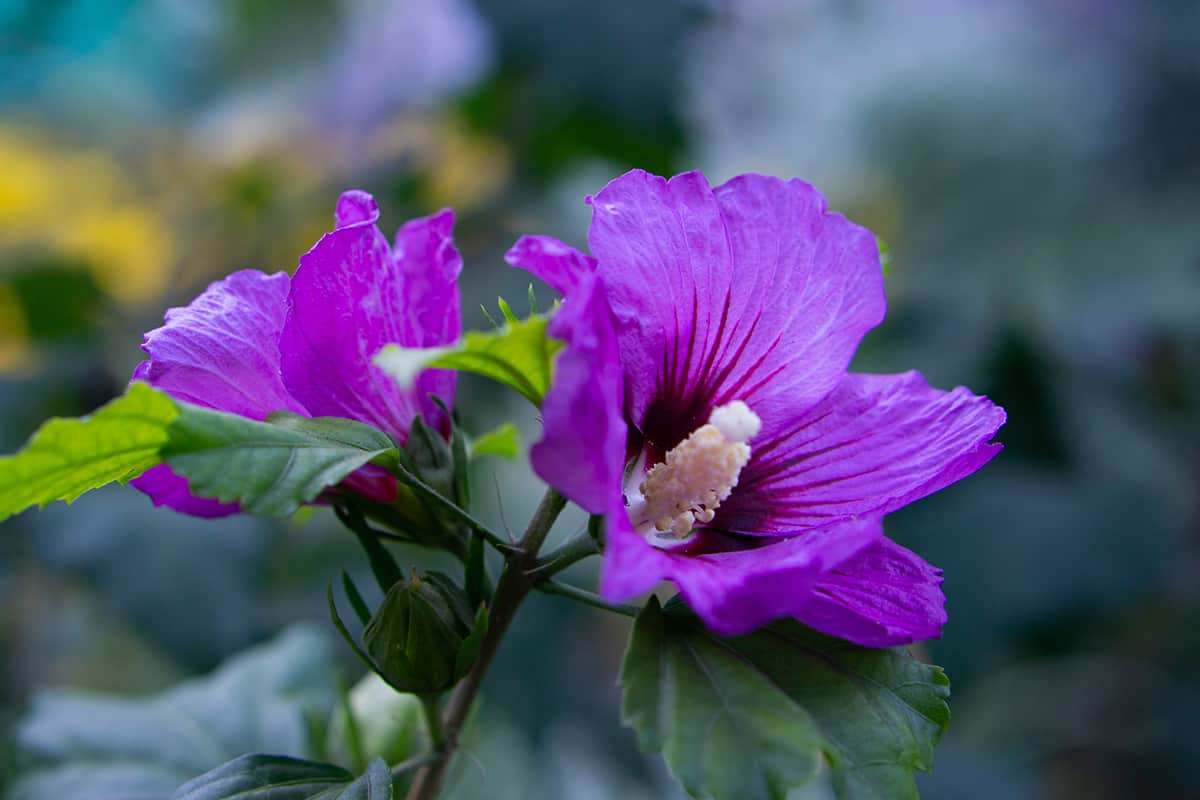 Botanical name: Hibiscus syriacus
Common names: Rose of Sharon, Shrub Althea, Hibiscus Tree, Rose Mallow, Common Hibiscus
Plant family: Malvaceae
USDA hardiness zone: 5 – 8
Mature height: Up to 12 feet
Mature spread: Up to 8 feet
This plant is native to southern China and Korea and is the national flower of South Korea. It has been widely introduced across most of Asia where it has naturalized. It is most commonly grown as a vase-shaped shrub, but can also be trained as a tree. It produces flowers over a long blooming period, though each flower will only last for a single day.
The flowers are trumpet-shaped and can be pink, purple, white, or blue. This plant grows best in full sun or part shade and thrives on neglect. It self-seeds easily and can grow vigorously to the point that it is invasive.