Peonies are herbaceous plants that produce stunning flowers, however many of them have a disappointing short blooming season of just one or two weeks.
If you are looking for a plant that resembles the peony but will add color to your garden for a longer period of time through spring and summer, then consider these alternative options that produce flowers reminiscent of beautifully fluffy peonies.
Persian Buttercup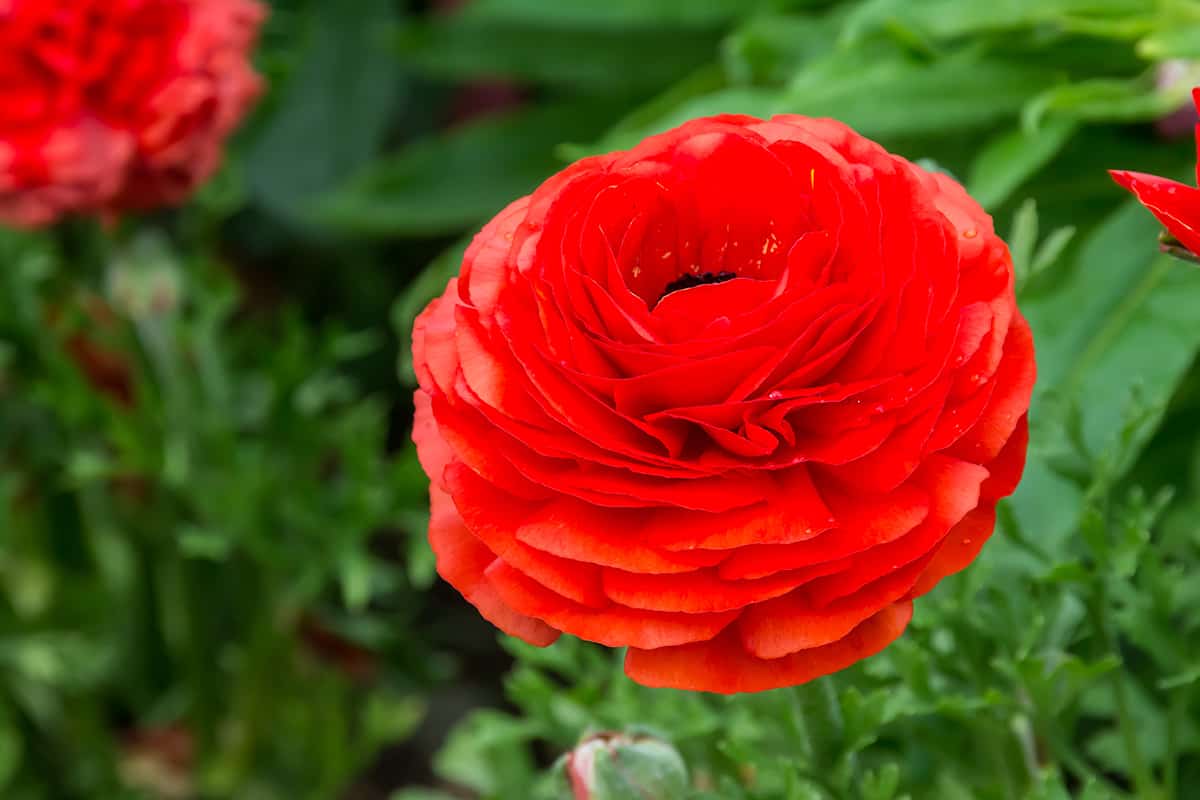 Botanical name: Ranunculus asiaticus
Common names: Persian Buttercup, Persian Crowfoot, Ranunculus
Plant family: Ranunculaceae
USDA hardiness zone: 8 – 11
Mature height: 1 to 2 feet
Mature spread: 1 to 2 feet
Persian buttercups, sometimes commonly referred to as simply 'ranunculus', produce flowers that closely resemble the flowers of peonies. They feature layer upon layer of silky petals, in colors including red, white, orange, yellow, purple, and pink. The flowers tend to be slightly smaller than larger peony varieties, but they are still a considerable size at between 3 and 6 inches across in most cases. The biggest difference between the flowers of a Persian buttercup and a peony is the length of time they remain in bloom.
While peonies last between 1 and 2 weeks, the flowers of a Persian buttercup generally last for 4 to 7 weeks. This is a very long blooming period that will fill your garden with beauty and color for an extended length of time. Like peonies, these blooms make great cut flowers, lasting for around a week after being cut.
Persian buttercups enjoy similar soil conditions to peonies, with a moderate level of moisture and soil that is well draining. They are native to northeastern Africa and the Mediterranean region of Europe, and as such, they have a higher heat tolerance than peony plants but are not as hardy, and therefore they are better suited to warm climates.
Persian buttercups represent a good alternative to peonies if you like the look of these types of flowers, but live in a climate that is too hot for peonies. Some varieties of Persian buttercup that look like peonies are Ranunculus asiaticus 'Tomer Red', and Ranunculus asiaticus 'Delano White'.
Begonia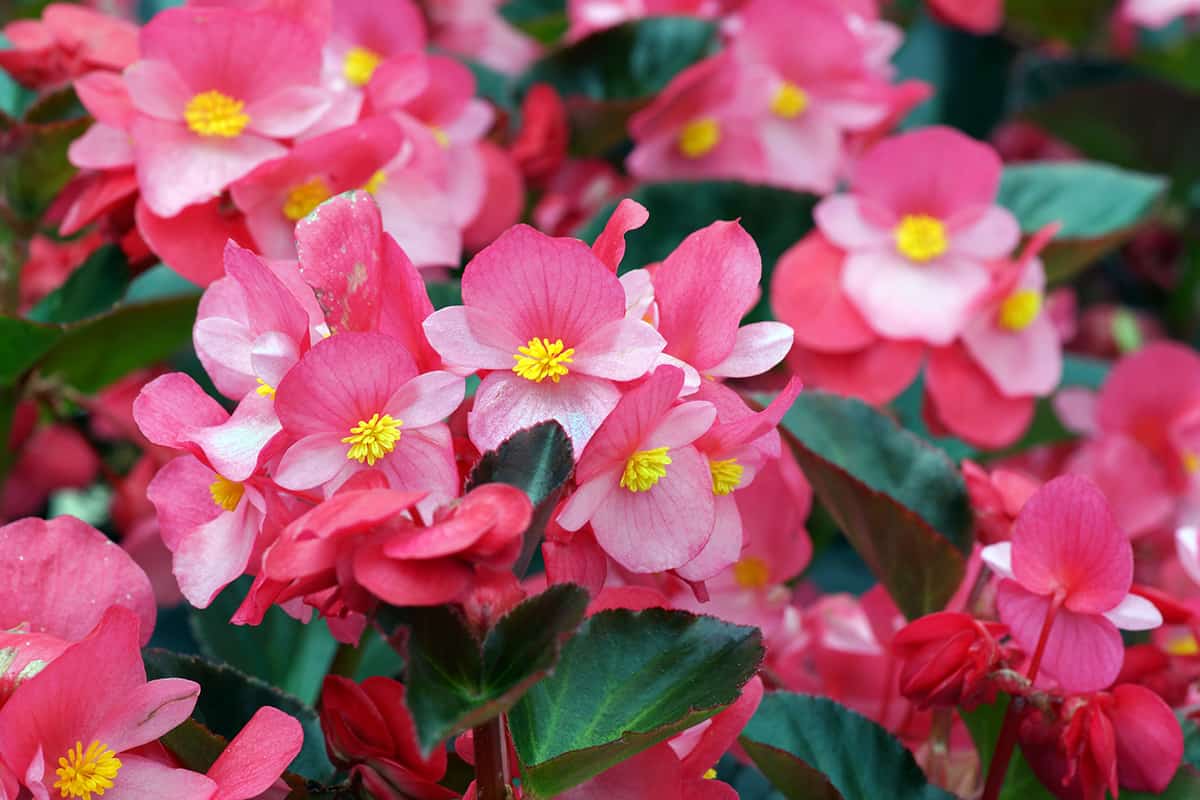 Botanical name: Begonia sp.
Common names: Begonia, Tuberous begonia
Plant family: Begoniaceae
USDA hardiness zone: 9 – 11
Mature height: 8 inches to 2 feet
Mature spread: 10 inches to 2 feet
Begonia is a genus of plants, and within this there are a number of species and varieties which produce extravagant flowers to rival those of the peony plant. Tuberous begonias are the kind you should look for if you are after an impressive floral display. These are tender perennial plants which grow from tubers or bulbs.
In zones 9 to 11 the tubers can be left in the ground all year round, and they will go dormant in the winter, then reappear the following spring. Tuberous begonias can be grown in colder climates, but you will need to remember to dig the tubers out of the soil before the first frost of fall arrives, and then store them in a suitable place over winter, before planting outside again the following spring. Begonia flowers come in a wide variety of colors, including orange, red, pink, and white.
Many varieties, such as the 'Non-stop- group of begonias, produce fully double flowers which are densely packed with layers of petals to give a luscious, dramatic look. They typically measure around 4 inches across, making them smaller than peonies, but still a good size. The flowers will bloom throughout spring and summer, and even into fall in warm climates, for a long display of texture and color.
They are tolerant of heat, and can be grown in full shade, making them a great choice of planting for bringing some life to darker corners of the garden. Plant them in hanging baskets, pots, beds, and borders. Some varieties of begonia that look like peonies are Begonia 'Ruffled Apricot' and Begonia 'Nonstop Pink'.
Camellia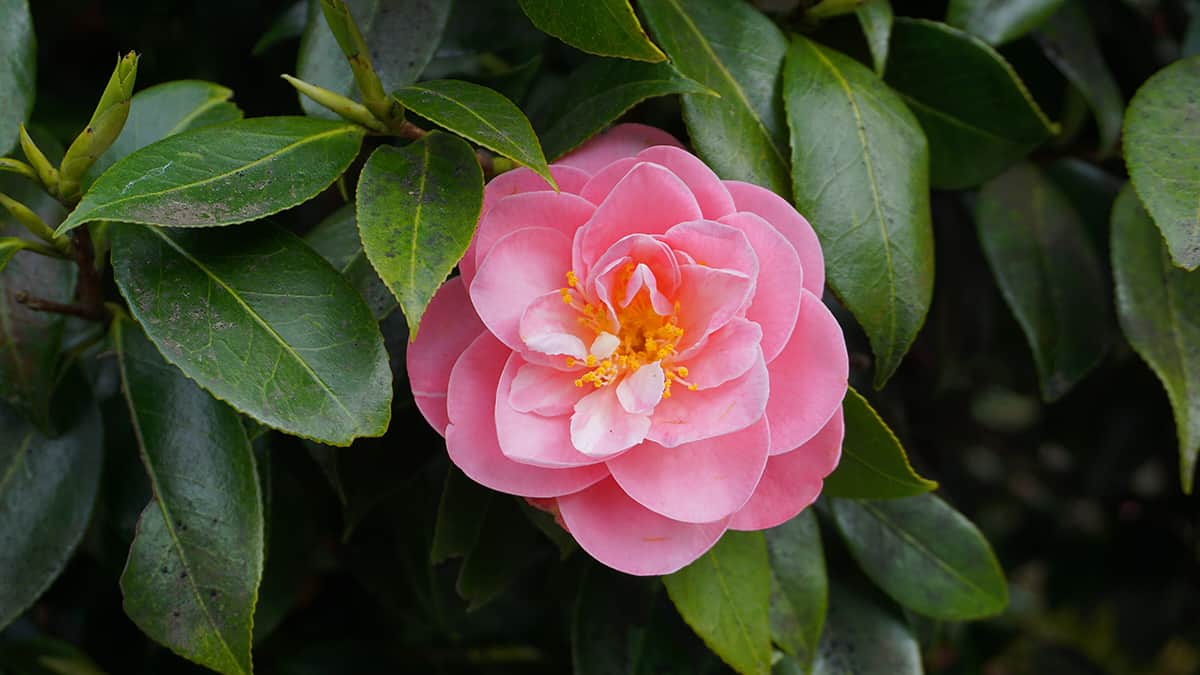 Botanical name: Camellia sp.
Common names: Camellia
Plant family: Theaceae
USDA hardiness zone: 6 – 9
Mature height: 4 to 10 feet
Mature spread: 4 to 10 feet
Camellia is a genus of plants native to Asia, encompassing hundreds of species and thousands of hybrid creations. Like peonies, camellia plants come in a wide range of flower colors, and flower types. Some flowers will have delicately ruffled petals, while others have satin-like textures, in bloom ranging from single through to semi-double and fully double.
Typically, Camellia flowers will be white, pink, or red, though there are many variations on the shade within these colors. Like peonies, the flowers are typically medium to large in size, and unlike peonies, they bloom for an extended period of time, from April right through to September in some climates.
The Camellia plant is commonly evergreen to provide interest in the garden all year round, with glossy, leathery green foliage. They range in size from small to large shrubs and are best grown in a position of partial shade. Some varieties of camellia that look like peonies are Camellia 'Sweet Emily Kate', Camellia 'Pink Icicle', and Camellia japonica 'Moonlight Bay'.
English Rose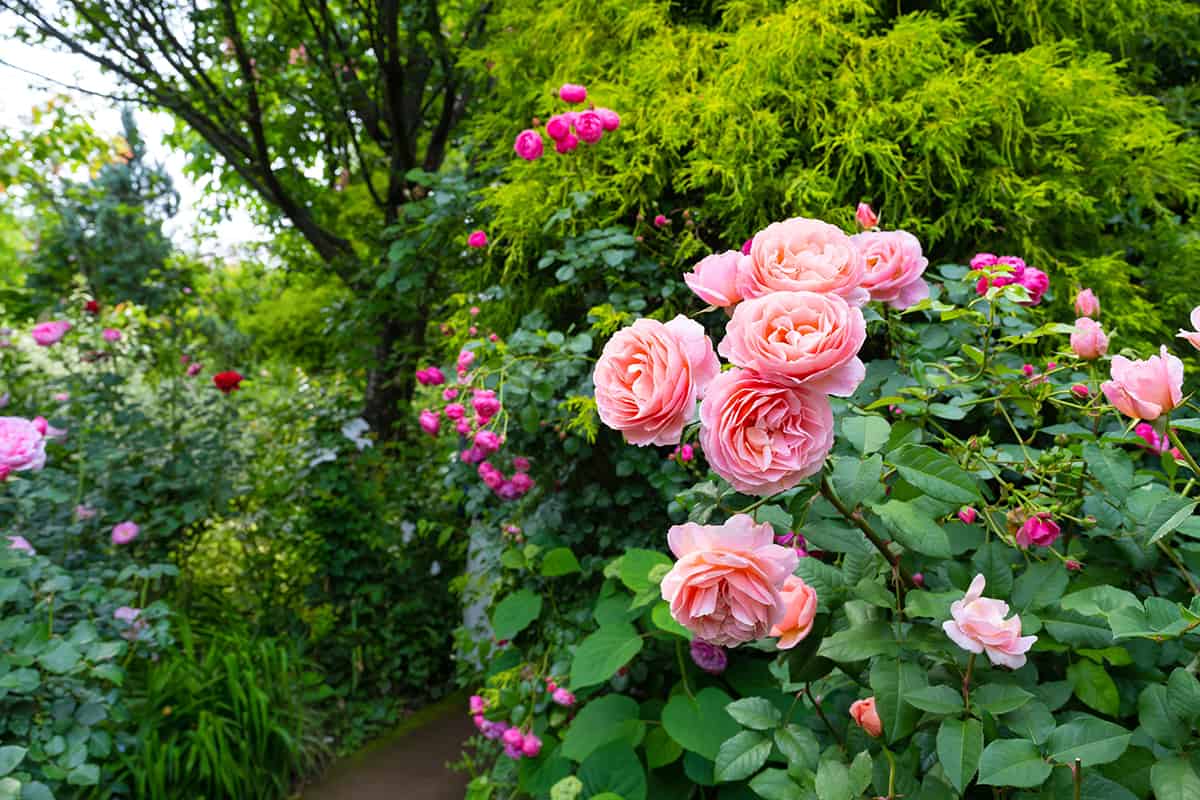 Botanical name: Rosa sp.
Common names: Rose, English Rose, David Ausitn Rose
Plant family: Rosaceae
USDA hardiness zone: 5 – 10
Mature height: 2 to 4 feet
Mature spread: 1 to 4 feet
There are many different types of roses available, including climbing roses, hybrid roses, and shrub roses, but it is the English rose group of plants that produces flowers most closely resembling peonies. This is a type of rose that was created by David Austin, and as such, they are also known as David Austin roses.
These plants produce elaborate flowers with layer upon layer of luscious petals, with sometimes over a hundred petals on a single flower. The blooms are generally cup-shaped and measure around 4 inches across. The plants bloom heavily to create a glorious floral display from spring right through to fall- much longer than the blooming period of peonies.
English roses are quite hardy, though not especially heat tolerant, and are suitable for growing in climates where peonies are grown. They make good companion plants for peonies because of their requirements for similar climate conditions, and they also need similar care. Along with peonies, English roses should be planted in full sun, with soil that is well draining and kept moderately moist.
Some varieties of English rose that look like peonies are Rosa 'Brother Cadfael', Rosa 'Crown Princess Margareta', Rosa 'Gentle Hermione', Rosa 'Lady Emma Hamilton', and Rosa 'Queen of Sweden'.
Dahlia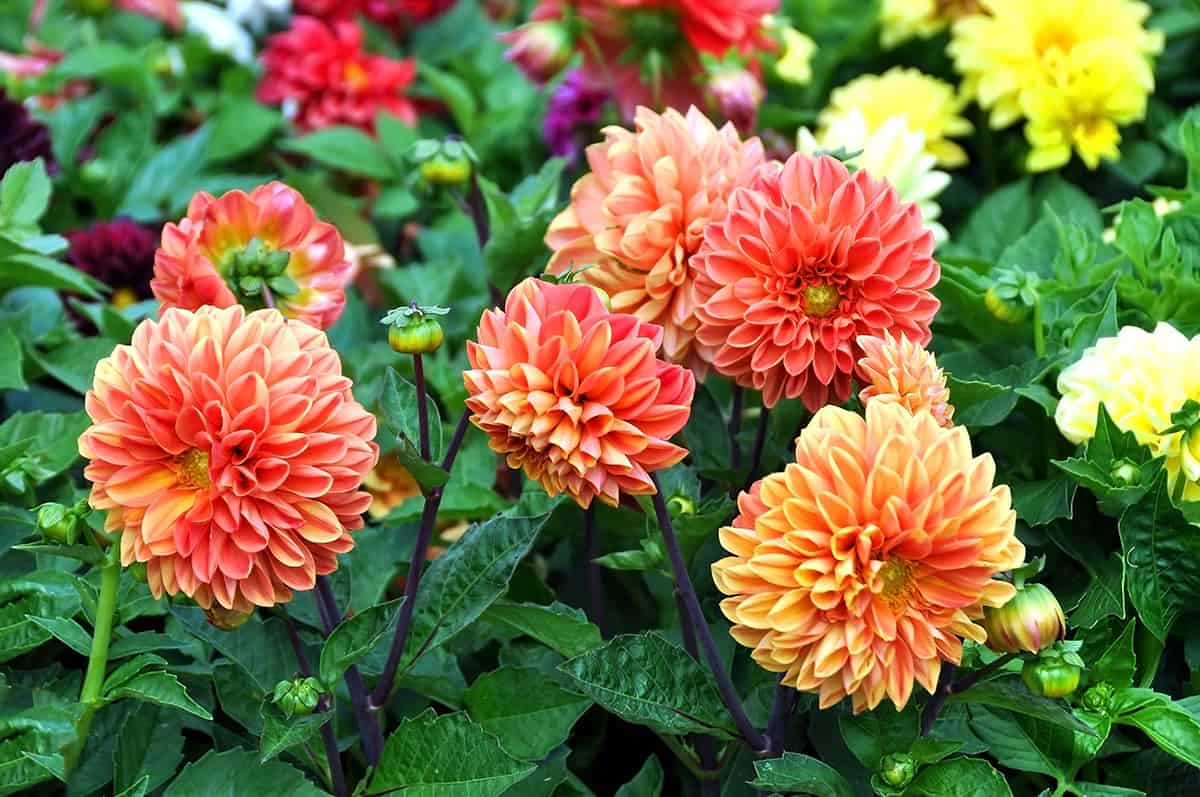 Botanical name: Dahlia sp.
Common names: Dahlia
Plant family: Asteraceae
USDA hardiness zone: 8 – 11
Mature height: 1 to 4 feet
Mature spread: 1 to 2 feet
There are thousands of varieties of dahlias, producing a rich diversity of flowers in different colors, shapes, and sizes. Popular types of dahlias include cactus dahlias, pompon dahlias, anemone dahlias, and waterlily dahlias. The types which produce flowers most closely resembling peonies are decorative dahlias and peony dahlias.
Peony dahlias make such a good impression of peonies that they were actually named after them. Dahlia flowers, like peonies, range dramatically in size, with some spanning just 2 inches, and others reaching as much as 12 inches across. Dahlias also come in a similar selection of colors to dahlias, including pink, orange, white, and red. They bloom slightly later than peonies, but for a longer time, typically from July until the first sign of frost in fall or winter.
They can be planted alongside peonies for a long floral display since they also enjoy full sun and well-draining soils. Dahlias are grown from bulbs that can be left in the ground all year round in climates upwards of zone 8. In cooler regions, the bulbs will need to be dug up in fall and kept in a cool, dark place over winter, before being planted back outside in spring. Some varieties of dahlia that look like peonies are Dahlia 'Karma Lagoon', Dahlia 'Bishop of Oxford', and Dahlia 'Classic Rosamunde'.
Carnation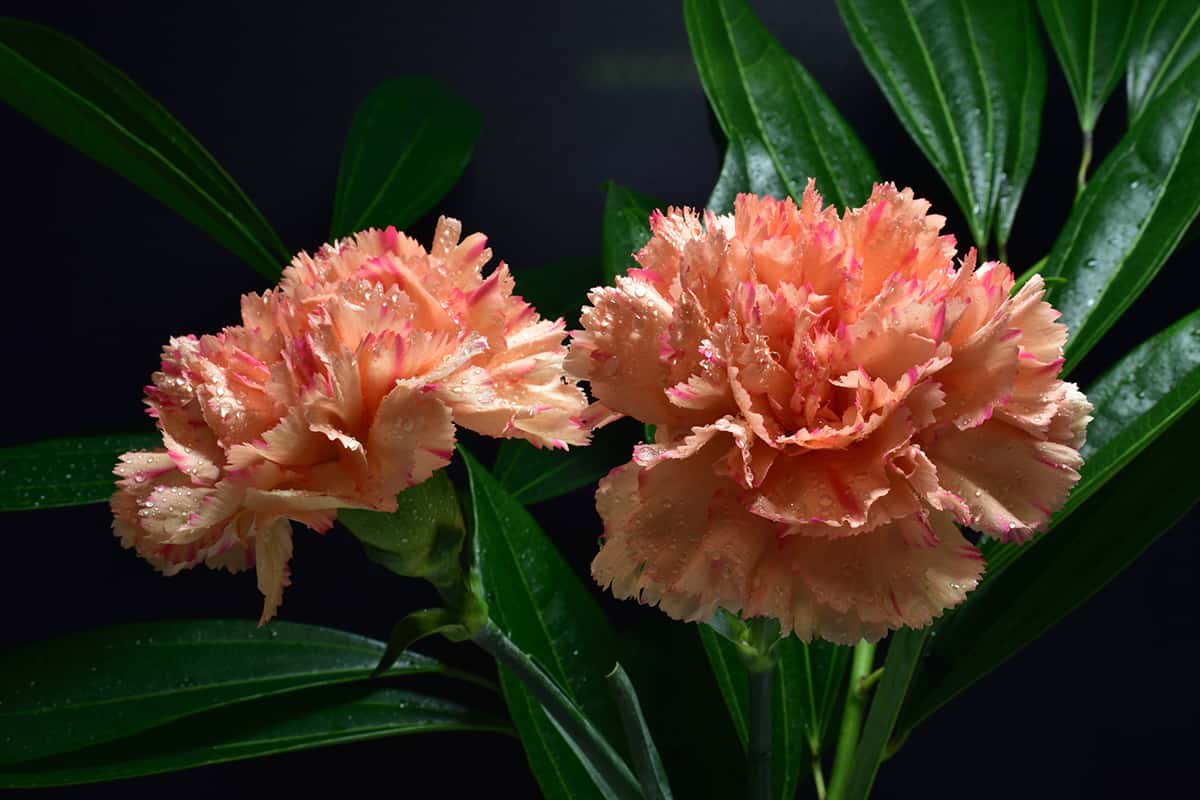 Botanical name: Dianthus caryophyllus
Common names: Carnations, Clove Pink, Pinks, Dianthus
Plant family: Caryophyllaceae
USDA hardiness zone: 6 – 9
Mature height: 6 inches to 1 foot
Mature spread: Up to 2 feet
Carnations are commonly also known as 'pinks' because this is the color they typically come in, however, you can also find carnation flowers in red, white, yellow, and even green. These blooms tend to be much smaller than those produced by peonies, at between 1 and 2 inches across, however, they have a similar look with frilled petals and fully double flowers.
Carnations thrive in similar conditions to peonies, enjoying the full sun to partial shade, and well-draining soil. They are also suitable for growing in the same types of climates, making them good companion plants. Most types of carnations are tolerant of drought, so they may be better suited to drier climates than peonies.
They typically bloom in early summer, lasting for several weeks. They are extremely popular as cut flowers because they have such a long shelf life when cut. Some varieties of carnations that look like peonies are Dianthus 'Cherry Vanilla', Dianthus 'Raspberry Ruffles', and Dianthus 'Sweetie Pie'.