Peonies come in a wide range of colors, though some are easier to find than others. These plants can produce blooms in shades of pink, red, white, yellow, orange, yellow, and purple.
What is the Most Common Peony Color?
The color of the peony you are most likely to see both in nature and cultivated in gardens is pink. Pink peonies come in a huge range of shades within this color, from soft blush pink all the way through to deep and dark pinks, or vivid fuchsia pinks. Along with pink, white peonies and red peonies are also very popular.
What is the Rarest Peony Color?
Peonies come in almost every color you can imagine, with the exception of blue. Blue is one of the rarest flower colors in general, so it is not unusual that peonies do not produce blue varieties. When it comes to the rarest color that peonies do come in, purple is considered to win the title.
Purple peonies are extremely rare in nature. However, there are a few different cultivars available if you have your heart set on a purple version of this flower. There are also some hybrid purple peonies that have been specifically created to meet the demand for this rare color of peony.
Types of Colorful Peonies
Pink Peonies
If you're looking for peonies in pink colors and shades, then you will be spoilt for choice since this is by far the most common color of peonies. Pink peonies come in almost any shade of this color you can imagine, including apricot-tinted pink, red-tinted pink, soft pink, deep pink, and bright pink.
Athena
This is a type of hybrid peony that is one of the first among all peonies to bloom each year, typically flowering in late spring through to summer, for a total of up to ten days.
These flowers are cup-shaped, and the petals are a delicate shade of creamy pink, flushed with raspberry pink at the base. The center of the cup is densely packed with stamens in a deep shade of golden mustard, and these are hugely attractive to pollinators.
Coral Charm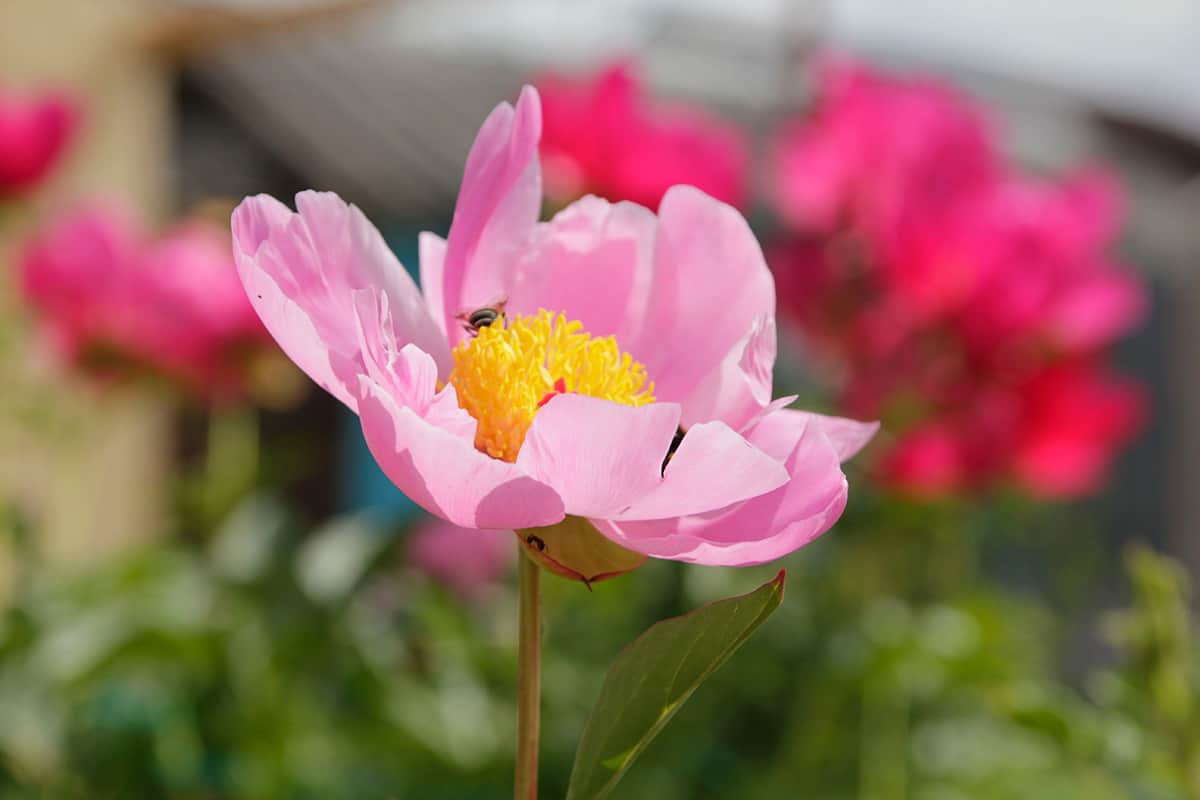 This is an award-winning, early-season peony which produces enormous coral-pink flowers. The blooms are bowl-shaped and feature semi-double petals which gently lean inwards at the tips.
As the flowers mature, the petals fade to a creamy pink. They make excellent cut flowers, lasting for over a week if cut while in the bud.
First Arrival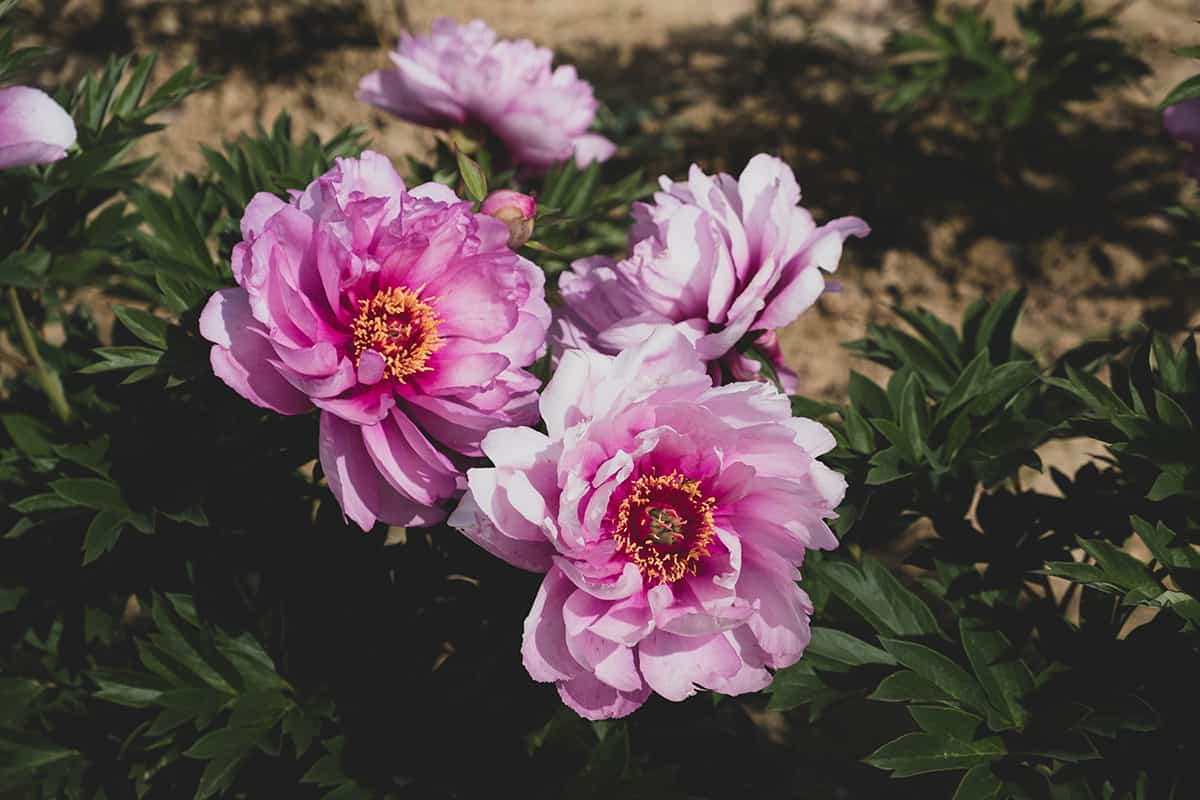 This is a type of Itoh peony, and as the name suggests, it is one of the first intersectional peonies to bloom each year. It will usually flower in late spring to early summer, with flowers that can last for up to two weeks in hot weather, or four weeks in cooler weather.
These semi-double flowers have gently ruffled petals in a mid-pink color, and they typically span around 8 inches across. At the base, the flowers can be flushed with purple, adding a two-tone effect to the blooms.
Julia Rose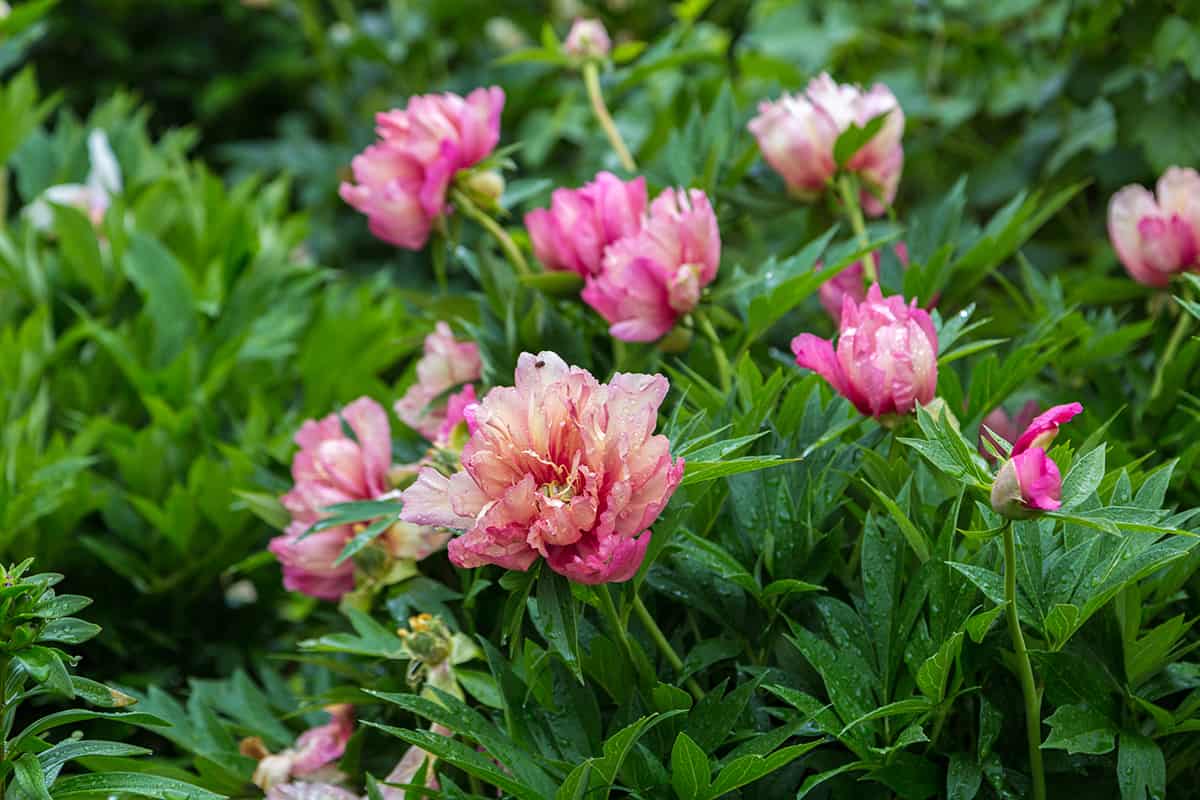 This Itoh peony is a mid-season bloomer, flowering in early summer for as long as four weeks. Its flowers change color as they mature, with buds emerging in red, and transforming through shades of purple and pink to coral.
At any one time, flowers in up to three different colors can be seen on a single plant, making it incredibly striking. The blooms can be single or semi-double.
Pink Derby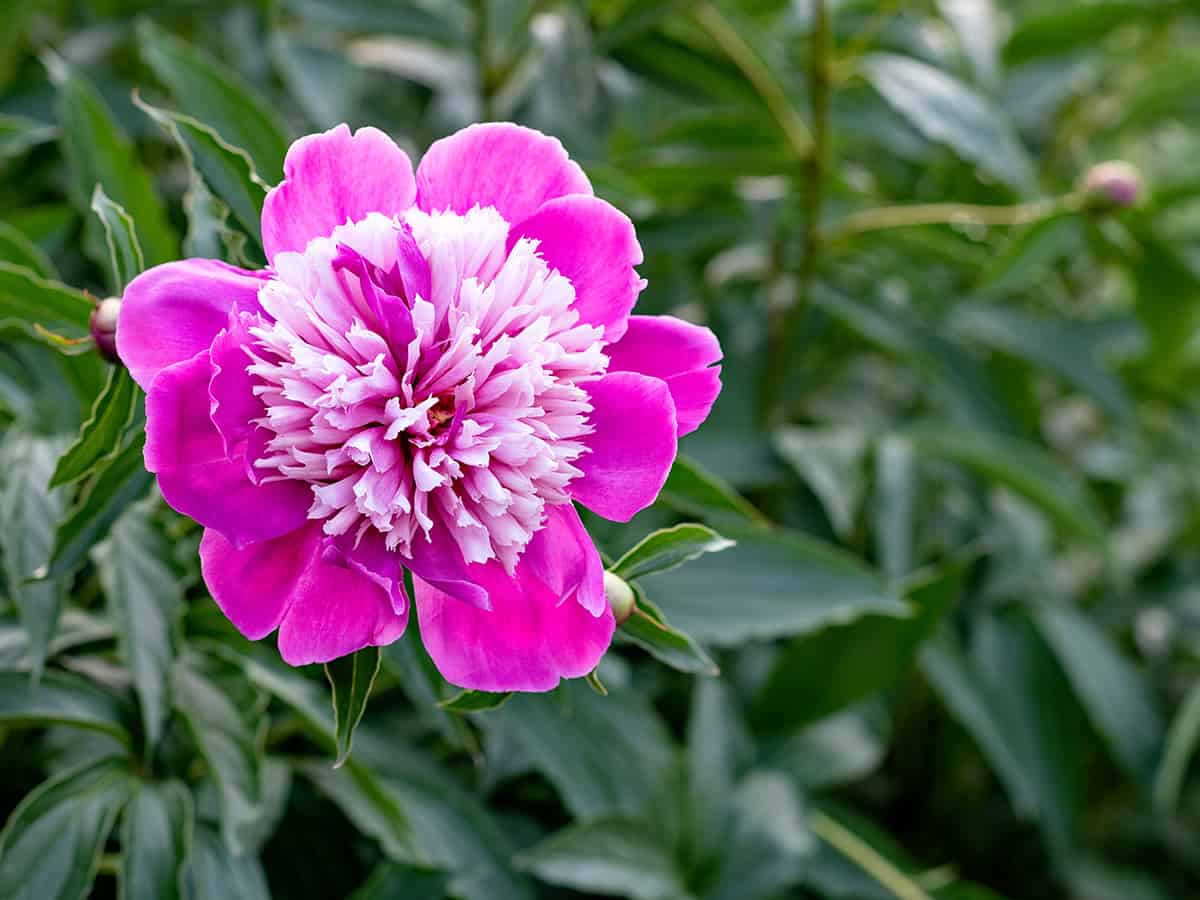 This is a mid-season peony that produces flowers so large and heavy that their stalks often need to be staked to keep them upright.
The huge flowers have ruffled petals that appear to be bursting out like a firework, with petals appearing in shades of pale pink through to medium pink.
Red Peonies
Though red is not the most commonly seen color among peonies, there is certainly no shortage of flowers in shades of red. Red peonies look especially bold and vibrant in the garden since the color of their petals contrasts heavily with the green foliage.
These types of peonies are ideal if you want to make a dramatic impact on the landscape.
Red Charm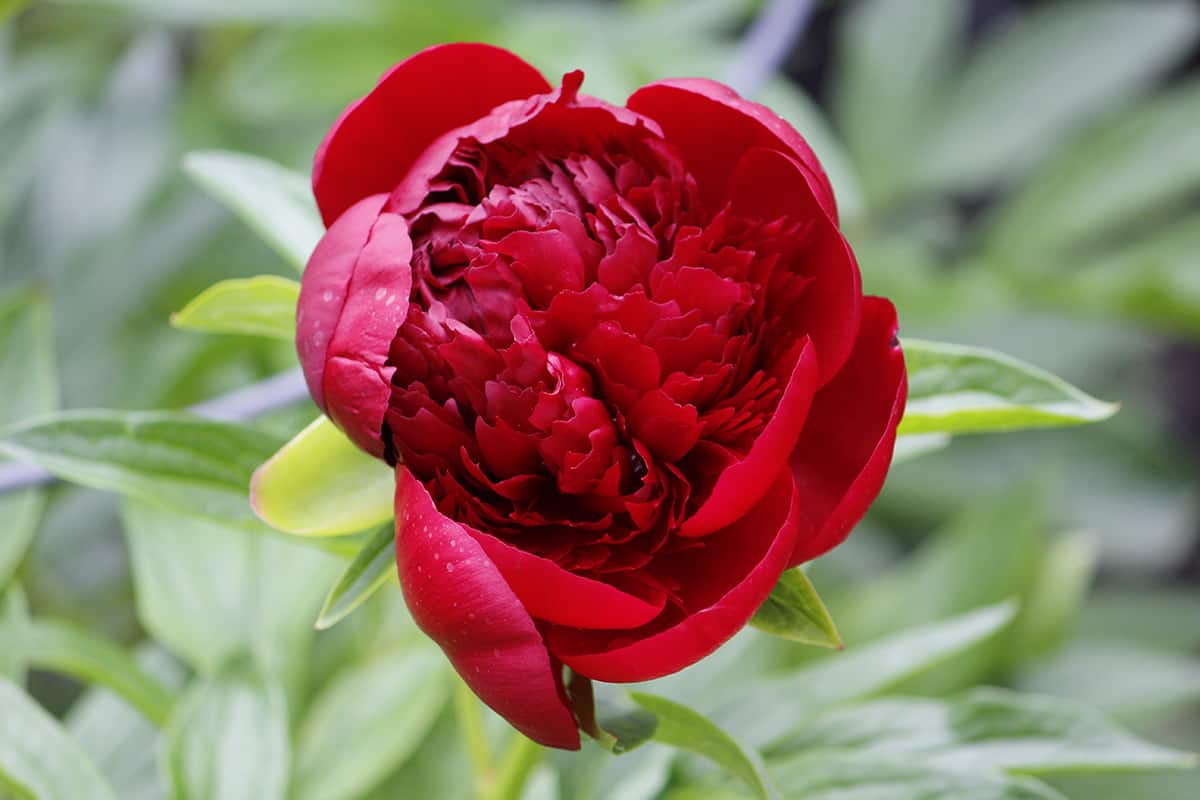 This is an award winning variety of peonies, which gained the gold medal from the American Peony Society. Its flowers are bomb-shaped, with ruffled inner petals and slender outer petals. They are a deep, luxurious crimson color, and the texture of the flowers is so silky that the petals appear to have a shiny luster.
Despite the large size of these flowers, they don't need to be staked since the stems are incredibly strong. The flowers will not wilt in high temperatures, and they give off an alluring fragrance.
Red Spider
This is a dwarf peony plant, with rose-red flowers blooming on short stems. The blooms appear in mid to late spring, making this an early-season a blooming variety of peonies.
Scarlett O'Hara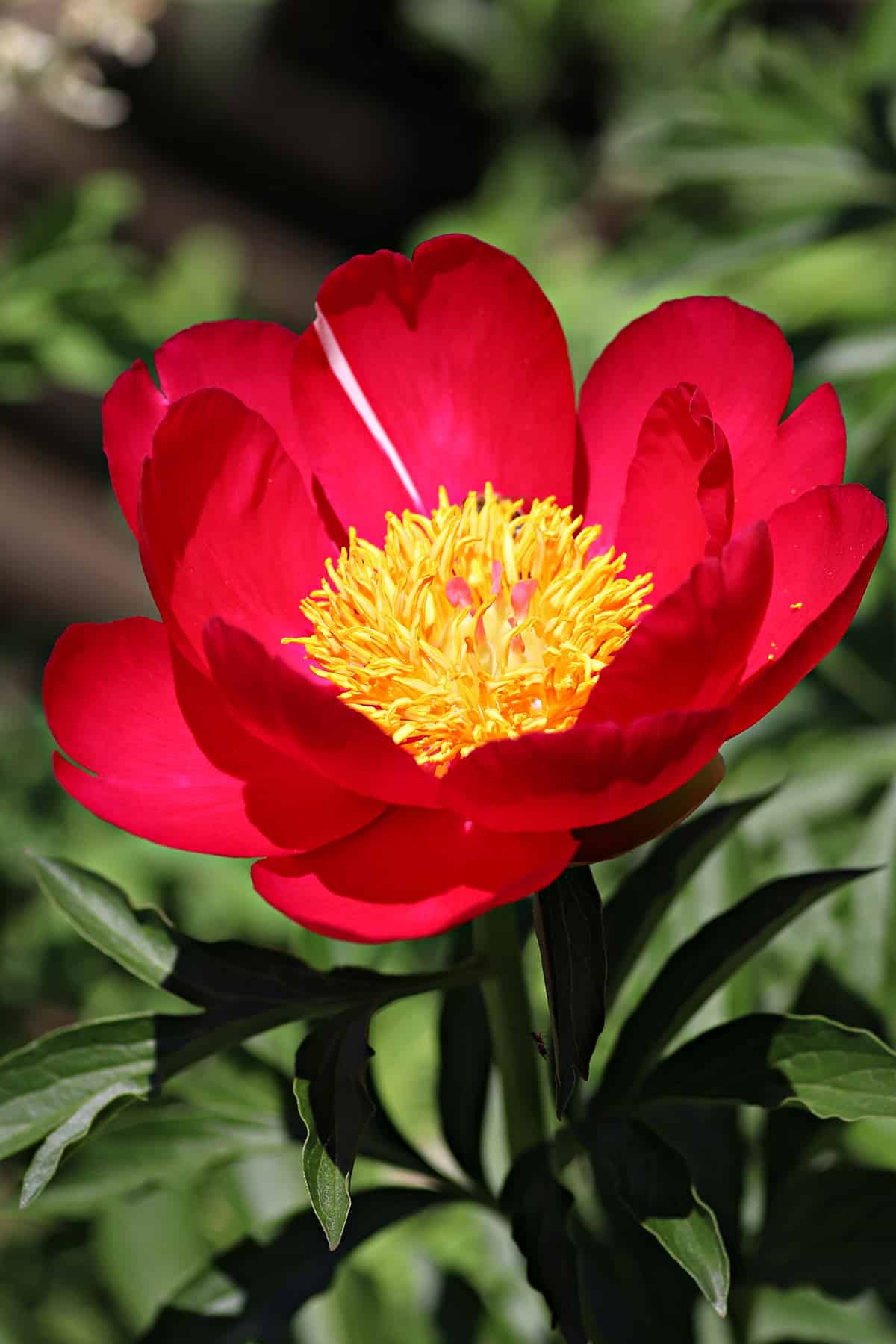 This hybrid peony produces cup-shaped flowers with petals in a bright shade of poppy red. The stamens are golden orange and are densely packed within the petals.
This is considered to be one of the most sought-after red peonies since it is a reliable bloomer and produces sturdy stems which don't need to be staked.
Walter Mains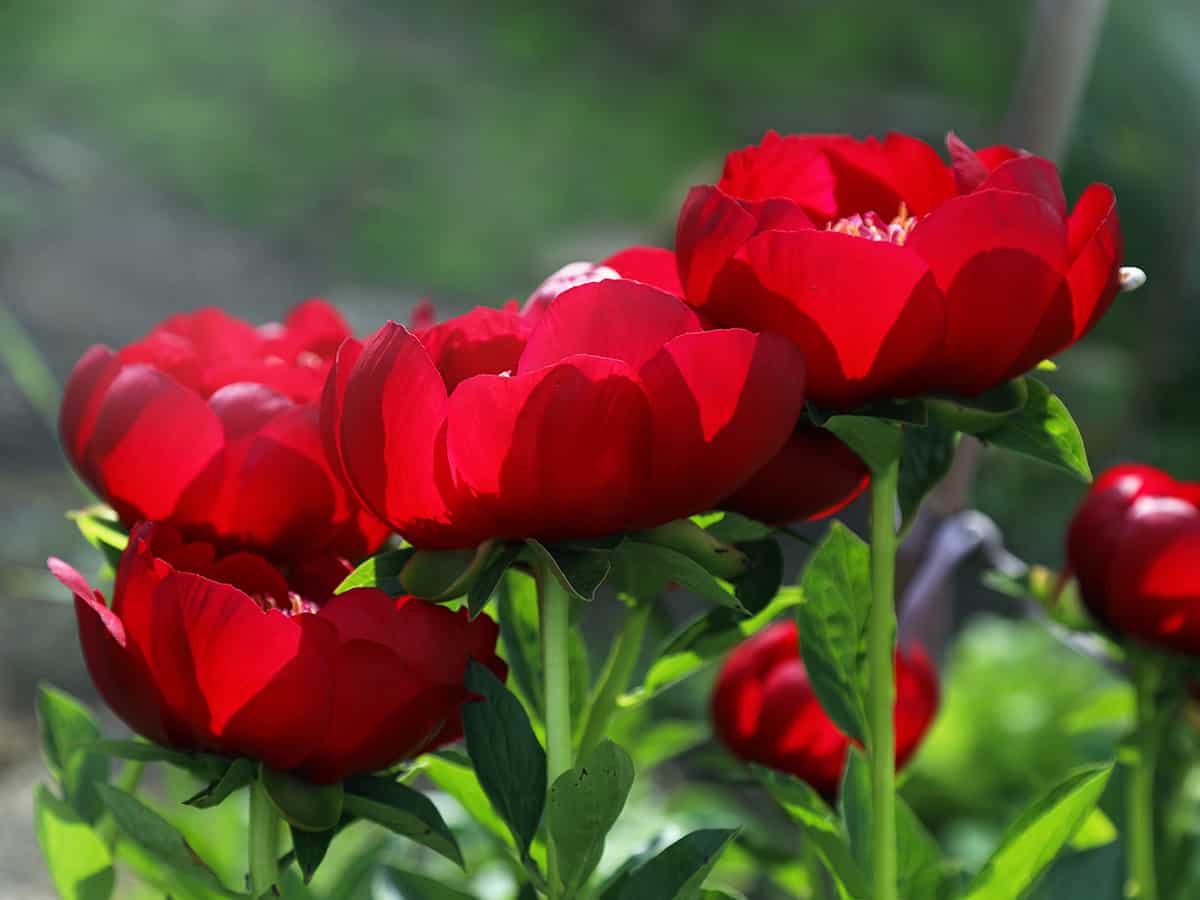 This hybrid Japanese variety of peonies produces wide, bowl-shaped flowers, in a deep shade of red that is almost burgundy. The staminodes are especially dramatic, in bright red lined with vivid yellow, creating the look that the flower is on fire.
This is a mid-season bloomer, with flowers typically lasting for between seven and ten days.
Karen Gray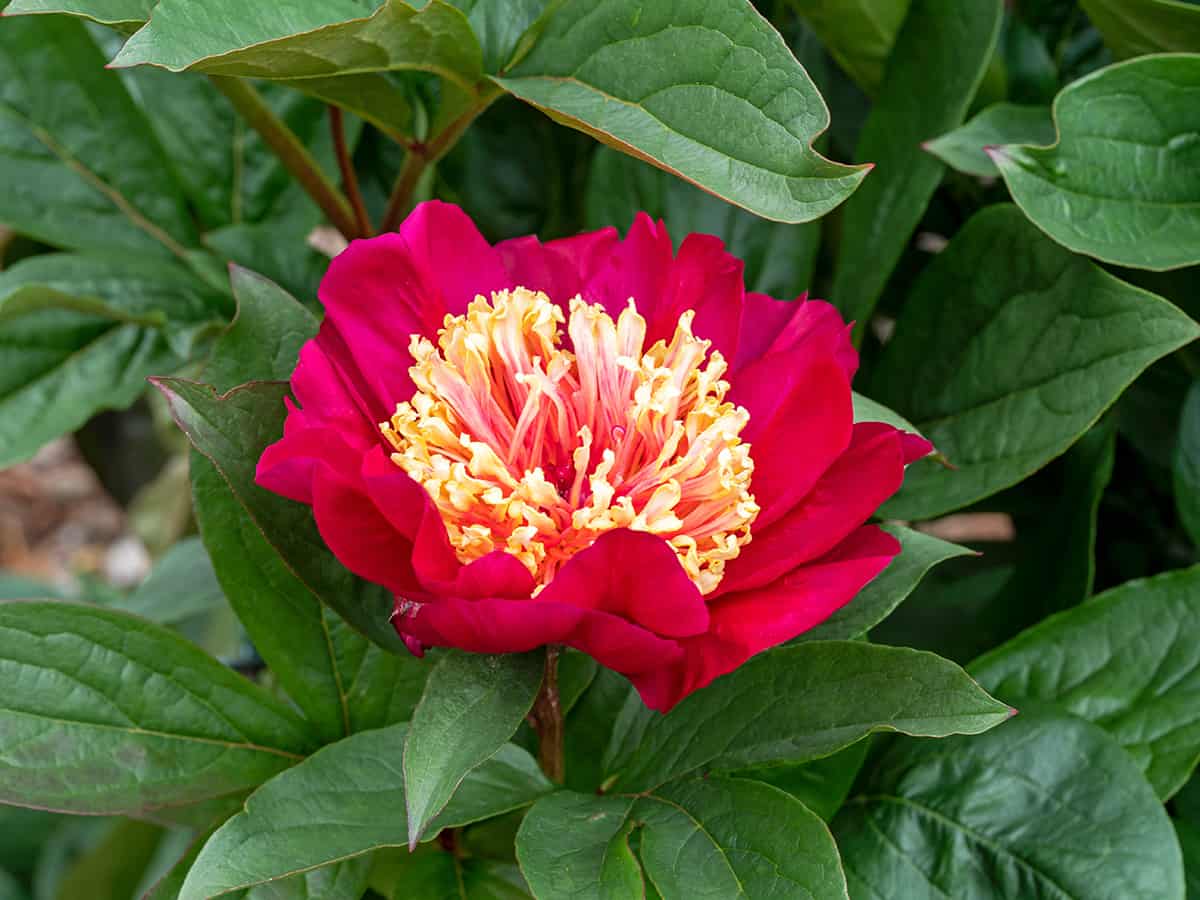 This is a type of Chinese peony (Paeonia lactiflora) that produces saucer-shaped flowers with deep red petals, and buttery yellow staminodes. Strong stems hold the medium-sized flowers at around 3 feet high.
Orange Peonies
Orange peonies tend to be subtle shades of orange rather than bright orange colors, making them a nice choice for a less dramatic impact in the garden. They typically come in muted shades of apricot or coral orange, which create a luscious, romantic style.
Coral Sunset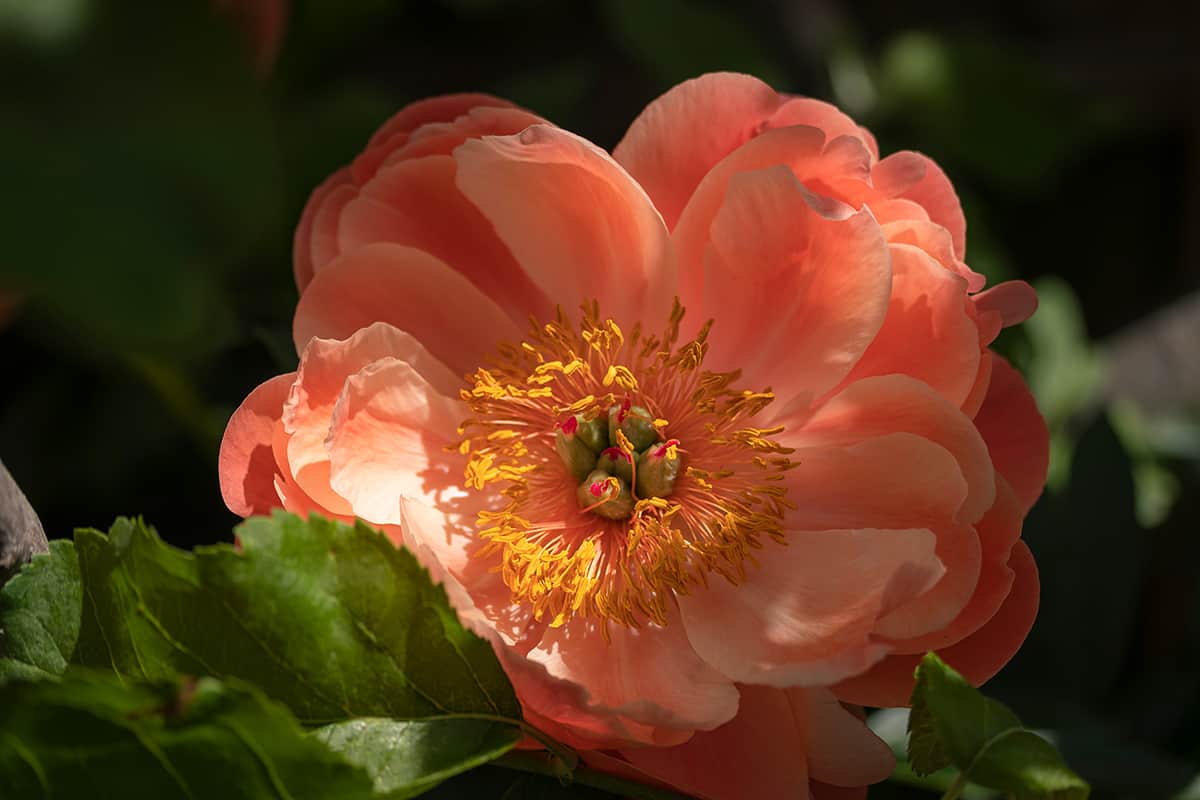 This is an award-winning, hugely popular variety of peonies, which produces dramatically show-stopping flowers in various shades of pale orange, from creamy peach through to mid-coral.
The blooms are bowl-shaped and semi-double, absolutely packed full of delicately ruffled petals. Despite their size, these peonies won't need to be staked as they have very strong stems. The flowers give off a subtle, attractive scent, and make stunning cut flower bouquets.
Salmon Dream
This peony has won multiple awards, including 'Peony of the Year' in 2009, as well as earning the gold medal from the American Peony Society in 2008. It produces cup-shaped, salmon-colored flowers in a satin-like texture, with petals that are slightly paler at the tips. As the flower ages, the petals open out to reveal the inner stamens in golden yellow.
Singing in the Rain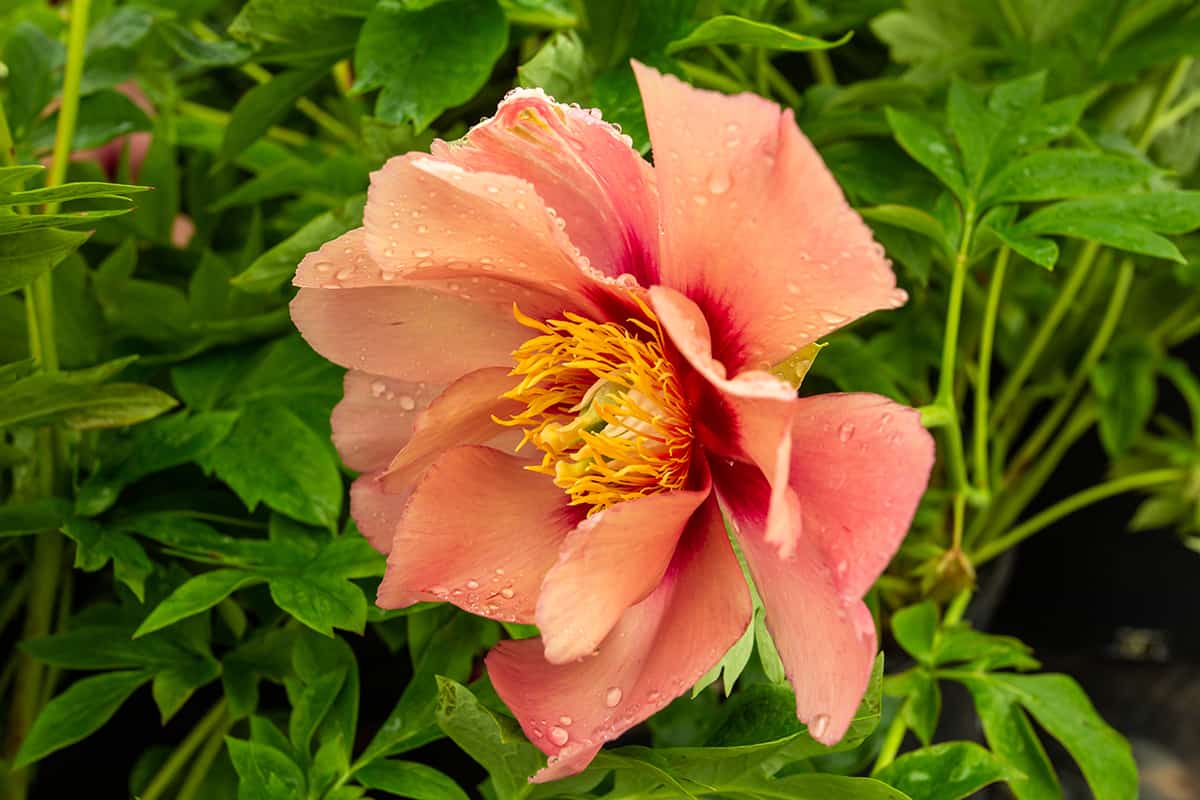 This Itoh peony has stunning, delicately ruffled flowers, in a sumptuous shade of soft apricot. It will flower for up to two weeks in hot weather, or four weeks in cool weather, with buds that open in sequence.
Purple Peonies
Purple is the most unlikely color you will come across for peonies, making purple peonies something of a prized possession among some gardeners. If you're interested in growing flowers that are unusual, then purple peonies are an excellent choice. Here are some common types of purple peonies to pick.
Comanche
This is a Chinese peony (Paeonia lactiflora) with magnolia-colored petals that spread outwards to reveal the yellow stamens. The contrast between purple and yellow is quite striking and helped to win this variety of peonies the Award of Landscape Merit from the American Peony Society.
Bowl of Beauty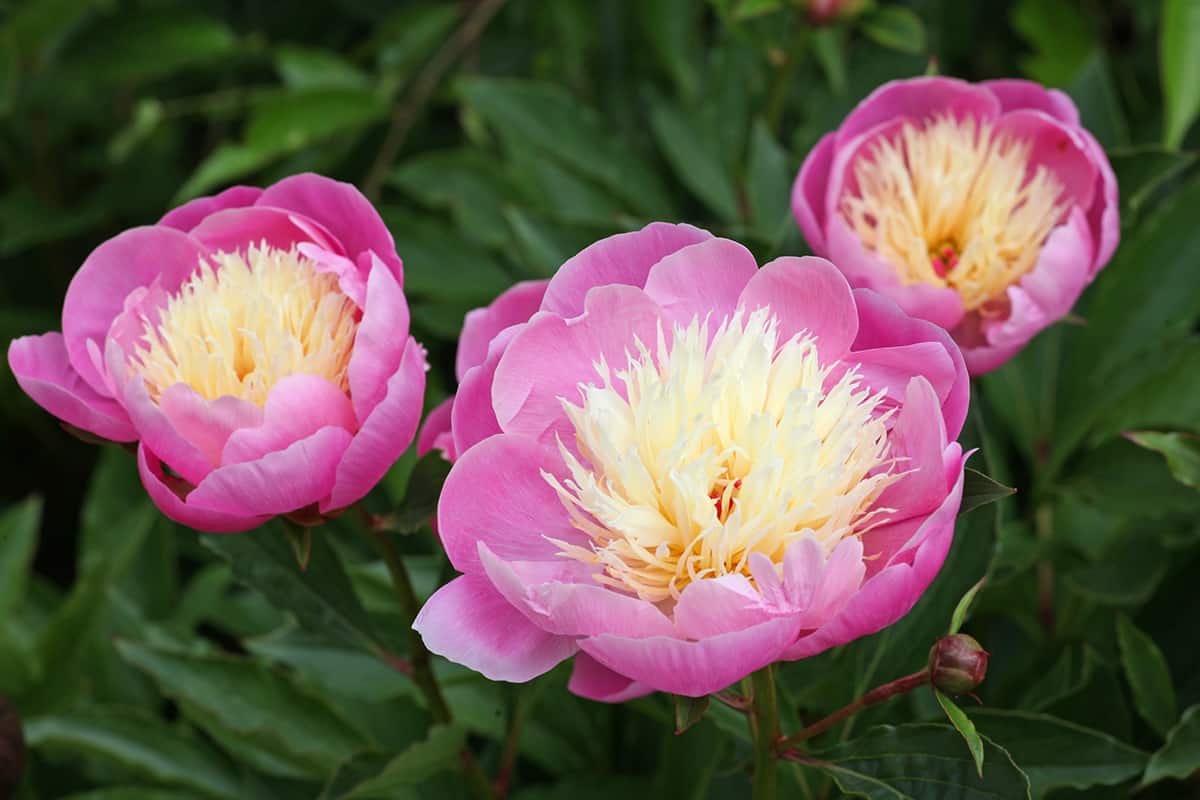 This purple-pink peony produces bowl-shaped flowers, with rounded petals surrounding a creamy middle.
Yellow Peonies
While many peonies have yellow centers, there aren't a huge variety of peonies with yellow petals. Most types of yellow peonies typically have a creamy yellow color rather than a vibrant yellow color, though there are a few that have more intense yellow coloring.
Garden Treasure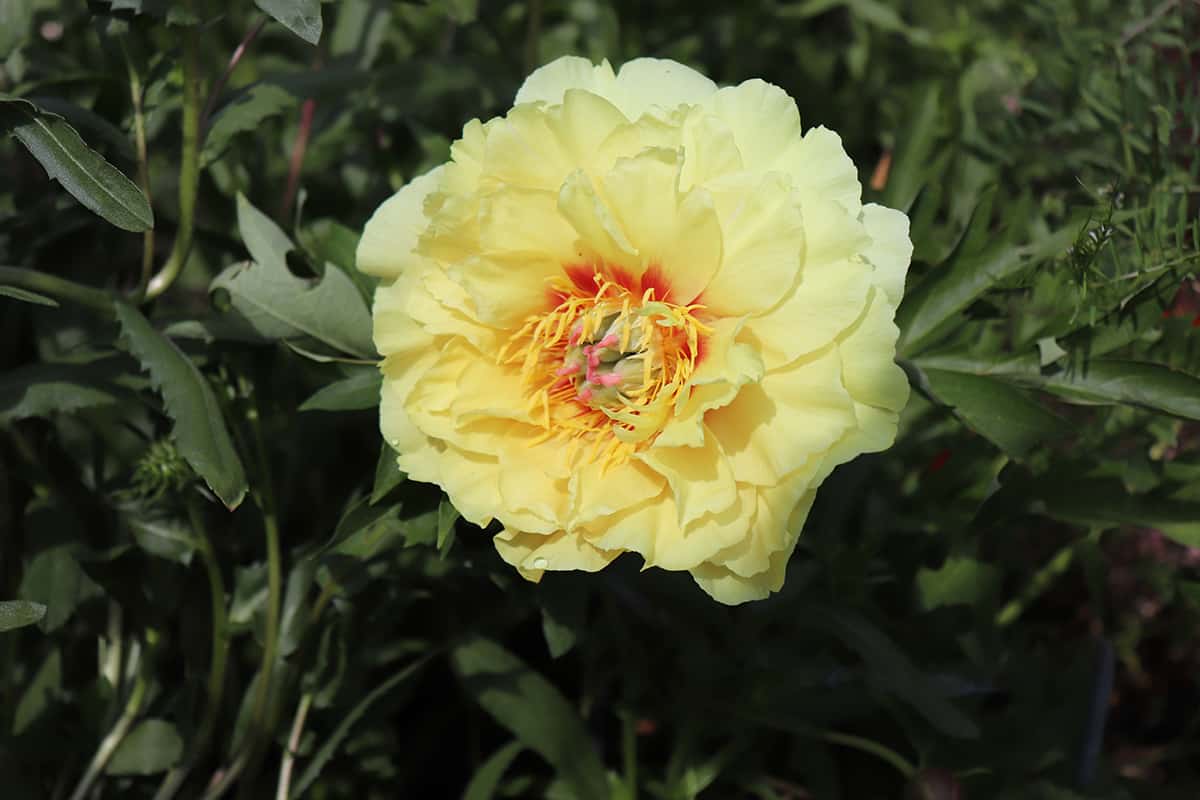 This is a mid-season Itoh peony that produces huge buttery yellow flowers with as many as 50 petals in a single bloom. The flowers have a fragrant lemon scent to match their coloring.
Prairie Charm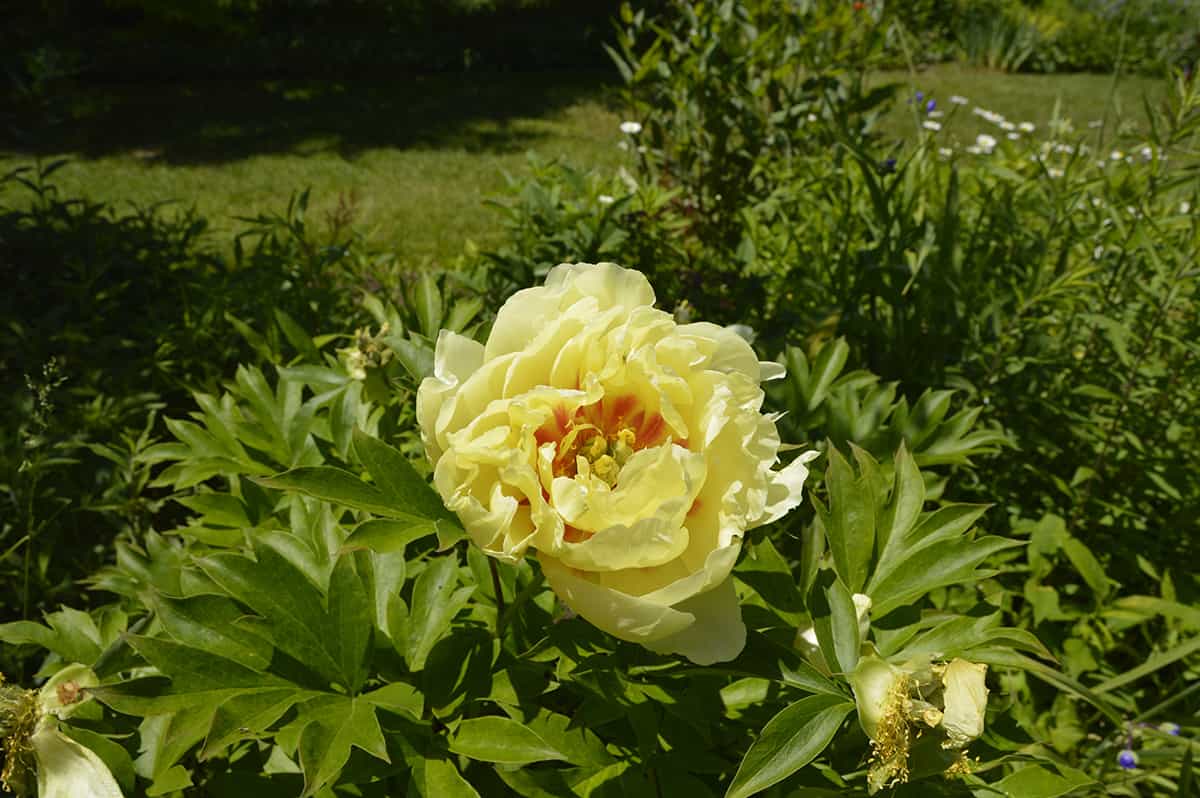 This Itoh peony produces semi-double flowers in a creamy-yellow color, with a red flush at the base. The blooms stand high above the foliage of the plant, on strong stems which do not need to be staked.
Bartzella
The lemon-colored flowers on this plant are fully double, measuring between 6 and 8 inches across, This prolific bloomer will produce around 60 flowers in a single season.
White Peonies
Second to pink peonies, white peonies are among the most common colors for these flowers.
Bowl of Cream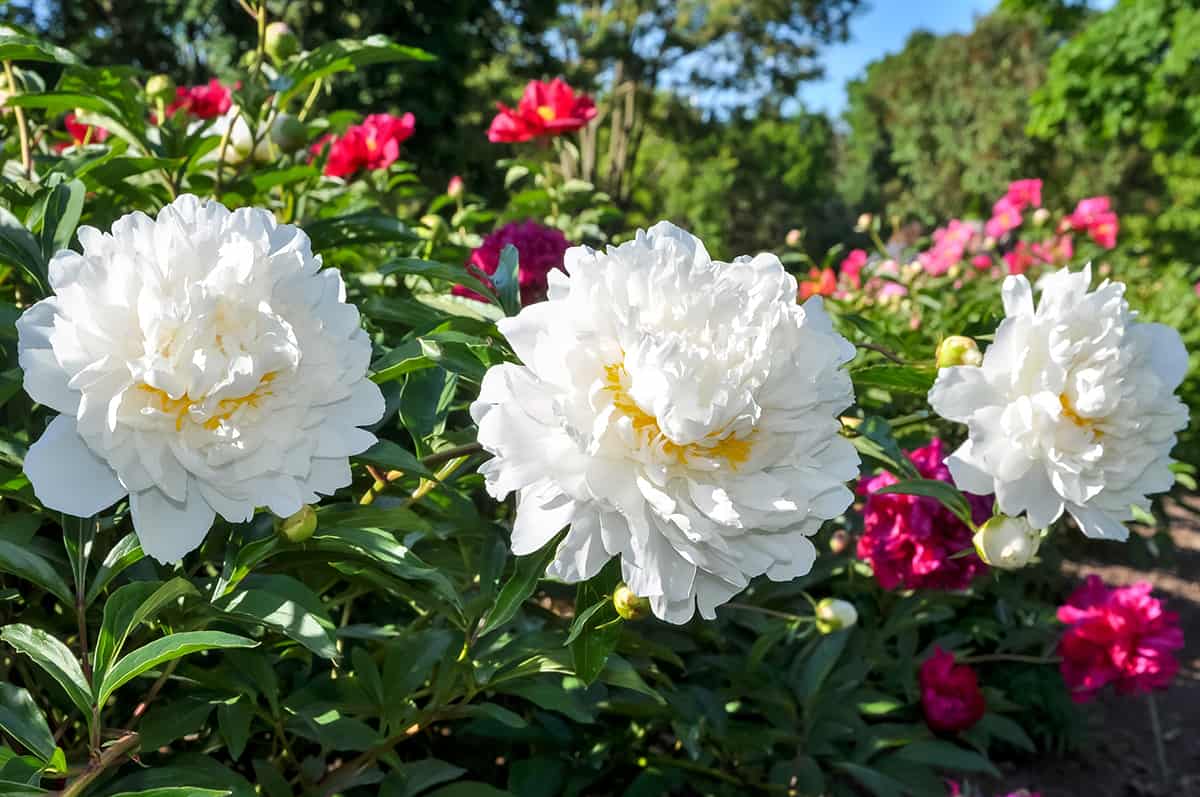 This Chinese peony produces huge fully double flowers measuring 12 inches across. The petals are a creamy white color, and they are so tightly packed that they almost entirely hide the yellow stamens.
Bride's Dream
The pure white petals of these peonies make them an excellent choice for bridal bouquets. As cut flowers, they can last for over a week.