Coral peony varieties have gained enormous popularity over the last decade, as this color has become a mainstay of interior design and wedding decor. Here we look at how to care for coral peony varieties, and which varieties are best for home-growing and floral bouquets.
How to Care for Coral Peonies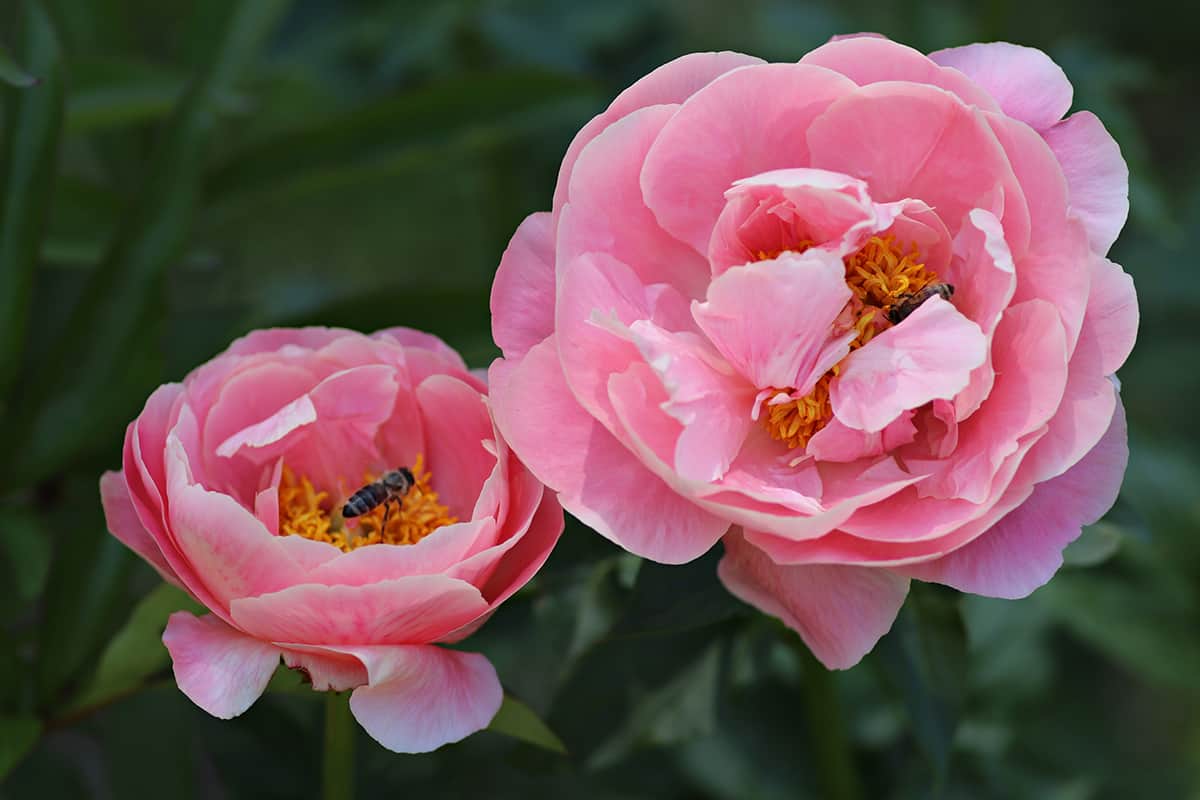 Coral peonies require the same care as peonies which produce flowers in other colors. They are easy-care plants that work well in low-maintenance gardens, yet they provide the most visually stunning blooms that many people expect would require a lot of attention.
The most important thing for peonies is being planted in the right place. If you can get this right, you stand a good chance that your coral peonies will have a long life, rewarding you with many flowers each year.
Soil
Coral peony varieties are not especially particular about the type of soil they are grown in. They will adapt to acidic soil, alkaline soil, and poor soil, as long as they are well draining. Clay soils and sandy soils will also be tolerated if they are able to drain well. Coral peonies prefer a soil that is moist, though they can survive in dry soils for short periods of time once they are well established.
The best soil for your coral peony is any type of well-draining soil, because this will encourage excess water to drain away from the roots of the plant. This will avoid root rot in the event of heavy rainfall, or overwatering. Since coral peonies do need a moderate amount of moisture, the soil should not be free-draining, since this will not retain enough water to supply the roots of the peony with the water and nutrients it needs.
If your soil is gravelly and drains too quickly, amend it with organic compost, which will aid with water retention. If the soil does not drain well enough, add gravel, perlite, or sand, to improve drainage. In climates with long, hot summers, peonies may struggle to get enough water, because it will quickly evaporate from the soil in high temperatures.
In this case, add mulch over the top of the soil because it will act as an insulator to prevent moisture loss via evaporation, and it will also help to keep peony roots warm in cold winters.
Water
Coral peony varieties will thrive in soil that is kept moderately moist. This means striking a balance between soil that is neither too dry nor too wet. The type of soil you use will go a long way in helping your peony roots get a suitable amount of moisture, but these plants will also require an adequate supply of water.
Don't water the coral peony plants through fall and winter, because they will be dormant during this time, and any minimal amounts of water they need will be supplied by rainfall. Begin watering the peonies again in early spring, unless your region is still experiencing rain, in which case you don't need to add more water.
In summer, when most peony-growing regions are warm and dry, you will need to water young coral peonies every day, while more established peonies can survive with supplemental watering twice a week. If your peonies are being grown in pots then they will need daily water through the summer, as these roots aren't able to grow into the depths of underground soil to find new sources of moisture.
Light
Plant your coral peony plant in a position where it will get at least 6 to 8 hours of sun each day. These plants will thrive in full sun or partial shade, and the best type of lighting will depend on the local climate. Peonies growing in cooler climates will do better in full sun, while those growing in hot climates prefer partial shade.
The shade should be provided in the afternoon when the sun is at its strongest; this protects the peonies from extreme levels of heat, which can cause them to wilt.
Best Coral Peony Varieties
Coral Charm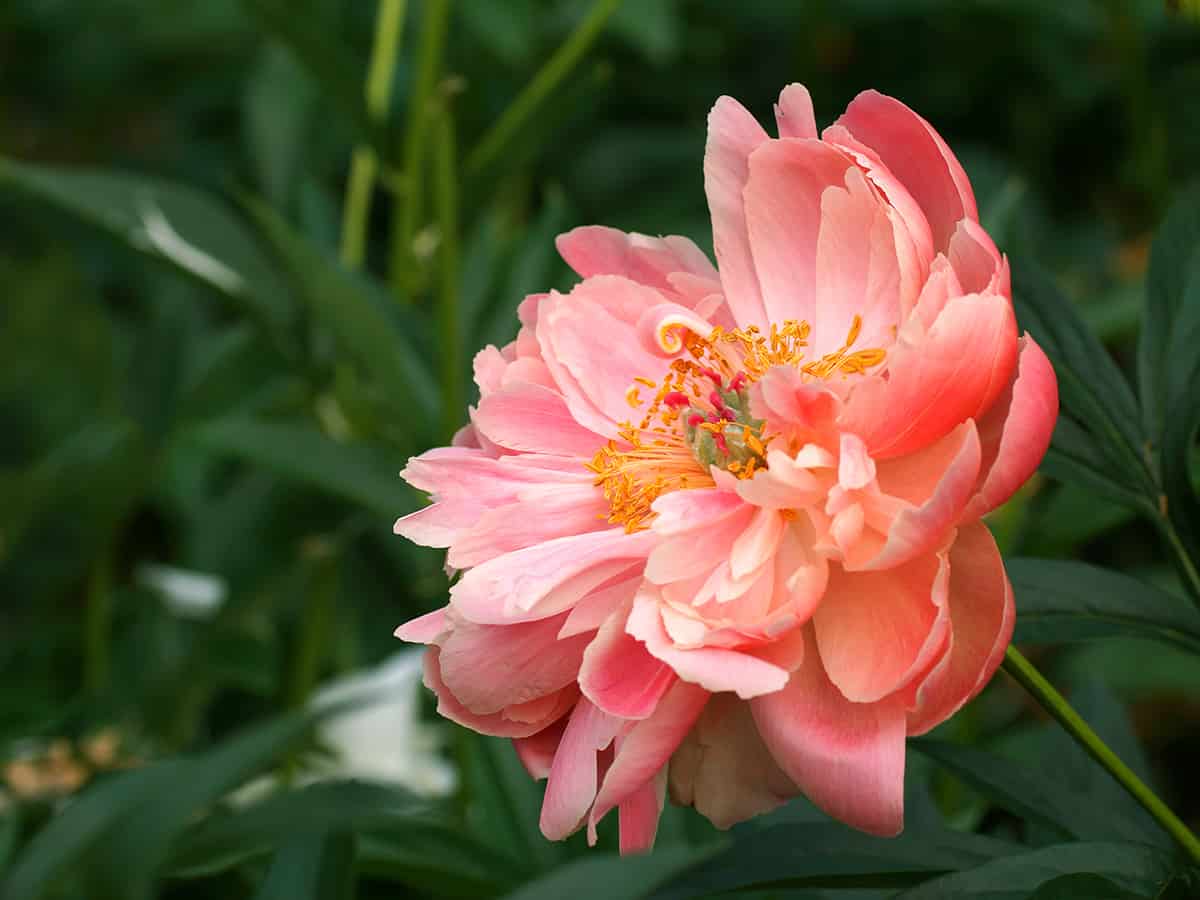 Botanical name: Paeonia 'Coral Charm'
USDA hardiness zone: 3 – 8
Mature height: 2 to 3 feet
Mature spread: 2 to 3 feet
This herbaceous coral peony variety is one of the first of all peonies to bloom each year, and many believe it is also one of the most beautiful. It produces huge, bowl-shaped, semi-double flowers which emerge from rich, coral-colored buds. As the blooms open, the petals take on a coral-peach shade, and as the flowers mature they fade to a delicate shade of ivory tinged with pink.
The flowers are held on slender stems which are surprisingly strong, however, they may need to be staked for support due to the heavy weight of the large blooms. This is an early-season peony that will flower in late spring to early summer. It is a vigorous grower and a reliable bloomer that produces an abundance of flowers. 'Coral Charm' has received the coveted 'Award of Garden Merit' from the Royal Horticultural Society.
Coral n Gold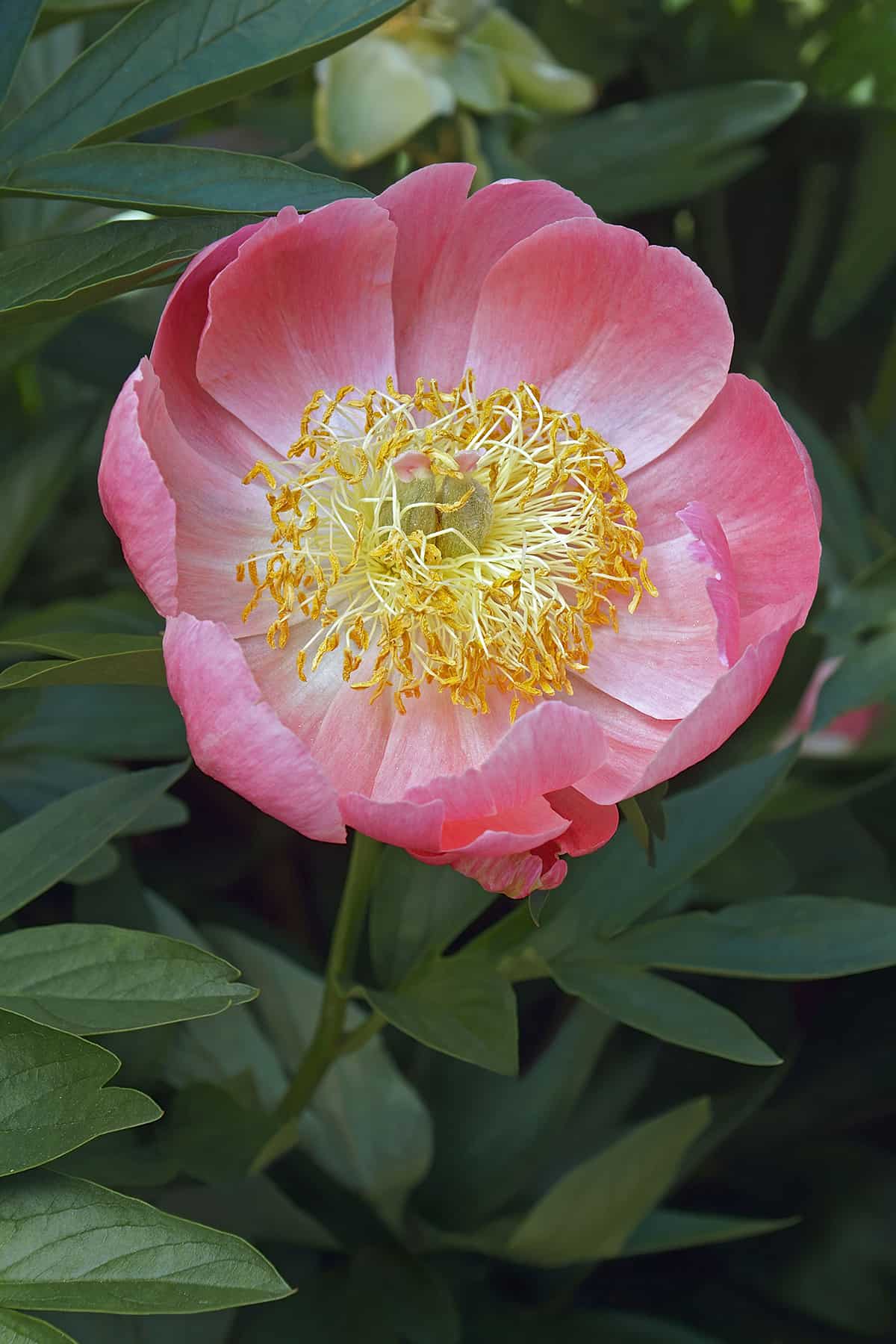 Botanical name: Paeonia 'Coral n Gold'
USDA hardiness zone: 3 – 8
Mature height: 2 to 3 feet
Mature spread: 2 to 3 feet
This award-winning coral peony produces flowers that are classified as single blooms, however, they have slightly more petals on each flower than typical single blooms, and therefore they are sometimes considered to more closely resemble semi-double flowers.
The is an early blooming variety of peony which flowers in late spring, with deep coral petals surrounding bright yellow stamens to form a cup shape. The flowers have a subtle, sweet scent, and are hugely popular with butterflies and other pollinators.
Coral Sunset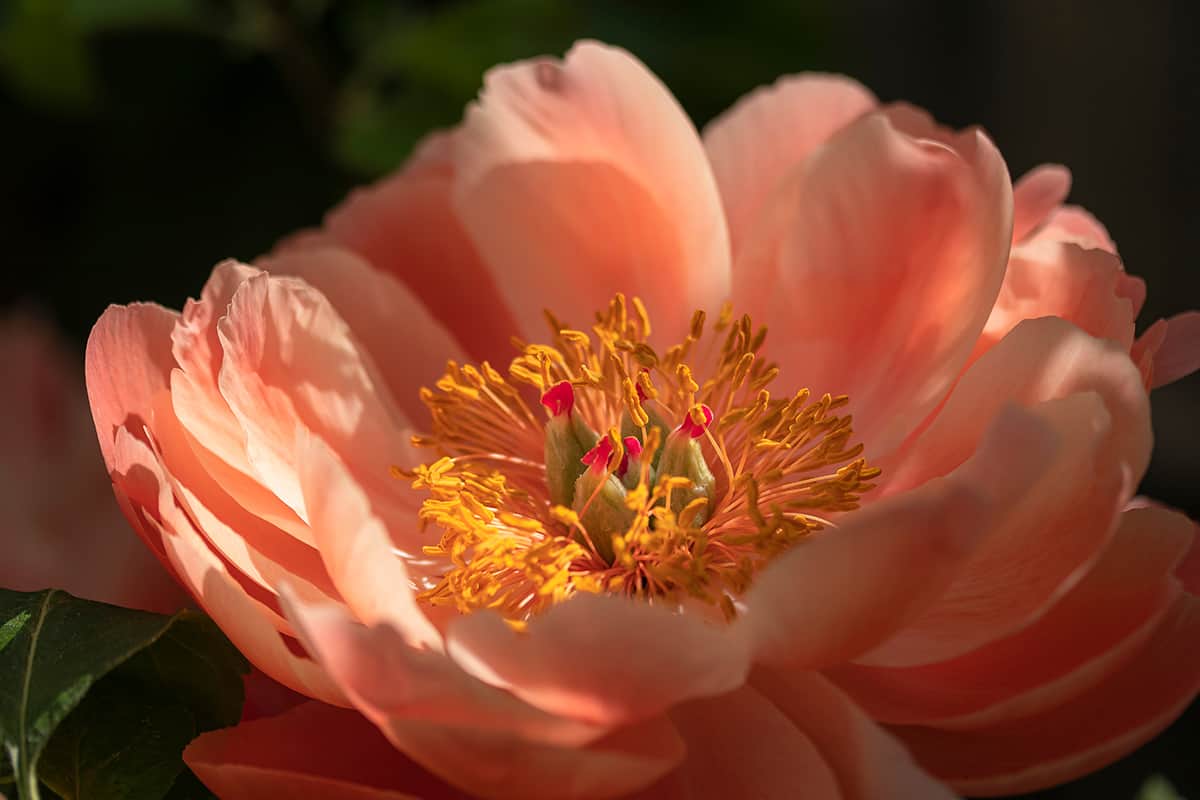 Botanical name: Paeonia 'Coral Sunset'
USDA hardiness zone: 3 – 8
Mature height: 2 to 3 feet
Mature spread: 2 to 3 feet
This coral peony produces large, bowl-shaped, semi-double flowers, which are among the first of all peonies to bloom each spring. They are simply magnificent to look at, adding drama and color to garden borders, but they also make beautiful cut flower bouquets. The petals of the 'Coral Sunset' flowers are slightly ruffled, emerging in a vivid shade of coral pink.
As the flowers mature during their lifespan of around ten days, they will fade to a pale off-white color. The plant has a vigorous growth habit, forming a compact mound of dense foliage. The green leaves contrast nicely against the vibrant coral-colored flowers for extra impact.
Coral Supreme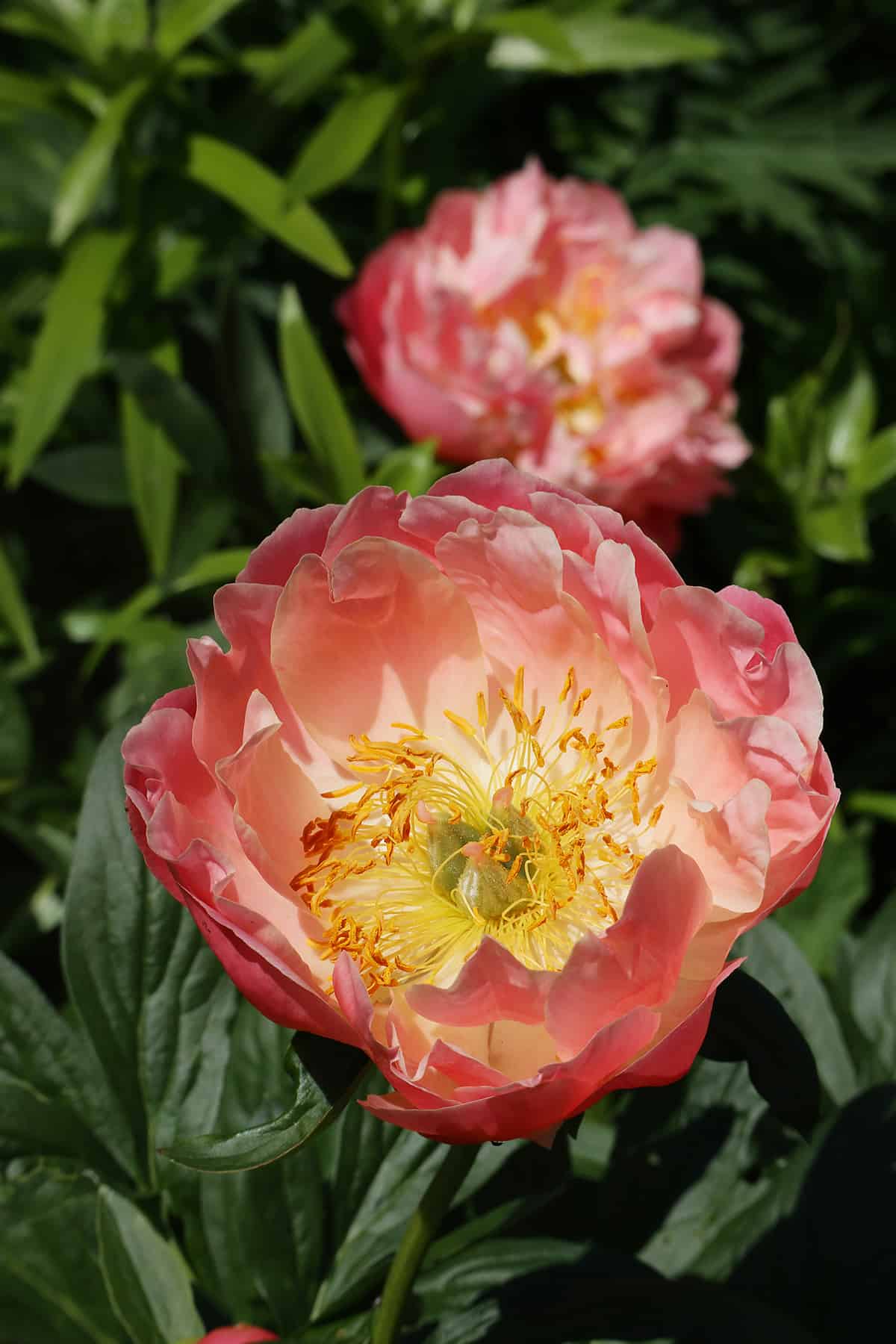 Botanical name: Paeonia 'Coral Supreme'
USDA hardiness zone: 3 – 8
Mature height: 2 to 3 feet
Mature spread: 2 to 3 feet
This coral variety of peonies sometimes gets mistaken for the 'Coral Charm' peony, since it produces similar flowers. The best way to tell these two varieties apart is to look closely at the color, since the 'Coral Supreme' petals are a significantly paler shade of coral-pink compared to 'Coral Charm'.
The flowers of 'Coral Supreme' also tend to have a fuller look. This is an early blooming peony, with huge, bowl-shaped, semi-double flowers which last for over a week. They have salmon-coral colored petals which surround mustard yellow staminodes. The flowers stand on strong, erect stems, which are able to keep the blooms upright without support. The foliage of the plant is medium green with a glossy finish. The leaves will develop flushes of orange and yellow in the fall before they are shed.
Pink Hawaiian Coral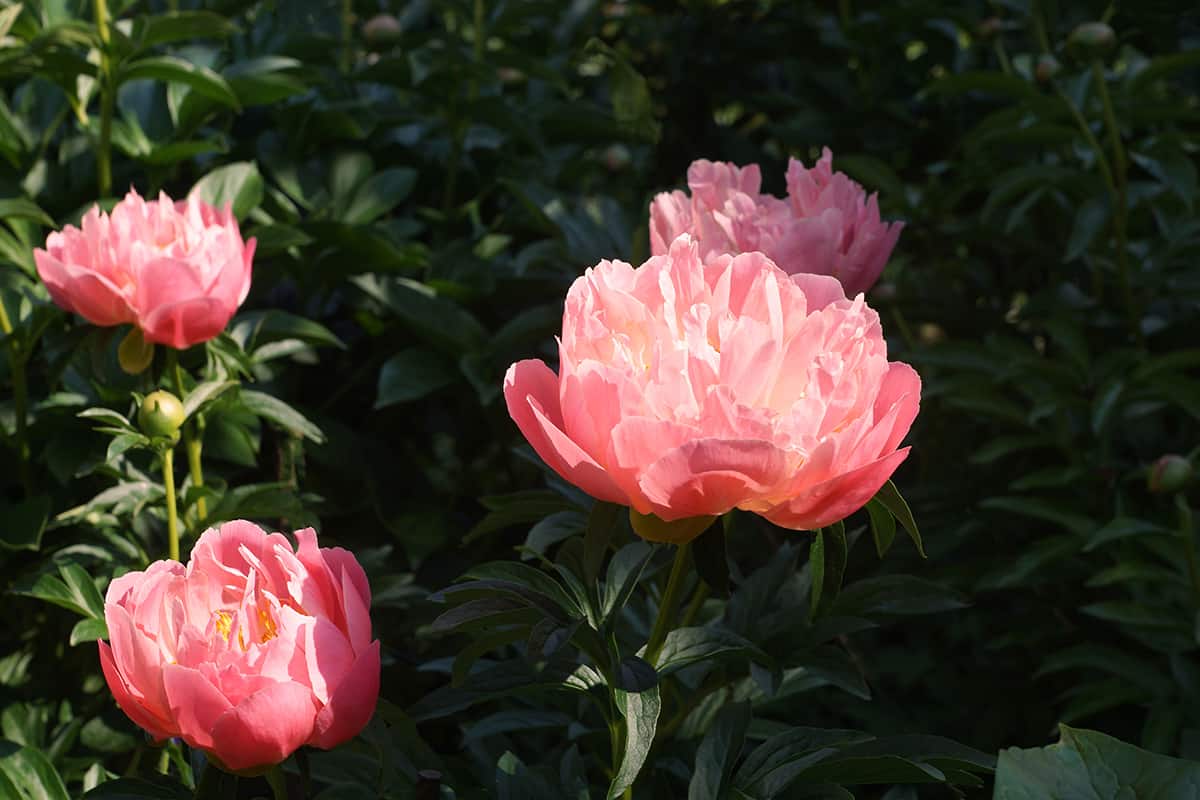 Botanical name: Paeonia 'Pink Hawaiian Coral'
USDA hardiness zone: 3 – 8
Mature height: 2 to 3 feet
Mature spread: 2 to 3 feet
This is an excellent choice of coral peony if you are looking for a variety that is going to be a pleasure for the senses. Not only does it produce magnificent beautiful flowers, but the blooms are also irresistibly scented. The flowers will emerge in late spring in a luscious shade of coral pink, with a semi-double form.
As the flowers mature and the petals open up, they reveal an inner disc of dense yellow stamens. The plant remains in bloom for around a week, with the flowers developing into apricot toward the end of their time on display. Strong stems hold up the flowers, which offer enough support without the use of stakes, despite the large and heavy blooms.
Singing in the Rain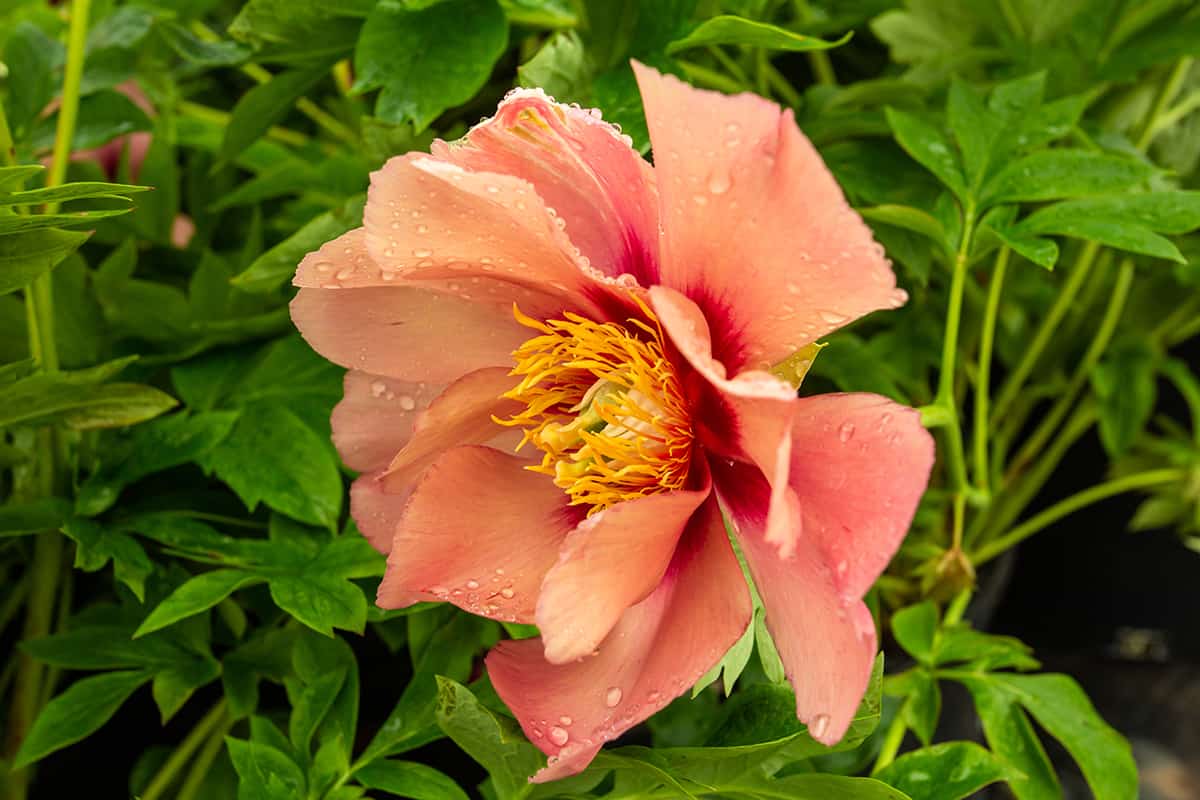 Botanical name: Paeonia 'Singing in the Rain'
USDA hardiness zone: 4 – 9
Mature height: 3 to 4 feet
Mature spread: 3 to 4 feet
This is an Intersectional peony (Itoh peony) which is a result of hybridization between Chinese peonies and Tree peonies. The plant is known for its ability to withstand higher temperatures than most other peonies, as well as the fact that it blooms for around twice as long as regular herbaceous peonies.
The flowers of 'Singing in the Rain' emerge in early summer, as very large, semi-double blossoms in a soft shade of salmon-coral. The petals have an iridescent quality that makes the flowers appear as if they are glowing, and these surround golden yellow stamens on the central disc. The plant grows to form a medium to the large-sized bush of up to 4 feet in either direction.